In this article, I will be examining the new and intriguing Sprott BUZZ Social Media Insights ETF (NYSEARCA:BUZ). This ETF is unique because it builds its list of holdings from various social media sources, including data from Seeking Alpha.
ETF Statistics/Important Information
- Expense ratio: 0.75%
- BUZ just launched, so volume and assets are still very low
BUZ Index
The chart below from Sprott shows that the ETF takes the 100 most mentioned stocks from the list of social media sources (Seeking Alpha logo highlighted) and identifies those with the highest bullish sentiment. Some of the highest profile social media sources the index provider uses are Twitter (NYSE:TWTR), Facebook (NASDAQ:FB), and of course Seeking Alpha.
In addition, BUZ adds in a filter to identify social media users whose posts are likely to affect the collective opinion. I like to think of this criteria like the ETFs that follow the holdings of popular hedge funds, which when they disclose their holdings has an impact on the stock they purchased. After this process is gone through, BUZ ends up with 25 holdings that have the most bullish social sentiment. Everyone knows social views on stocks can move quickly, that is why BUZ reconstitutes its holdings each month instead of quarterly.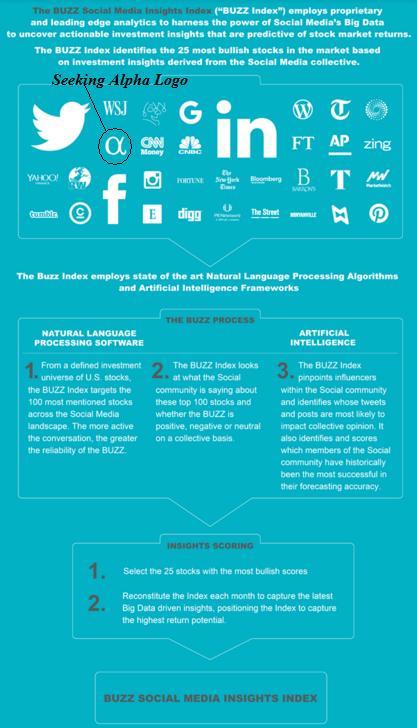 Image from Sprott Website
Digging Deeper into BUZ methodology
To qualify for inclusion in BUZ, stocks must meet these criteria (BUZ prospectus):
a. Security must be an equity security traded on a major U.S. exchange (over-the-counter securities are ineligible for inclusion in the underlying index);
b. security must have a minimum market capitalization of at least $5 billion;
c. security must have a three-month minimum average daily trading volume of at least $1 million; and
d. security must be among the common stock of the top 100 most mentioned publicly-traded U.S. companies as determined by the index provider based on data measured from various social media networks selected by the index provider.
BUZ Holdings
As many Seeking Alpha contributors know, technology-related stocks are the stocks that are talked about most on social media and on mobile. The holdings of BUZ listed below clearly show a large bias towards technology-related stocks. Any potential investors most likely need to have favorable opinions on Google (NASDAQ:GOOG) (NASDAQ:GOOGL) and Apple (NASDAQ:AAPL) because those two combined account for nearly 22% of the holdings. Overall, technology, which I included telecom stocks Sprint (NYSE:S) and AT&T (NYSE:T), has a weight of just over 40%, followed by healthcare and consumer discretionary. With its high weighting in these categories, I expect that BUZ will have more volatility than the average large-cap ETF, and I believe the PowerShares QQQ Trust ETF (NASDAQ:QQQ) is the ETF BUZ should be compared and benchmarked against.
| | | |
| --- | --- | --- |
| Company | Symbol | Weight |
| Alphabet, Inc. | GOOG, GOOGL | 13.77% |
| Apple, Inc. | AAPL | 8.04% |
| Alcoa, Inc. | (NYSE:AA) | 7.56% |
| The Walt Disney Co. | (NYSE:DIS) | 6.47% |
| Gilead Sciences, Inc. | (NASDAQ:GILD) | 5.51% |
| AbbVie, Inc. | (NYSE:ABBV) | 5.17% |
| Spint Corp. | S | 4.86% |
| Microsoft Corp. | (NASDAQ:MSFT) | 4.78% |
| Kinder Morgan, Inc. | (NYSE:KMI) | 4.74% |
| Tesla Motors, Inc. | (NASDAQ:TSLA) | 4.36% |
| OPKO Health, Inc. | (NYSEMKT:OPK) | 4.04% |
| Twitter, Inc. | TWTR | 3.83% |
| Ford Motor Co. | (NYSE:F) | 3.70% |
| Celgene Corp. | (NASDAQ:CELG) | 3.49% |
| Freeport-McMoRan, Inc. | (NYSE:FCX) | 3.13% |
| Sirius XM Holdings, Inc. | (NASDAQ:SIRI) | 3.02% |
| Intel Corp. | (NASDAQ:INTC) | 2.27% |
| Johnson & Johnson | (NYSE:JNJ) | 1.88% |
| The Boeing Co. | (NYSE:BA) | 1.84% |
| Qualcomm, Inc. | (NASDAQ:QCOM) | 1.73% |
| AT&T, Inc. | T | 1.59% |
| Nike, Inc. | (NYSE:NKE) | 1.13% |
| CVS Health Corp. | (NYSE:CVS) | 1.08% |
| Biogen, Inc. | (NASDAQ:BIIB) | 1.00% |
| Altria Group, Inc. | (NYSE:MO) | 0.97% |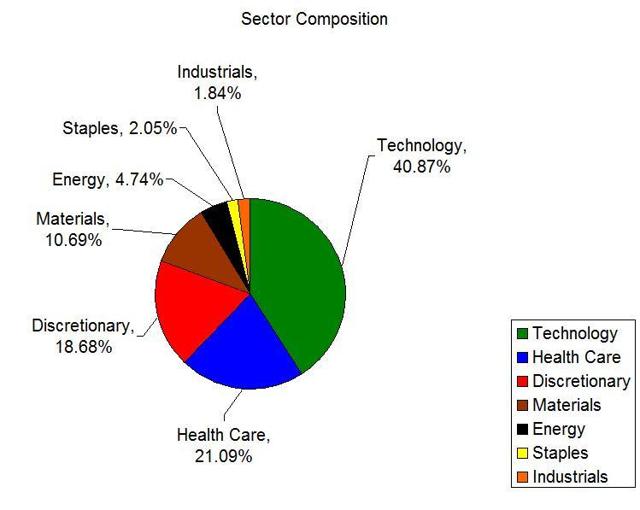 Table data from BUZ holdings
Closing Thoughts
In closing, I believe BUZ is a very interesting new ETF given the new frontier that it is covering. However, I believe a wait-and-see approach should be used to see how the fund performs as well as whether it picks up meaningful assets and trading volume over time.
Disclaimer: See here.
Disclosure: I/we have no positions in any stocks mentioned, and no plans to initiate any positions within the next 72 hours.
I wrote this article myself, and it expresses my own opinions. I am not receiving compensation for it (other than from Seeking Alpha). I have no business relationship with any company whose stock is mentioned in this article.