Harley-Davidson (NYSE:HOG) traces its roots back over 100 years and operates today with an exceptionally well-known brand. You don't just recognize a motorcycle made by the company, you hear it. However, I'd contend that the security isn't talked about as often as some of your other typical well-known names. For the income investing crowd, there's a simple reason.
Harley-Davidson's payout history was cruising along during the 1990s and 2000s before the most recent recession. And then 2008 and 2009 came along. Profits of over $3 a share in 2005, 2006 and 2007 quickly dropped to nearly nonexistent by 2009. It took four more years before profits would once again eclipse the $3 mark. The quarterly dividend sat at $0.33 per share at the end of 2008. The next payment would be just $0.10 - a 70% decline. This dime-a-quarter dividend would remain in place for nine quarters before starting to increase once more.
So for those looking for recession-proof profits or a dividend that keeps on climbing year after year, Harley-Davidson would not be on your radar. There's a larger cyclicality risk with this type of business. Of course, there could also be the potential for a greater benefit.
Recently, the company announced a $0.35 quarterly dividend - a 12.9% increase as compared to the previous mark, and finally eclipsing the pre-recession level. In addition, Harley-Davidson announced a continuation of its share repurchase program, and its earnings per share sit around $3.70.
Despite the idea that one share now represents a larger underlying earnings claim and is paying you more than it had, the share price is still below where it was at the end of 2005. It's been a long road to recovery.
Here's the business and investment performance of Harley-Davidson over the past decade to give you a better feel for what has transpired: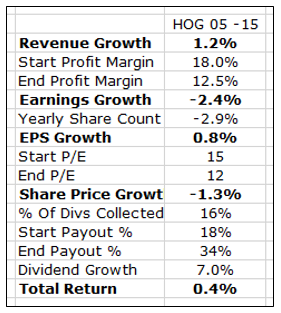 Reviewing this sort of information can be helpful in thinking about the longer-term picture. It's doesn't give you a year-by-year play-by-play, but it does provide a nice synopsis. The revenue growth for Harley-Davidson hasn't been especially impressive, but remember that the company was growing nicely prior to the recession and has had a long recovery since.
The net profit margin was previously in the 16-18% range pre-recession, before declining dramatically. Since 2009, there has been a recovery, but not quite to the same level as before. In total, Harley-Davidson is actually making less money as a company today than it was a decade ago.
Yet, just because the company is making less money, this does not simultaneously imply that a shareholder's earnings claim is now lower as well. Over the past five years, Harley-Davidson has spent an average of over $600 million annually on retiring shares. This sort of activity has made a difference, as the share count has been reduced from around 275 million in 2005 down closer to 200 million today. In turn, the earnings per share growth was actually positive during this period.
If the valuation multiple remains the same, the share price appreciation will equal EPS growth. In the case of Harley-Davidson, the price at which shares traded hands represented a lower valuation, moving from around 15 times earnings to about 12 times. This led to a lower share price during the 10-year observation period.
Finally, once the dividend component is added, the returns are barely positive. Certainly nothing to get excited about.
However, I think there are a few lessons. For one, just because you have negative company-wide growth, this does not mean the growth of a shareholder's claim must be negative as well. Or just because you have a lower share price, this does not mean your total return can't be positive.
More pertinent is the idea that some of these things allow for a lower "investment bar." During this period, Harley-Davidson's profit margin and valuation are lower, and the dividend yield is now higher. These things don't guarantee success, but it does make it a bit easier to formulate investment returns in the future. The company doesn't have to put out spectacular results for an investment to work out alright.
As an illustration, the intermediate-term growth rate for the company is nearly 10%. Let's cut that in half and suggest that Harley-Davidson could grow by 5% annually. This would lead to a future earnings per share number of about $4.70 after five years. The historical earnings multiple for the company has often been above or well above 15, but for purposes of illustration, let's use 14. At that mark, you'd anticipate a future share price of about $66.
Should the dividend payment also increase by 5% annually, you'd expect to collect $7.75 or so in per share dividend payments. Your total expected value would be about $74, prior to thinking about reinvesting dividends. Expressed differently, you might come up with a baseline assumption of 9% annualized gains. And that's with rather low expectations in comparison a lot of projections out there.
So at the very least, you have the potential for a compelling investment from a security that may never cross your radar. If you're looking to only hold businesses with multi-decade dividend increase streaks, you're always going to pass on something like Harley-Davidson (and you may not even know that you're doing it). This is a perfectly rational stance to take, but I think it can be instructive to at least learn about these types of companies.
The second aspect is that even if you're not interested today, it can be helpful to remember this sort of thing for lesser times. To be sure, Harley-Davidson is exposed to cyclical spending (and thus, cyclical profits) in a big way. It takes a strong stomach to see a billion dollars of profit turn into a couple million during the worst of times. And experiencing a 70% decline in income isn't most investors' idea of a good time.
Yet, the share price certainly reflected this, going from the mid-$70s in 2006 all the way down below $10 in the depths. Even if you had bought at triple the low price of 2009, your returns today would still have been quite solid (13%+ annually). I'm not advocating that you buy motorcycle maker Harley-Davidson today, but I am suggesting that checking in from time to time can be advantageous.
Disclosure: I/we have no positions in any stocks mentioned, and no plans to initiate any positions within the next 72 hours.
I wrote this article myself, and it expresses my own opinions. I am not receiving compensation for it (other than from Seeking Alpha). I have no business relationship with any company whose stock is mentioned in this article.