Amazon.com (NASDAQ:AMZN) has grown to a massive size by introducing new categories of products for sale on its website and expanding its business segments. Two important company introductions came in 2005 and 2010 with the respective launches of Amazon Prime and Amazon Studios. These launches are two of the important reasons why Amazon continues to see a massive valuation despite low profit margins.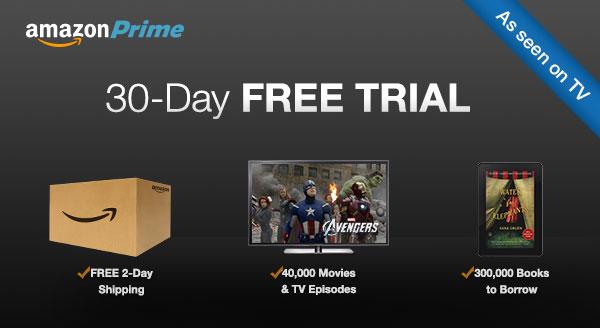 Playing Nice With Theatres
Amazon Studios appeared at its first ever CinemaCon last week. CinemaCon is the annual convention of movie theatre exhibitors. Amazon showed off several movies in its upcoming slate. Amazon also discussed a strategy of working with movie exhibitors to keep movies in theatres the normal amount of time despite it being a streaming company.
Playing nice with the movie theatres is a strategy that could pay off after making big bets on highly anticipated films. Amazon has had more success recently in acquiring movies versus rival Netflix (NASDAQ:NFLX). That might be because of its willingness to give movies a traditional theatrical run before bringing the movie back to the Amazon Prime Video service. Netflix, on the other hand, typically tries to release movies in theatres the same day they air on the streaming service. This hasn't worked well in the past and hasn't exactly made Netflix any friends in the movie theatre department.
Amazon discussed its big ambitions for its theatrical releases in March. The studio sees as many as 15 theatrical releases coming this year. By allowing movies their normal theatrical run, Amazon is also hoping to be a bigger player in the awards season. The company promised an "expansive award campaign", including one tied to the highly anticipated "Manchester by the Sea".
Consider this Deadline interview with WME Global, which represented two highly sought-after Sundance Film Festival movies in "Manchester by the Sea" and "The Birth of a Nation". Amazon acquired Manchester, and Fox (NASDAQ:NWSA) (NASDAQ:NWS) was awarded the rights to Birth despite Netflix offering more money for the latter. WME Global was asked:
"Why did you make the $10 million deal with Amazon, a streaming service, but turn down $20 million from Netflix to take $17.5 million from Fox Searchlight for The Birth of a Nation?"
WME concluded that Amazon agreed to a traditional 90-day theatrical window and to make Manchester a major awards play. WME reminded the interviewer that movies sometimes get distracted by the money aspect and forget about other factors like marketing, release date, and the slate of films from the studio.
Investors should see that as a major sign of Amazon becoming a force in the movies category. It should also show that Netflix will need to change its strategy or create movies in-house. It is not going to be able to simply write massive checks to buy top awards play movies. Last year, WME did a deal with NFLX for "Beasts of No Nation", which got left out of the awards categories and failed to produce significant box office due to its same day showing with Netflix streaming.
In sharp contrast to Netflix being "outbid" by Fox for "The Birth of a Nation", Amazon told USA Today that "there were no movies that we were outbid on". The company attended the 2015 Sundance Film Festival and did not do any bids.
Strong Slate of Movies at Amazon Studios
Playing nice with movie exhibitors should have a good impact on Amazon's Studio division as it builds an exciting lineup of movies. Amazon is set to have a huge presence at the upcoming Cannes Film Festival (May 11 through 22). The company will have five movies playing at Cannes in 2016:
"Café Society" by Woody Allen (festival opener)
"Paterson" by Jim Jarmusch
"The Neon Demon" by Nicolas Winding Refn
"The Handmaiden" by Park Chan-wook
"Gimme Danger" by Jim Jarmusch
"Café Society" is a big bet being made by Amazon Studios. The studio arm of the e-commerce giant paid $20 million to the rights for the movie starring Kristen Stewart and Jesse Eisenberg. The movie will premiere at the Cannes Film Festival, then head to theatres for a release, before coming back to Amazon for streaming on Prime Video.
Amazon also won the rights to "Manchester by the Sea", "Love & Friendship ($2 million), "Complete Unknown ($2 million+)", "Wiener-Dog (seven figures)", and "Author: The JT Leroy Story ($1 million)" at the Sundance Film Festival.
Amazon right now seems content on acquiring movies and then releasing them. The company is however working on making movies in-house and could be a major force when that happens, thanks to its existing relationships with top movie-making talent and theatres. The company's first original movie may even be "The Wall", based on a highly sought-after script (from the 2014 Black List) based on a sniper pinned behind cover.
Amazon Prime Growing
Amazon does not publicly disclose how many Prime subscribers it has. This leaves the highly coveted figure as a guessing game. A new study estimates that there are 57 to 61 million households in the United States that have Prime subscriptions. That figure comes from studies conducted by Piper Jaffray, including an annual study done with kids.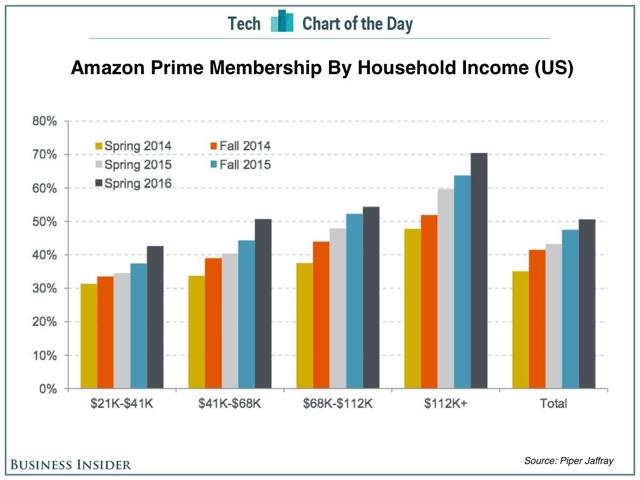 In the kids' survey, 51% of households had Amazon Prime. That is up from 35% just two years ago. A whopping 70% of households with annual income of $112,000 or greater were Amazon Prime subscribers.
On its first-quarter earnings call, Amazon disclosed that Prime membership was up 51%. The company also disclosed it doubled the number of viewing hours for Prime video in the fourth quarter. Amazon of course highlighted its recent Emmy and Golden Globe wins for Amazon Studios "Transparent" and "Mozart in the Jungle", two shows only available to Prime customers.
Along with boosting the streaming service portion that Prime members get, Amazon is working on providing additional benefits. The company recently announced a deal to give Prime members a huge 20% discount on new video game releases. The discount covers pre-ordered new releases for their first two weeks. The discount will save most customers $12 off the normal $60 new game price point.
The other big reason Prime subscriber numbers might go up is the latest move to the free shipping threshold. After years of offering customers free shipping on all purchases over $35, Amazon.com raised the price point to $49. That also came after setting the free shipping bar at $25 for years. Now customers looking to make multiple purchases or smaller orders may find the Prime service that offers free two day shipping on everything much more enticing.
Remember those DASH buttons that looked so silly Amazon introduced. Customers could hit a button on their washing machine to automatically order more laundry detergent through their Amazon service. Well, they seem to be catching on and Prime members are getting more and more DASH buttons to choose from. Amazon recently tripled the number of DASH buttons to 100. The buttons cost $4.99 each, but that amount is credited back to the account once a purchase is made. Orders placed by DASH buttons are up 75% in the first three months of 2016 for Prime users.
Prime as a Monthly Service a Major Competitor
Over the weekend, it was announced that Amazon will offer its Prime video streaming service on a stand-alone monthly basis. For $8.99 a month, subscribers will get to view everything on the Amazon movie streaming network. For $10.99, customers can subscribe to Amazon Prime (movies, free shipping, and more) on a monthly basis. This is the first time that subscribers can directly get the benefits of Amazon Prime without paying the annual fee ($99) upfront.
This move by Amazon may have been foreshadowed by a recent partnership with Sprint (NYSE:S). Sprint was the first partner that would offer Amazon Prime on a monthly basis to its subscribers. That price point announced then was $10.99, which is the same being offered now directly through Amazon. Sprint appears to have been lost in the mix and won't really gain anything, other than those looking for one monthly bill.
The price point and offering of the stand-alone movie service come at a time when Netflix is raising prices to its oldest subscribers. After holding off on a raise to older customers, the month of May will see Netflix's main plan price increase from $7.99 to $9.99 monthly. Netflix offers three priced plans ranging from $7.99 to $11.99 for new subscribers. The prices range depending on if movies are shown in HD quality and how many people can stream content at the same time.
Amazon's price point of $8.99 a month will also compete against Hulu, which charges $7.99 for content with limited commercials or $11.99 a month for content without commercials. Of course, customers paying the new monthly price will pay more than Amazon users who pay the annual fee of $99. Amazon finally has caved to a growing population that is used to paying items monthly. Time will tell if this translates to more subscribers, but I have to believe that the answer will undoubtedly be yes. The company noted that subscribers have been asking for monthly pricing for some time.
Conclusion
With the latest Prime subscriber range of 57 to 61 million, we can again come up with a guess of how much money the company collects just in annual membership fees. At the midpoint of the range (59 million subscribers), Amazon collects $5.8 billion in annual membership revenue.
While Amazon doesn't break out all of the numbers for its Prime memberships, it continues to tell investors how much more valuable these subscribers are. Back in January when the video game discount was announced, Amazon said its Prime customers spend 140% more than other customers. With low margins for the massive e-commerce leader, multiple and repeat transactions matter.
Disclosure: I/we have no positions in any stocks mentioned, and no plans to initiate any positions within the next 72 hours.
I wrote this article myself, and it expresses my own opinions. I am not receiving compensation for it (other than from Seeking Alpha). I have no business relationship with any company whose stock is mentioned in this article.