Microsoft (NASDAQ:MSFT) reported quarterly results on Thursday after the market closed, missing estimates slightly. The company's stock sold off 5% after-hours, but I believe this is not justified.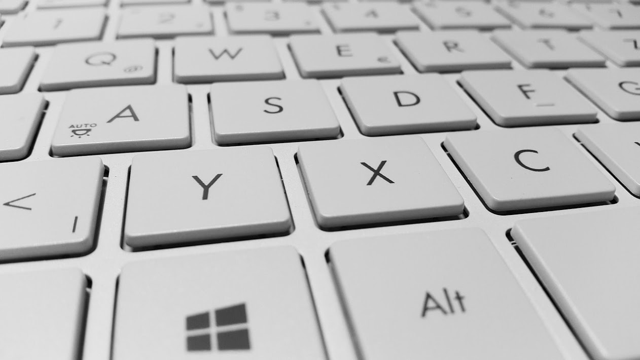 Microsoft reported third-quarter revenues of $22.1 billion (non-GAAP), which represents an increase of 2% year on year. Operating income grew 1% year on year to $6.83 billion, net income was down 2.5% to $4.97 billion and earnings per share totaled $0.62, which means earnings per share were flat year on year. The EPS number missed estimates by $0.02 though, which led to a significant drop in the company's share price after-hours.
I believe this is unjustified, since the earnings per share miss can be blamed on one single factor that is not very relevant for Microsoft's ongoing operations: the tax rate during the first quarter.
It had guided for a tax rate of 20% in the third quarter, but the actual tax rate was 25.4% during the third quarter ($1.28 billion in taxes on pre-tax income of $5.04 billion). The company's non-GAAP tax rate stood at 24%, 400 basis points above what it had guided for.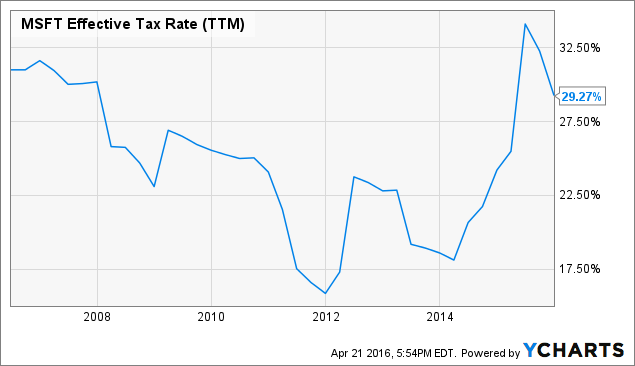 The higher tax rate was relatively in line with Microsoft's historical tax rate (with the average over the last ten years at roughly 25%), but a lot higher than what was guided for. Since the consensus estimate was formed with the belief that the company's net income would total 80% of its operating earnings, we have to adjust Microsoft's earnings per share number for the higher-than-expected tax rate.
When we want to calculate how high Microsoft's net income would have been with a 20% tax rate, we have to divide its net income of $4.97 billion by 0.76 (1-actual tax rate) and multiply the resulting number by 0.8 (1-expected tax rate). This gets us to tax rate-adjusted net income of $5.23 billion, which equals $0.66 per share when we divide by the company's (diluted) share count of 7.985 billion.
If Microsoft's tax rate had indeed been 20% for the third quarter, it would have reported earnings per share of $0.66 (all else equal). This result would not have missed estimates by $0.02, but would have beaten estimates by $0.02, as the consensus estimate stood at $0.64. Microsoft's true profitability, which was higher than expected, was thus only masked by a rather high tax rate, and adjusting for this shows us that it actually came in ahead of what most analysts estimated.
This is not surprising, as Microsoft's operational results looked pretty good.
Productivity and Business Processes revenues grew 1%, based on growth in all sub categories (Office commercial / Office consumer / Dynamics products and cloud services). Intelligent cloud revenues grew by 3% year on year, with Azure showing a very strong 120% revenue increase year on year.
More Personal Computing revenues grew 1% as well, with a strong result from Surface (up 61%), but revenue declines from the phones unit (down 46% year on year) and Windows OEM (down 2% year on year).
Microsoft's cash generation has been very high in the third quarter - it produced $10.4 billion in operating cash flows (up 8% yoy) and spent $2.9 billion on capital expenditures (including acquisitions made during the quarter). This means the company's free cash flows for the quarter totaled $7.5 billion, which equals a $30 billion annual run rate. $2.8 billion were paid out in dividends, and additionally, Microsoft has repurchased shares for $3.86 billion ($3.70 billion net of share issuances). If the company keeps its buyback pace steady, this equals an annual reduction of 3.5% of its share count. I like that Microsoft has stepped up its share repurchase pace over the last years, as this adds significantly to earnings per share growth over the years, and thus, will ultimately lead to substantial share price increases as well.
Since the company's cash position stands at $106 billion right now (up $9 billion year on year), investors can count on further significant shareholder returns via dividends and share repurchases. The next dividend increase should come later this year. Microsoft has now announced a $0.36 quarterly dividend three times in a row (which means we will see one more $0.36 quarterly dividend announcement before the dividend is hiked again, if the company holds onto its strategy of rising the dividend once a year). Its share repurchases could even be stepped up further - the company could increase borrowing to pay for higher buybacks the way Apple (NASDAQ:AAPL) does. Since Microsoft has a AAA rating and more than $100 billion in cash on its balance sheet, the interest rate would likely come in very low, which makes this strategy viable for the company.
Microsoft's valuation does not look too high right now: When we take its earnings per share for the third quarter ($0.62, since a 25% tax rate is more realistic for the full year) and multiply these by four, we get to an annual run rate of $2.48. This means the stock is trading at 21.4 times earnings right now, which is not an especially low valuation relative to how the company was valued in the past, but is low relative to the broad market, which trades at 24.1 times earnings.
Since Microsoft also offers a dividend yielding 2.7% (which is on par with the 30-year Treasury bond yield and a lot higher than the broad market's dividend yield) and is a very safe investment (due to its very strong, AAA worthy balance sheet and a non-cyclical business), I believe the current valuation is not high for the company. With forward earnings estimates of $3.04, MSFT trades at just 17.4 times forward earnings, which is a rather low valuation for such a high-quality investment as well.
Takeaway
Microsoft missed estimates and sold off 5% after-hours, but investors need not worry about this miss, since the reason was an unexpectedly high tax rate. Operationally, the company is doing very well, its shareholder returns remain high, it is growing in every segment (despite currency headwinds) and finally, the stock trades at a rather low valuation. Overall, I believe MSFT shares look attractive for income investors as well as those looking for capital appreciation, especially for those with a long time horizon and a focus on secure, low-risk investments.
Disclosure: I am/we are long AAPL.
I wrote this article myself, and it expresses my own opinions. I am not receiving compensation for it (other than from Seeking Alpha). I have no business relationship with any company whose stock is mentioned in this article.