It is not too late to invest in Spirit Airlines' (NASDAQ:SAVE) rebound. A path to sustained earnings beats exists, behind (1) re-emergence of seasonal strength in Q2/Q3, (2) growth in total passengers from low ticket prices and (3) renewed pricing and capacity discipline from legacy carriers. The street is still expecting an EPS decline in 2016, with few projecting growth that looks increasingly probable. Trading at a forward price-to-earnings ratio near the low since its IPO, now is the time to hold, buy more or start a position in this rebounding compounder, an attractive runway for continued growth.
Normal Seasonal Trends Support Sequential Pricing Improvement in Q2 and Q3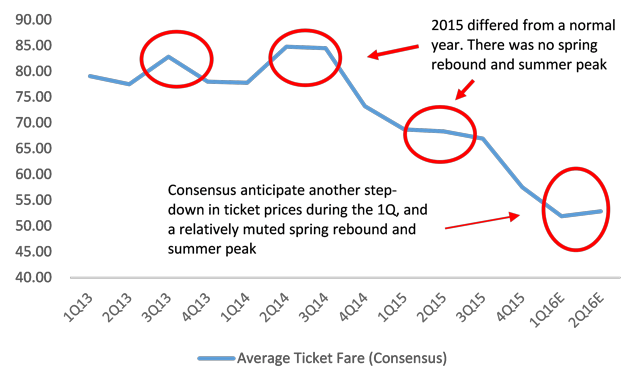 Source: Company Reports, ATBEd
In a normal year, seasonal trends help drive a spring rebound and a summer peak in ticket pricing. Demand during the summer months is typically higher than the winter. 2015 was a non-typical year for SAVE, which saw no such rebound and peak. Instead, we witnessed normal Q1 weakness continue into Q2 and Q3. Ticket prices implied by consensus estimates appear to factor in little if any rebound during Q2. A return to normal patterns would lead to better than expected ticket pricing in the coming months. There is considerable flow through from better pricing to earnings, and better pricing would set the stage for further earnings beats.
Low Prices Encourage Demand Growth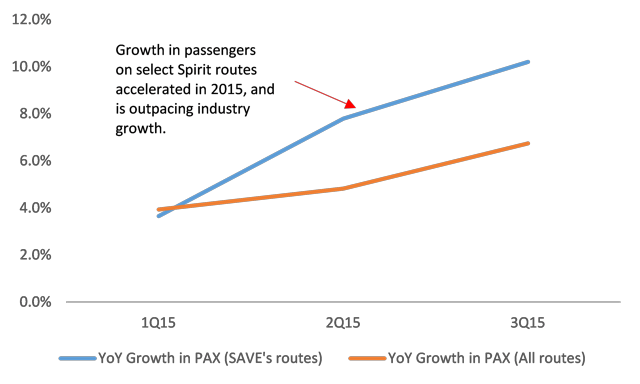 Source: RITA
The debate has been focused on the downside of price declines, but there are upsides as well. Travel, especially tourist travel (SAVE's focus), is a highly elastic market. SAVE's low ticket prices, which are down more than competitors', is creating passenger growth. During 2015, per RITA data, growth in passengers on top routes accelerated during the year and outpaced the growth for the overall industry. In 2015, passenger growth on top routes increased 3.6%, 7.8% and 10.2% YoY, compared to 2-year ticket price declines of -13.3%, -10.0% and -18.8% in Q1, Q2 and Q3. As price declines deepen on a 2-year basis and become more widely known, passenger growth on SAVE's routes should continue to accelerate. This creates upside to load factors (occupancy level of an airplane) and supports stronger pricing. Management currently targets a load factor for 2016, "down slightly" from 2015. There is a chance this comes in better than expected. In March, we actually saw 40 bps in growth YoY to 88.5%. Higher load factors also deliver strong incremental profits due to high fixed costs, and would help earnings beat expectations.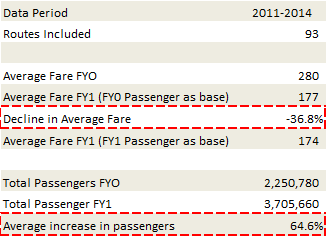 Source: RITA
RITA data on the above 93 routes from 2011-2014 suggests there is upside to passenger growth seen on SAVE's routes through Q3'15. These 93 routes had an average ticket price decline of -36.8%, and saw an average 64.6% growth in total daily passengers a year later. SAVE is seeing ~-30%+ 2-year ticket price declines in 2016 and given the highly elastic nature of leisure travel, it should see substantial YoY passenger growth. While SAVE's routes are unlikely to show the same price elasticity of demand as the RITA sample, which likely benefited from strong advertising, there is upside from recent levels. There is most likely a lag time from ticket price decline to price discovery by travelers.
The Competitive Dynamic May Support Better Pricing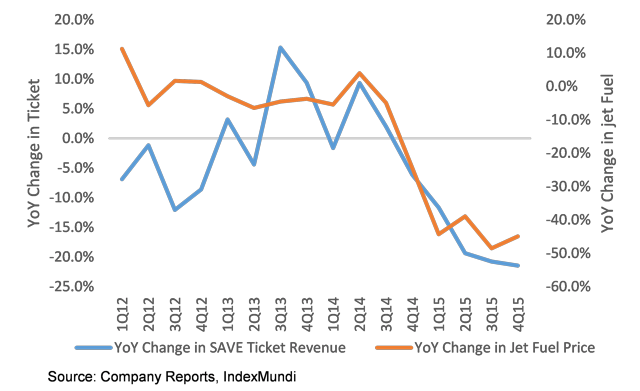 The correlation between SAVE's ticket fare and jet fuel has been pointed out by other contributors, but this correlation begs the question. What is the true underlying cause of declining ticket prices? American Airlines (NASDAQ:AAL) has consistently blamed jet fuel, but there is cause to believe that it is just one factor, though an important one, amongst a broader matrix. SAVE's large capacity increase (+30%) during 2015 was another important factor, which likely forced management to reduce prices in order to fill seats. As an Ultra-Low-Cost-Carrier, it is a prudent strategy to pass along fuel savings to customers. It is SAVE's business model to create shareholder value by growing capacity 15-20%, and falling jet fuel enabled management to drop prices and encourage more air travel. Management may have more control over pricing than the market gives them credit for. This view is corroborated to some degree by SAVE's management, who has consistently stated that the competition is dropping prices to match their own. If SAVE does indeed have more control over its own destiny, it begs the question. Do more price declines make sense? To a large degree, it will depend on the price of jet fuel which has protected margins thus far. With 2-year ticket prices down ~30%, customers are already benefiting much and are encouraged to travel. If capacity is slowing and load factors strengthening (as they are), SAVE may have less incentive to reduce ticket pricing further especially if upside risk to jet fuel prices is growing.

Source: DAL Q1'16 PR
When legacy carriers like Delta expand capacity quickly or compete too aggressively on pricing, they face opposition from investors and may ultimately adjust their strategy. Aggressive expansion or price competition goes against the restraint that helped the industry flourish after the recession, and a lack of restraint prevents maximum near-term profitability. Delta's commentary that it may adjust fall capacity, would help alleviate pricing pressure, but it is also a sign of what may come from other carriers as jet fuel stabilizes. A focus on getting unit revenues "back to a positive trajectory" would be well-received by all airline shareholders.
Upside to Earnings in Q1 and Q2

Source: ATBEd
According to my analysis of Google Flights ticket pricing, using passenger data from RITA as the weight, there is upside to street ticket pricing assumptions in Q2. By my estimates, a 4% improvement (from -23% to -19%) in Q2 ticket pricing would drive a ~$15 million improvement in revenue. Since pricing has strong flow through to profits, even a small improvement in pricing could create material upside to Q2'16 earnings estimates (+10%). Greater than 4% pricing upside may exist in Q2.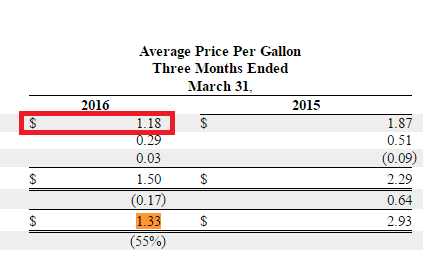 Source: DAL Q1'16 PR
On the cost side, fuel costs could come in below management's guidance for $1.25 per gallon in the first quarter. Delta's Q1'16 PR gave us a nice read through. Though many are focused on the headline number of $1.33, the $1.18 they actually paid is a better benchmark for Spirit who had no outstanding fuel hedges as of December 31, 2015. A $0.05 reduction per gallon could yield $3-$4 million in pre-tax savings, and is an incremental source of EPS upside in Q1.
The Long-Term Growth Story Remains Attractive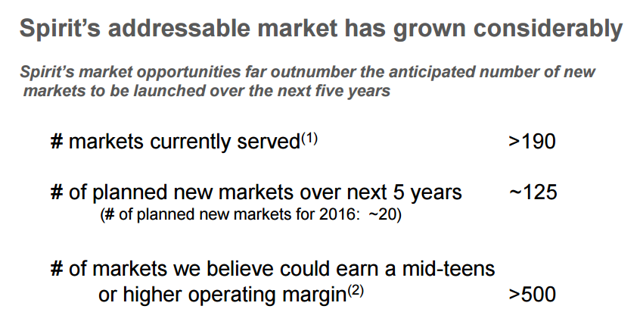 Source: Company Reports
Long-term, there is still substantial room for Spirit to expand to more than 500 markets and the decline in jet fuel has increased the number of markets that are economic to enter. Management believes their current target for 500 markets is stale, so the growth runway could be longer than expected.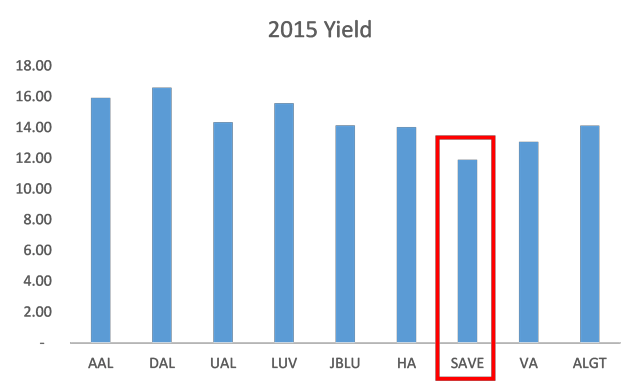 Source: Company Reports
SAVE's low ticket prices, enabled by its low cost culture, gives me confidence that they can execute their expansion goals.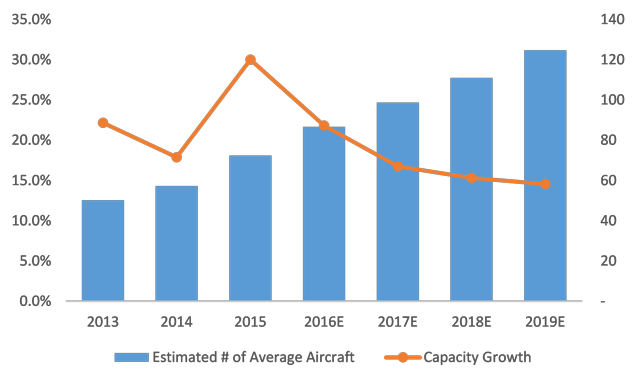 Source: Company reports, ATBEd
Based on the current order book and lease terms, the number of aircraft likely grows at a low-to-mid-teens CAGR. As larger capacity airplanes are being bought, this pushes capacity growth higher to an approximately ~15%+ CAGR. In order to reach the upper end of their LT 15-20% capacity growth target, management may purchase aircraft coming off lease or order additional aircraft.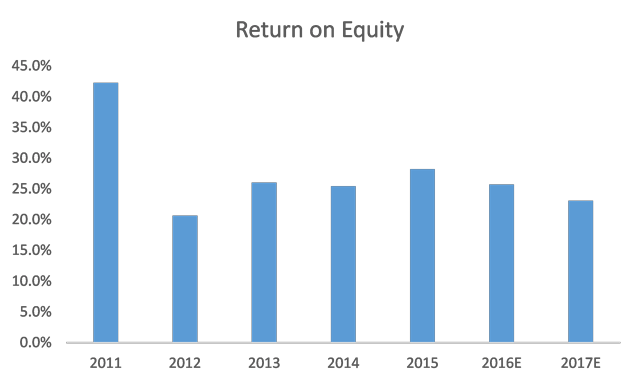 Source: Company Reports, ATBEd
Spirit has delivered strong returns on equity, and those returns remain attractive during my forecast period.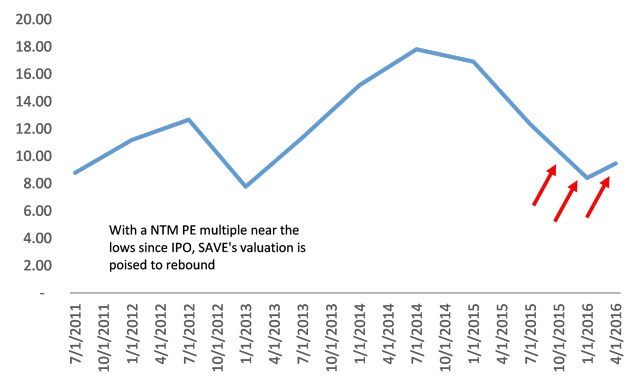 Source: Yahoo Finance, Company Reports, ATBEd
Even with the rebound, the shares at $52 still trade near the bottom of its valuation range since IPO. If further earnings beats occur and management is able to deliver positive growth, there is room for shares to fly higher. At ~13x NTM EPS 12 months from now, the company could be worth $70+ or 30%+ upside from current prices. From there, shares likely continue to grow ~15%+ per year as more airplanes are added to the fleet and the company enters more markets.
If you want to learn more, Whitney Tilson had a great write-up on Spirit and West Coast Growth Picks publishes much on the airline industry.
Disclosure: I am/we are long SAVE.
I wrote this article myself, and it expresses my own opinions. I am not receiving compensation for it (other than from Seeking Alpha). I have no business relationship with any company whose stock is mentioned in this article.