Welcome to the April 22nd edition of Seeking Alpha's Eye on Tech newsletter.
Eye on Tech Coverage
Ericsson's Earnings: Weak Mobile Spending Shows The Need To Grow Cloud Exposure
Ericsson (NASDAQ:ERIC) missed Q1 estimates, thanks in large part to weak mobile carrier capex in Europe and emerging markets.

The numbers follow an earnings warning from Juniper (NYSE:JNPR), and a sales miss and soft guidance from Ciena (CEIN).

The results show the need for Ericsson to grow its exposure to cloud infrastructure deployments, as traditional carrier clients continue seeing intense revenue pressures.
Intel 3D XPoint/Optane SSD Blows Away Traditional SSD In Performance Benchmarks
An SSD developed by Intel (NASDAQ:INTC) and using Intel and Micron's (NASDAQ:MU) 3D XPoint next-gen memory easily beat a conventional SSD using NAND flash memory in a performance test.

3D XPoint drives could replace traditional SSDs in many performance-intensive server/cloud applications, and also act as a DRAM alternative for in-memory databases.

The first 3D XPoint drives are expected this year, but sales aren't expected to ramp until 2017.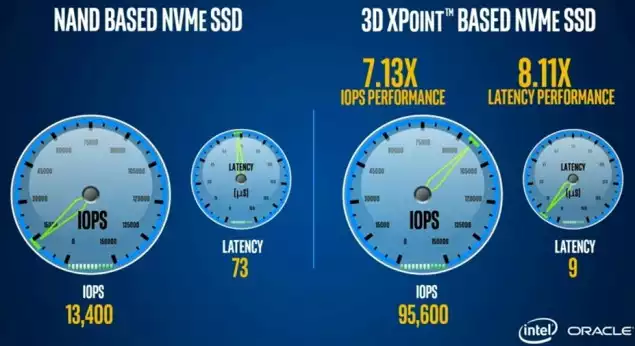 Noteworthy Tech News
Google sells off after Q1 miss; forex and TAC growth weigh - Alphabet/Google's (GOOG, GOOGL) Q1 results were just mildly disappointing relative to analyst estimates, rather than disastrous. But the stock went into earnings up nearly 40% from where it traded a year ago, and just 4% below its early-February highs (hit after the Q4 report). There wasn't much margin for error.
A larger-than-expected forex impact on sales growth - it led growth to be at 17% Y/Y vs. 23% - took a toll. For comparison, Microsoft (NASDAQ:MSFT) and IBM (NYSE:IBM) each saw just 300 bps forex hits in calendar Q1. Traffic acquisition cost ("TAC") growth also weighed - though TAC fell to 21% of ad revenue from 22% a year ago, that was only due to a mix shift in revenue towards Google sites (8% TAC) from network sites (70% TAC). On their own, both Google sites TAC and network sites TAC grew as a % of revenue.
When asked about TAC growth on the earnings call, CFO Ruth Porat said mobile ad growth is lifting Google sites TAC - the company is believed to make steep search-related TAC payments to Apple, and lesser payments to Android OEMs and carrier partners - and that adoption of programmatic (automated) ad-buying platforms is raising network sites TAC. Porat: "The obvious result is more revenue and gross margin dollars, but at a lower margin." If the EU's antitrust suit against Google prevents the company from requiring its apps/services be bundled with its version of Android, TAC could grow significantly.
Some Q1 positives: 1) Paid clicks rose 29% Y/Y, and clicks on Google sites 38%, with the help of strong YouTube and mobile search ad growth. This was partly offset by a 12% drop in ad prices (cost per click). 2) Free cash flow rose 37% to $5.2B, thanks partly to a 17% drop in capex to $2.4B. It probably won't be long before capex growth turns positive again, but there's clearly more spending discipline here under Porat.
Some interesting earnings call remarks from CEO Sundar Pichai: 1) He argued bringing Google's AI/machine learning APIs - the product of massive AI investments over the last several years - "is going to be a huge source of differentiation" for its cloud platform, which is now pulling out all the stops to gain ground against Amazon/Microsoft. 2) Though YouTube's content investments for the YouTube Red subscription service are currently focused on original content, Pichai says Google "will keep an open mind" about other material such as films and movies. Netflix (NASDAQ:NFLX) can't be happy to hear that.
Meanwhile, Porat says Google is looking to "rationalize" its investments in areas where it has "had multiple teams developing different approaches to a similar technology." That's being taken as a sign that Google will pare its spending in some parts of its "Other Bets" reporting segment. The segment, which features Nest/Dropcam, Google Fiber, posted an $802M operating loss in Q1 on revenue of just $166M. The Boston Dynamics robot unit is reportedly up for sale.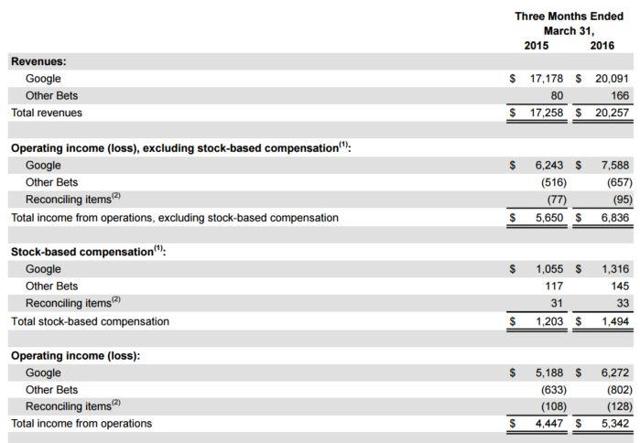 The Other Bets reporting segment remains very much in the red. Source: Alphabet's Q1 report.
Microsoft slumps after FQ3 EPS miss, soft FQ4 sales guidance - Much like Google, Microsoft didn't have much room for error: Shares went into earnings about a dollar removed from a post-Dot.com bubble peak of $56.85. A higher-than-expected tax rate (24% vs. 20%) led FQ3 EPS to fall short of expectations in spite of in-line revenue, lower operating expenses, and $3.9B worth of buybacks.
Looking at guidance, it's the More Personal Computing division (covers Windows, hardware, and Bing) that's the clear weak spot, with revenue expected to drop to $8.7B-$9B from FQ3's $9.5B. Weak PC sales are, of course, hurting the division. As is Microsoft's free-falling phone business (sales -46% Y/Y in FQ3 in constant currency), and a decline in Android royalty revenue caused partly by "a higher mix of lower-royalty units." The Surface line (sales +61% in CC) and search ads (+18% in CC) are doing better. Notably, Microsoft says Windows 10's integration of Bing search is boosting its search performance.
The Intelligent Cloud division (server products, Azure, and enterprise mobility) wasn't particularly strong in FQ3, with sales rising just 3% Y/Y in spite of still-blistering Azure revenue growth (+120% in CC) and a 100%+ increase in enterprise mobility clients. The migration of on-premise server workloads to cloud infrastructures is clearly weighing on Microsoft's traditional server software ops, much as it is on the data center sales of other IT giants. But the division's revenue is expected to rise to $6.5B-$6.7B in FQ4 from FQ3's $6.1B.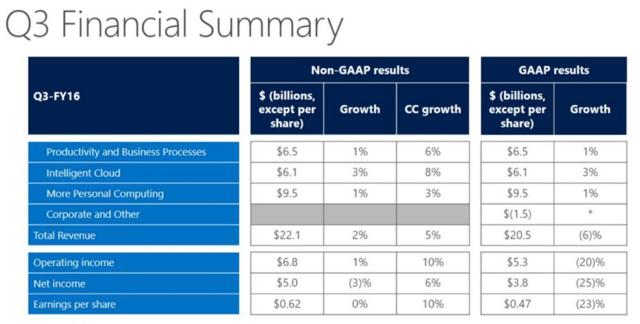 Source: Microsoft earnings slides
The Productivity and Businesses Processes segment (Office and Dynamics business apps) returned to positive revenue growth in FQ3. That's more a reflection of how reported near-term sales aren't being artificially depressed as much by a shift from up-front Office and Dynamics software licenses to cloud subscriptions. Regardless, Office 365 commercial seats did rise 57% Y/Y, and the Office 365 consumer base grew by another 1.6M Q/Q to 22.2M. Sales are expected to tick higher to $6.5B-$6.7B in FQ4. This unit won't produce huge growth in future quarters, but it's well-positioned to deliver modest growth thanks to Office 365's success.
AMD soars on Q1 beat, strong Q2 guidance, Chinese JV/licensing deal - With AMD (NASDAQ:AMD) having gone into earnings trading at about 0.5x its 2016 sales consensus, the various pieces of good news found in its Q1 report are being well received. An x86 server SoC JV and licensing deal with Chinese consortium THATIC - it will deliver up to $293M in licensing fees plus royalties on product sales - is naturally getting the most attention.
The JV gives AMD a cash infusion amid ongoing balance sheet worries, and also provides a shot in the arm for a server CPU business that has been marginalized by the dominance of Intel's Xeon CPU line. Assuming it's developing chips based on AMD's next-gen Zen CPU architecture - all signs point to Zen delivering big performance and power improvements over existing AMD architectures - the chips developed by the THATIC JV could be competitive. But perhaps what really matters here is that the Chinese government - intent on growing the local chip industry and on edge over spying following the NSA uproar - appears to be backing this effort, and could "encourage" various local firms and agencies to use the chips created by the JV. Intel finished after-hours trading down 1.2%.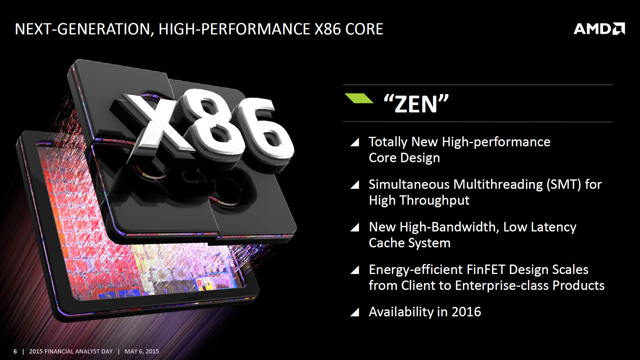 AMD's next-gen Zen CPU architecture. Will likely be used by its Chinese JV.
As for AMD's current businesses, sales were down 19% Y/Y in Q1, thanks to PC weakness, share loss to Intel and Nvidia (NASDAQ:NVDA), and lower sales of console-related processors. But AMD expects Q2 sales to rise ~15% Q/Q, thanks largely to a new semi-custom SoC win (believed to be for a 4K-capable PS4) and higher GPU sales (aided by the Polaris GPU launch). Moreover, the company forecasts $1.5B in revenue from three different semi-custom SoC wins over the next 3-4 years. Following a brutal 2014 and 2015, there's finally some hope for a sales bottom.
Mellanox hammered after providing light guidance - The provider of high-speed InfiniBand/Ethernet server connectivity hardware beat Q1 estimates, but offered a below-consensus Q2 outlook. The guidance comes after Intel reported its server CPU division's sales grew a lower-than-expected 9% Y/Y in Q1, while blaming enterprise server weakness.
On its earnings call, Mellanox (NASDAQ:MLNX) insisted it's not seeing much competition from Intel's just-launch Omni-Path high-speed interconnect fabric. It also forecast sales of its 100G-capable Spectrum Ethernet switches (powered by a proprietary switching chip) would ramp in 2H16.
Dell's SecureWorks unit prices IPO at $14, below $15.50-$17.50 range - SecureWorks' (NASDAQ:SCWX) pricing could have something to do with its ongoing losses. The security services provider is being valued at $1.1B, or a moderate 3.3x trailing sales.
Comcast makes TV services available via Roku set-tops and Samsung smart TVs - This feels like an attempt to counter the FCC's efforts to require Comcast (NASDAQ:CMCSA) and other pay-TV providers to make their services accessible to set-tops in general. If the FCC has its way, billions in set-top rental fees collected by pay-TV providers could be at risk.
Facebook changes news feed algorithm to account for time spent reading articles on other sites - Facebook (NASDAQ:FB), whose algorithm already accounted for the time spent reading content within its news feed, says its latest move will help it "better understand which articles might be interesting to you based on how long you and others read them, so you'll be more likely to see stories you're interested in reading." It could also help the company better select which Instant Articles are shown to a reader directly on its app.
Uber pays $100M to settle class-action suit from drivers - The settlement to the suit, which had been filed by drivers in California and Massachusetts, allows Uber (Private:UBER) to continue employing its drivers as independent contractors, albeit while requiring the company to change its policy of deactivating drivers without warning or recourse. The show (i.e. Uber's massive disruption of the transportation service industry) goes on.
Notable Tech Commentary and Reports
IAB: U.S. digital ad sales rose 20% in 2015 to $59.6B - While display ad pressures, the shift to programmatic ad buys, and Facebook's massive growth may mean that some online ad firms aren't faring well, the long-term migration of ad dollar from offline to online/mobile channels clearly isn't slowing down.
The IAB estimates U.S. mobile ad sales rose 66% to $20.7B, and social ad sales (including mobile ads) 55% to $10.9B. Display sales only rose 3% to $13.9B, but digital video (included within display) grew 30% to $4.2B (much of that presumably went to YouTube). Search ad sales rose a moderate 8% to $20.5B.
SA contributor Tomasz Tunguz: Just How Far Along Are We In SaaS? - Tunguz estimates cloud/SaaS software firms now account for 14% of all software revenue produced by public companies, up from just ~2.5% in 2005. On a dollar basis, he thinks revenue from public SaaS firms grew to $24B last year. The figures don't include any revenue from the SaaS businesses of traditional enterprise software giants such as Oracle (NYSE:ORCL) and SAP (NYSE:SAP). The column came on a day in which many cloud/SaaS names rallied in response to ServiceNow's (NYSE:NOW) Q1 report.
Bill Gurley: Why the unicorn financing market just became dangerous… for all involved - Gurley, a VC who has long been raising alarm bells about what he considers to be an overheated valuation environment for late-stage startups (those worth over $1B have been labeled unicorns - there are quite a lot of them now), argues too many unicorns have become conditioned to having easy access to capital (and spending accordingly), and are now due to face a much tougher fundraising environment featuring valuation "down rounds" and "dirty term sheets" from investors looking to exploit the sea change.
In time, such a VC funding crunch could make IPOs a more appealing option for those unicorns that have healthier financials, or at least a clear road to profitability. It's an open secret that abundant VC funding provided at lofty valuations, together with a wish to avoid the headaches that come with being a publicly-traded firm (quarterly earnings reports, Sarbanes-Oxley, potential activists) have made many successful unicorns delay going public as much as possible. The story might be different in a year or two. Publicly-traded investors in late-stage private tech firms include GSV Capital (NASDAQ:GSVC) and the Firsthand Tech Value Fund (NASDAQ:SVVC).
WSJ: Broadband data caps pressure 'cord cutters' - Looks at how monthly bandwidth consumption caps implemented by ISPs such as Comcast and AT&T (who also happen to be pay-TV providers) are stunting online video usage and/or acting as a cord-cutting deterrent for some U.S. consumers. FCC complaints about the caps rose to 7,904 in 2H15 from 863 in 1H15. Consumers in broadband markets featuring just two ISPs that both implement caps currently have little choice but to put up with them.
Disclosure: I/we have no positions in any stocks mentioned, and no plans to initiate any positions within the next 72 hours.
I wrote this article myself, and it expresses my own opinions. I am not receiving compensation for it. I have no business relationship with any company whose stock is mentioned in this article.