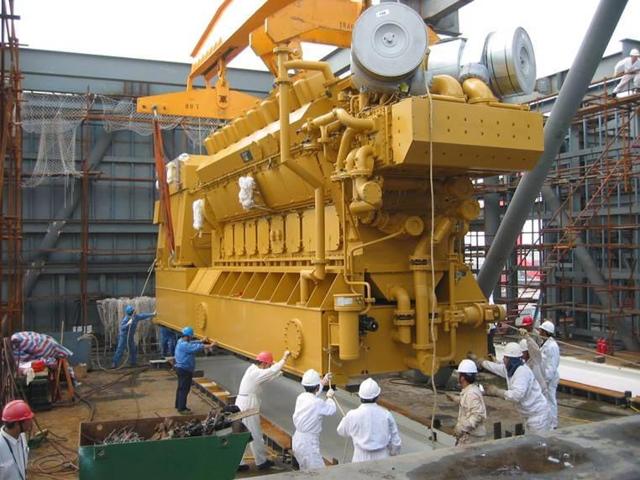 Source: Offshore Energy Today
Caterpillar (NYSE:CAT) is set to announce quarterly earnings on Friday. Analysts expect revenue of $9.39 billion and EPS of $0.68. The revenue estimate implies a 15% decline from the $11.1 billion the company reported last quarter. The following are key items investors should focus on.
Is The Commodities Rebound A Head Fake?
The decline in commodity prices has punished Caterpillar over the past year. In Q3 2015, the mining and construction equipment giant announced it was laying off up to 10,000 employees in an effort to slash $1.5 billion in annual costs. After the Bloomberg Commodity Index fell 25% last year, I wrote Caterpillar off for dead. The commodities rout sent CAT to a 52-week low of under $57 in mid-January. However, commodities prices have rebounded sharply since then. 17 commodities out of 22 on the Bloomberg Commodity Index demonstrated positive growth. Caterpillar's business prospects also rebounded. CAT is up over 40% since mid-January.
However, the fundamentals that drove commodities prices lower still remain. China's economy is expected to cool down, and so is its demand for commodities. The country's March exports surged 11.5%. However, February exports data included the Lunar New Year, during which China took a week off to celebrate. Shipments that may have occurred in February could have spilled over into March and made data for that month appear more positive. Until April's trade data shows similar improvement, I will assume China's economy is still in decline. Secondly, its Q1 GDP grew 6.7%, the slowest quarterly growth in seven years.
In addition, the Federal Reserve ended its quantitative easing program a while ago. It was after QE ended (or was near ending) in Q2 2014 that trading in oil prices and other commodities fell sharply. As trading volume declined, so did commodity prices. More rate hikes could be in the cards if inflation increases or asset prices continue to belie the fundamentals. Lastly, if rising commodity prices do not equate to higher equipment orders for Caterpillar, the stock could trade flat-to-lower going forward.
Energy Remains A Concern
The company's Q4 revenue was off 22% Y/Y. The biggest declines were seen in Resources (down 23%) and Energy and Transportation (down 29%). Operating profit for Energy and Transportation also fell 37% Y/Y.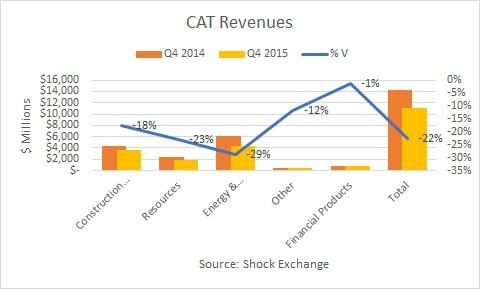 The rub is that Energy and Transportation represents about 40% of total revenue, and its decline will have an outsized impact on CAT going forward. According to Barclays, oil & gas E&P is expected to decline 15% in 2016 - that follows a 23% fall off last year.
The Q1 2016 revenue for leading oilfield services provider, Schlumberger (NYSE:SLB), fell 36% Y/Y. Schlumberger also announced 2,000 layoffs in response to the decline. I expect Caterpillar to report a Q1 double-digit decline in Energy & Transportation as well. With oil & gas E&P in decline and vendors fighting over the scraps that remain, I expect it to be a tough year for Caterpillar's largest operating segment.
Disclosure: I am/we are short CAT.
I wrote this article myself, and it expresses my own opinions. I am not receiving compensation for it. I have no business relationship with any company whose stock is mentioned in this article.