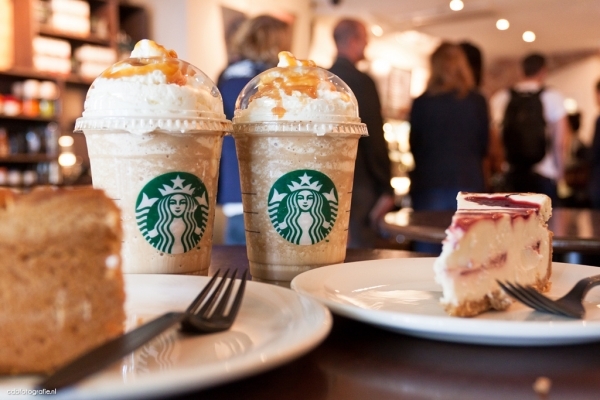 When Starbucks (NASDAQ:SBUX) reported its first quarter earnings back in January, the stock was weak as guidance failed to impress seemingly insatiable investors. At the time, SBUX neared support at $59 and my conclusion was that shares would bounce higher as the report was digested. Indeed, shares subsequently went to $61 and that is where they traded before last night's second quarter report. Shares are getting pounded from this report as well as SBUX produced record numbers but they weren't good enough and to my mind, this looks a lot like the setup from the Q1 report. But price action is king so is SBUX' epic, multi-year rally finally ending or is this another pause that refreshes?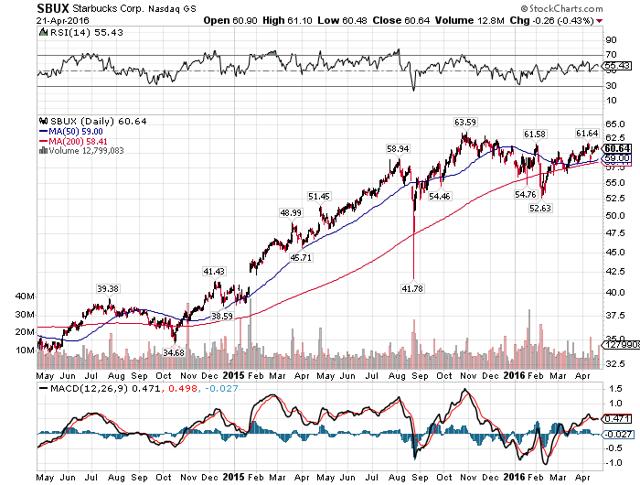 The Starbucks story for years has been higher comps and higher margins combining to create torrid profit growth. The company's renewed focus on menu innovation and introducing things like its delivery and rewards programs has kept interest up from consumers. The sheer scale of the company's sales base dictates that comp sales gains should be pretty challenging to achieve but SBUX continues to blow it out of the water, producing levels of SSS growth nearly any company would be envious of.
SBUX' level of comp sales in Q2 appears to be the reason for the initially poor reaction to the results so let's dig in. Total global comps rose 6% in Q2 as the Americas hit 7% but the company's other geographic segments were much weaker. The US market is, of course, SBUX' most important and comps are flying here. In addition, the comp gain was once again split between traffic and ticket gains, something I find to be very important. SBUX saw a 4% ticket gain in Q2 and a 2% traffic gain, indicating it is either picking up new customers, existing customers are coming in more often, or both. Either way, it sets SBUX up very well for continued future growth as traffic is the lifeblood of any business with physical locations. In addition, SBUX continues to work its magic with its average ticket and a 4% gain is very strong indeed. In short, the fact that Q2's comp gain of 6% was a deceleration from Q1's 8% is a ludicrous reason for the stock to sell off; 8% comps aren't going to happen every single quarter and to throw a temper tantrum because of a +6% print makes no sense.
I believe the revenue picture is as strong as ever for SBUX so the other piece of the puzzle is the company's margins. We've also seen lots of strength here as well in recent years as SBUX' rapid SSS growth has led to some strong leveraging of costs, producing higher operating margins. Indeed, Q2 saw operating margins jump 60bps higher to 17.6%, another very positive sign investors are ignoring. SBUX has proven it can do more with less in terms of costs and as it continues to open new stores and see SSS gains, its operating margins will continue to rise. Coffee prices are still very low so that should be a tailwind for margins this year as well. In other words, just like revenue, the picture is still very bright for operating margins and that means SBUX' profit growth trajectory is still very much intact.
SBUX guided for what amounts to consensus estimates for this year so I'm sure that also disappointed some very shortsighted investors. However, consensus is at almost 20% EPS growth for this year and given that SBUX just guided for that, I can't understand how that disappoints anyone. Consider again the scale on which SBUX operates and then consider that it has one of the strongest brands on the planet and that it is continuing to produce strong revenue and margin growth such that it will hit 19%+ EPS growth this year; what more do you want?
To be fair, SBUX certainly isn't cheap. With shares at about $58 as I write this it is still trading for 31 times this year's earnings/guidance. That's steep but SBUX is never going to be cheap in the traditional sense because this is an extraordinary company. If you want to own it, you have to pay a premium. Besides, given its torrid EPS growth that is yet to come, it isn't really all that expensive based upon this year and next year's growth numbers.
One thing I'll certainly be watching is how the stock reacts to the $58/$59 level. Right now, that level corresponds to both the 50DMA and 200DMA that are both steeply rising. If SBUX can ride those averages higher the rally will continue. If, however, the stock stalls and remains below those levels decisively, it likely means the current rally is over. That doesn't mean there isn't upside potential over the longer term, it just means that over the short term, gains would likely be capped. What SBUX does over the next few trading days will be critical to determining its short term move.
Over the long term, I still love the SBUX story. Not only does it have all the intangibles you could ask for but it continues to produce record results. Its valuation is in-line with a stock that is growing earnings the way SBUX is so again, I think you're still getting some value despite the 31 PE. I welcome the pullback off of earnings as long term investors will do well from here.
Disclosure: I am/we are long SBUX.
I wrote this article myself, and it expresses my own opinions. I am not receiving compensation for it (other than from Seeking Alpha). I have no business relationship with any company whose stock is mentioned in this article.