Times have been getting a lot better for oil prices, even after seeing an initial drop in response to news from Doha that a meeting between OPEC (excluding Iran) and some non-OPEC members failed to end in an agreement between parties to freeze output. In part, some of this data has been driven by some categories of petroleum products reporting lower inventory levels, but the big contributors revolve around falling U.S. output and strong demand here at home.
However, there is one other factor, in my opinion, that is proving to be bullish for investors in the United States Oil ETF (NYSEARCA:USO), other oil-related ETFs, and oil-related companies like Memorial Production Partners (NASDAQ:MEMP), BreitBurn Energy Partners (BBEP), Linn Energy (LINE) / LinnCo (LNCO), and Approach Resources (NASDAQ:AREX) - and that is falling Cushing inventories. In what follows, I will dig into the data and show how and why this is another reason to be cautiously optimistic about the oil picture moving forward.
Inventory levels are falling in Cushing
Cushing, Oklahoma, is considered perhaps the single most important oil hub in the U.S. As the place where contracts for crude are settled, and as the part of a nation that very large quantities of product travel through, its name is synonymous to those in the business with oil just as New York is synonymous with city life.
Given its prestigious standing in the oil space as a major hub through which petroleum travels, it's only natural to see significant storage capacity in the area. Using the most recent data available, the EIA (Energy Information Administration) has estimated that working storage capacity (for commercial locations) in Cushing stands at a hefty 73.01 million barrels. Depending on your definition of commercial storage, however, this number can be as high as 88.01 million barrels. At about 19.5 million barrels per day, this implies the area has enough capacity to cover between 3.7 and 4.5 days of U.S. consumption.
What's interesting is that even at a time when crude inventories are on the rise in the U.S., hitting 538.6 million barrels (the highest we've seen in decades), crude inventory levels are showing signs of declining. In its latest report on the issue, the EIA estimated that inventories last week stood at 64.30 million barrels. In the graph below, you can see this means we are near the all-time storage max at Cushing (going back as far as the data in question goes at least), but we can also see a recent decline.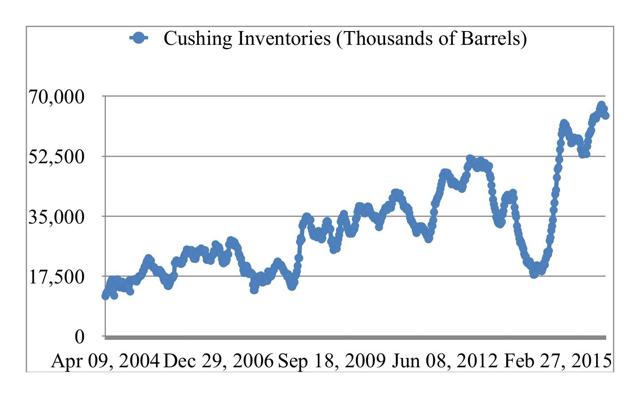 Based on the data provided, this level of inventory at Cushing is actually below the 66.32 million barrels seen two weeks earlier, which implies a straight two-week fall-off. Furthermore, we are also below the record shown in the graph, which occurred for the period of March 11, when storage in Cushing was around 67.49 million barrels. Overall, this drop of 3.19 million barrels is significant, but inventories are still elevated.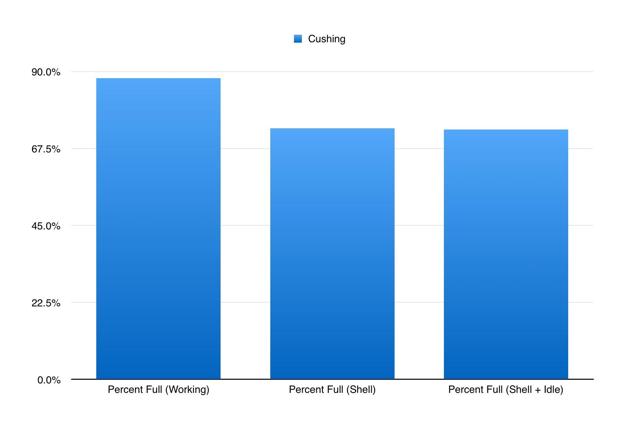 In the graph above, for instance, you can see that if we use the most conservative definition of storage capacity, which is working storage capacity, tanks are still 88.1% filled in the region. This is, by any measure, quite high, but it does represent an improvement over the 92.4% seen in March, and is likely one of the driving factors behind the increase in oil prices because of the theory that high inventories in Cushing, where so much oil flows through, risks creating a situation where tanks are so full that crude has to be sold at fire sale prices just to get it out of the tanks to make room for additional oil inflows. This is a point I've been a bit skeptical about in the past, but perception is more important, in the near term, than what should happen.
There are, of course, two other ways of measuring tank capacity. The first is through the shell capacity method, where we employ the tank bottoms and the extra space that's left at the top of tanks to place crude into as well. Using tank bottom space can be hard, but it's not impossible, and if tank owners in Cushing can fully utilize this capacity, we see that current tanks in the area are a more modest 73.3% full, down from their March peak of 76.3%. If we also include idle capacity - which is capacity that is off-line now, but that could be reasonably expected to come on-line within 90 days - tanks dip to just 73.1% full, down from 76% full in March.
Overall, this data suggests that not only is the picture in Cushing improving, but it's not as terrible as some of the headlines have suggested. What's more is that the EIA data on storage capacity comes from September of last year (new data comes out May 31st), while current inventory levels are around a week old. This gives companies in Cushing the opportunity to add new capacity - something they have done during every six-month period on record.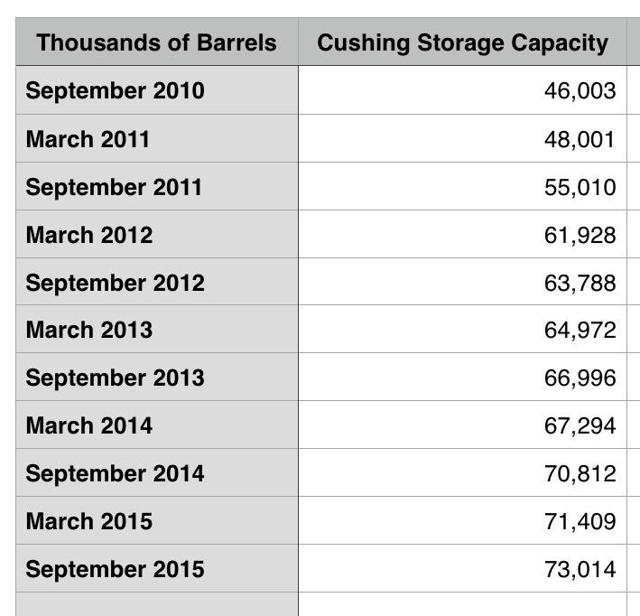 In the table above, you can see that this has held true for years now. In fact, between March 2012 (when the year-over-year increases slowed down) and September 2015, crude working storage capacity grew by an average of 1.58 million barrels every six months. My own guess is that EIA data will show an even larger increase come May due to the crude glut that exists in the U.S., but even if we add on the average to current levels, tanks are between 71.8% and 86.2% full. This is still a high enough amount that investors should watch carefully, but it's not so high that it should create an overly bearish tone for the market.
Takeaway
Right now, there are some very good signs in the oil market and some very bad ones, all of which are creating uncertainty regarding where the price of oil should be. This particular piece of data seems to be sitting somewhere in between the two types, but what is undeniable is that the move seen in Cushing, where inventory levels are declining, is certainly a positive that investors should be happy about for the moment. This could definitely change as new data comes in, but for now, it's something that is likely helping to drive prices higher and could continue to do so if said trend continues.
Disclosure: I am/we are long MEMP, AREX, BBEP.
I wrote this article myself, and it expresses my own opinions. I am not receiving compensation for it (other than from Seeking Alpha). I have no business relationship with any company whose stock is mentioned in this article.