Natural gas (UNG, KOLD) inventory saw a build of just 7 bcf last week versus last year's 55 bcf and the 5-year average of 48.5 bcf.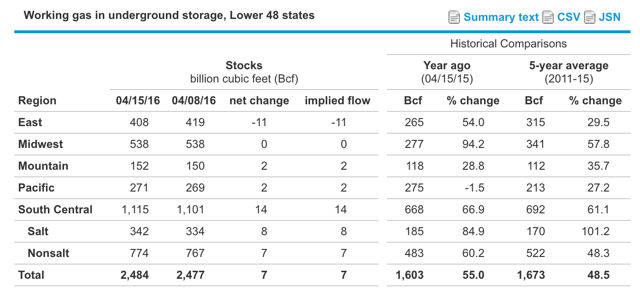 Natural gas prices have responded fairly positively given the recent weather forecasts, and a delayed arrival of spring is always healthy for natural gas prices.

Inventory now just sits at the high end of the 5-year max range.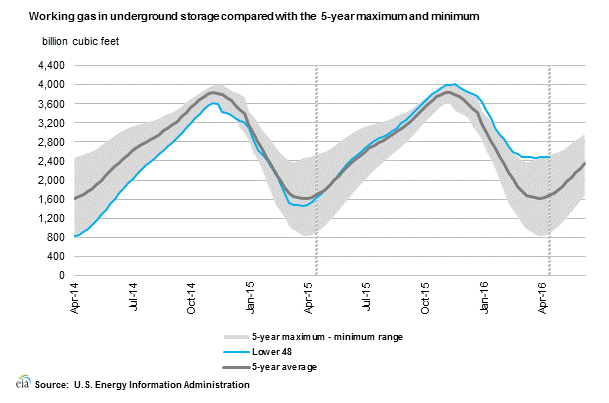 Supply
Every week, we will go over what we are seeing on the supply side.
As rig counts have stabilized in recent weeks, production continues to roll over.
Benetek Energy estimated on April 19th that US dry gas production had fallen to 70.3 bcf/d. Part of the drastic decrease in US production is related to pipeline maintenance issues, but producers are struggling at current prices, and supplies are falling.
Demand
Structural demand continues to rise as Genscape's monitor of Cheniere Energy's (NYSEMKT:LNG) second train is coming on-line. This will add another 600 mmcf/d of demand.
Summer forecasts are coming in hot. NOAA's latest forecast indicates the summer period will be hotter than normal.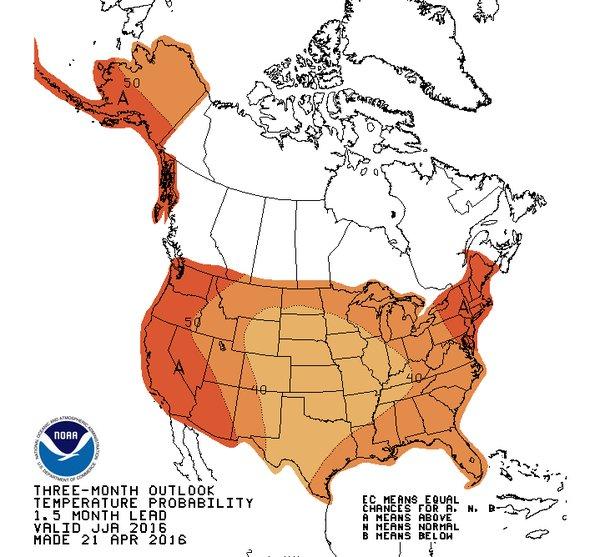 A hotter-than-normal summer will boost natural gas usage via cooling demand. Utilities are switching faster than ever to coal, and year-over-year gas burn demand has been structurally higher despite a warmer-than-expected weather.
Concluding Thoughts
This week's natural gas report is a bit shorter than normal, but our next report will cover more on La Nina and how it will drastically impact natural gas demand for this winter.
We expect natural gas prices to be above $3/mcf by this winter and average $3+ for next year.
For investors who are interested in knowing how we are betting on the natural gas recovery, please consider signing up for HFI's premium research. We have written up many of the natural gas names we find compelling, and they are all on our premium page.
Disclosure: I/we have no positions in any stocks mentioned, and no plans to initiate any positions within the next 72 hours.
I wrote this article myself, and it expresses my own opinions. I am not receiving compensation for it (other than from Seeking Alpha). I have no business relationship with any company whose stock is mentioned in this article.