Four months on and the share price of Visa (NYSE:V) is right back where it started following its second quarter earnings release. This seems to be a familiar story for a lot of stocks on the S&P 500 (NYSEARCA:SPY) at the moment, with little to get truly excited about. Despite this we plan to continue to top up our holdings on any dips that come our way, as ultimately we feel sure that Visa will start climbing again soon and remains a fantastic long-term investment.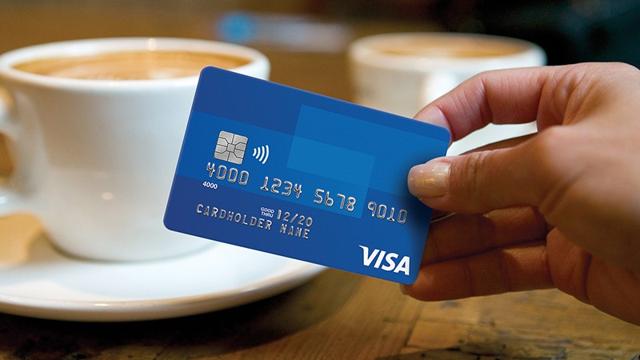 So Visa beat on both the top and bottom lines yet still finds itself heading for a fairly big post-earnings decline knocking over $10 billion off its market value. This is a great opportunity to top up as far as we are concerned, as we see the share price topping $100.00 in the next two to three years.
Although the market clearly wasn't impressed with the results, we were very pleased with another strong performance from this fantastic company. Revenue increased from $3.1 billion to $3.6 billion and earnings per share topped the analyst estimate by one cent to come in at 68 cents per share.
The only real negative came from news that the Visa Europe acquisition is going to be costing more than planned ($2 billion) and European banks can switch away from Visa sooner than they would have previously. This appears to have spooked the market a little. Whilst this may be the case, there is nothing to say that European banks have any desire to move away from Visa. Also, it is worth noting that after extensive discussions with the Visa Europe team, CEO Charles W. Scharf is "confident in the value that we'll be getting and we will get the appropriate returns."
Because of this management has tweaked its revenue guidance for the full year to 7 to 8%. This is largely to be expected and still pleasing in our opinion. There are few companies the size of Visa which can boast growth levels of that magnitude. So for us, this is a company well worth being invested in for the long term.
As we have said before, although consumer spending appears to have been rather subdued so far this year, we expect consumer confidence (shown above) will start to improve due to recently reported (and unexpected) growth in wages across the United States. When consumer confidence improves we expect spending to improve with it. As payment volume increases Visa should benefit. This will of course be the same for MasterCard (NYSE:MA) which is also suffering from an after-hours decline.
We believe the rise in payWave usage will be an important factor in driving growth for the company. It is perfect for small payments that would normally be taken care of with cash and although it only earns Visa the smallest of amounts per transaction, they certainly do add up. Let's also not forget about the Costco (NASDAQ:COST) deal which should start to hit the bottom line later this year also.
Other long-term growth drivers are the much talked about Chinese market. This will be an incredibly tough market to crack, but ultimately very lucrative. Especially with the Chinese government attempting to shift itself to being a consumer-driven economy. If we thought spending was huge at the moment, in a decade things could have moved on to an even greater level.
But it isn't all China. The company already has a foot in India and Indonesia. These two markets are similarly lucrative opportunities. We expect it will take India some time to move away from cash. It won't be next year, it may not even be in a decade, but eventually it will happen. Indonesia's growing consumer class is expected to double between 2014 and 2020 according to Nielsen.
So there is a lot of growth ahead in our opinion, which we expect to keep the share price climbing for a while to come. Some will argue that the price-to-earnings ratio is too high, but for a quality company that keeps producing the goods year after year despite apparent softness in consumer spending, it is well worth the premium over the market average in our eyes.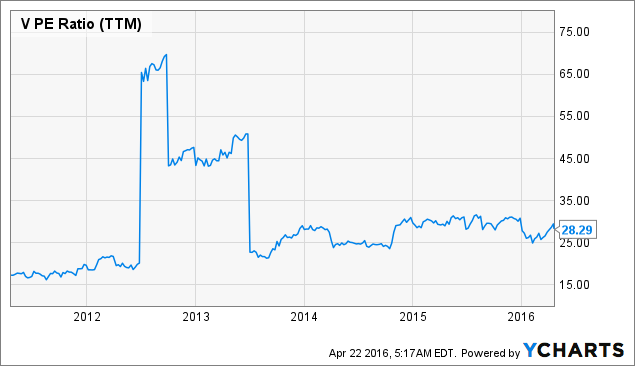 As you can see above, the shares have been changing hands in between 25 and 33 times earnings for the last 18 months. We feel 30 times earnings is more than fair for Visa and would even be prepared to pay higher. But let's be conservative.
We expect a rise in consumer spending will result in earnings per share of $2.85 for the full year. At 30 times earnings this gives us a 6-month price target of $85.50, which with the shares at $77.50 in after hours trading means a return of approximately 10%. Looking further ahead we see a great FY 2017 with earnings growth in the mid-teens.
We provisionally estimate earnings of $3.30 per share for FY 2017, meaning an 18-month target price of $99.00. By FY 2018 we expect to see the share price finally break through the $100.00. Because of this we think buying and holding Visa, topping up on any sell-offs, is a great move right now.
Disclosure: I am/we are long V, MA.
I wrote this article myself, and it expresses my own opinions. I am not receiving compensation for it (other than from Seeking Alpha). I have no business relationship with any company whose stock is mentioned in this article.