SunEdison's Demise is Finally Here

Following other investors in and out of stocks is a dangerous game, and people who followed the famed value investor, David Einhorn, learned it the hardway. Despite David's hedge fund, Greenlight Capital, generating astonishing returns since inception, investors that "blindly followed" him into SunEdison (SUNE) took it to the chin today when the company finally filed for bankruptcy.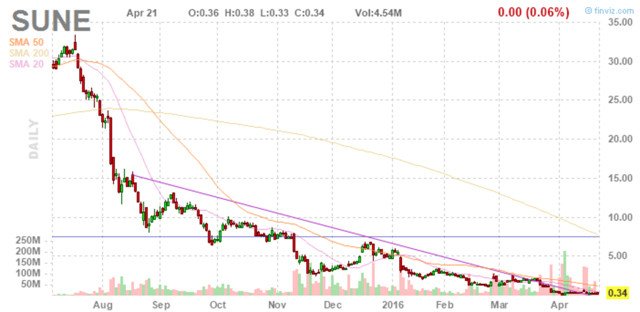 The demise came at a bit of surprise to many, and even the "smart money" institutional investors were wrong-footed by this name.
As the bankruptcy proceedings playout, shareholders will receive $0 and many of the funds have taken big losses. The debt situation at SUNE presented little room for error, and as the situation worsened, the capital markets sealed off.
Other assets that were once part of SUNE, such as SunEdison Semi (SEMI), TerraForm Power (TERP), and TerraForm Global (GLBL), remain appealing.
Russia Takes a Stab at Saudi
The Doha debacle left an impression on the Russians; the Saudis want their way. The producer freeze meeting last week Sunday was in no way impactful on current fundamentals. All of the producers that attended can no longer increase capacity as current oil prices continue to inflict the intended consequences on these nations. The only country, Iran, that could increase oil (USO, OIL) production chose not to attend.
The Russians went into the meeting expecting a breeze. The intended deal was already pre-negotiated and all that was left was for the parties to come to a "formal meeting" and sign on the agreed deal.
In the meantime, we reported that the implications of the freeze deal was contingent on the Russians leaving Syria. Saudi doesn't feel comfortable with Russia's continued involvement in Syria, and this deal was likely conjured to incentivize the Russians to leave Syria alone.
Now that the deal has failed, Russia is rearming its troops in Syria in preparation for futher escalation. We suspect this might go on until one of the parties give up and concedes to the other's demand.
What's also interesting is Russia's finance minister's consistent insistence that Russia's fiscal budget is based on $40 oil impying to the rest of the world that the "low oil price weapon" no longer works on Russia like 1998.
We believe the stakes are too high for both sides not to come to an agreement, and the one with the upper hand is Russia.
In the meantime, while Saudi is trying to pressure Russia, countries like Venezuela, Angola, Nigeria, and others are suffering from low oil prices. If prices don't rise above $70+ within 1-2 years, there could be some serious geopolitical issues in those countries.
Natural Gas Fundamentals
Natural gas fundamentals continue to point in the right direction. Supplies are rolling over, and demand is increasing leading to higher prices. We cover it in more detail in our latest weekly natural gas inventory report here.
Wrapping It Up
SunEdison's fate has been sealed.
Russia plays right back at Saudi.
Natural gas fundamentals continue to move in the right direction.
For investors interested in how we are playing the oil and natural gas rebound, please subscribe to HFI's premium research.
Disclosure: I/we have no positions in any stocks mentioned, and no plans to initiate any positions within the next 72 hours.
I wrote this article myself, and it expresses my own opinions. I am not receiving compensation for it (other than from Seeking Alpha). I have no business relationship with any company whose stock is mentioned in this article.
Editor's Note: This article covers one or more stocks trading at less than $1 per share and/or with less than a $100 million market cap. Please be aware of the risks associated with these stocks.