As explained in an Under Armour (NYSE:UA) article earlier this week, I first initiated coverage on Skechers (NYSE:SKX) stock at $13 approximately two years ago. I expected great things from the company, but never would I have guessed that quarterly sales just two years later would near $1 billion, or double from the first quarter of 2013. While SKX stock did jump above $50 in August of last year (now just below $31), it is still ridiculously cheap, and the reason for that could not be more clear. Furthermore, the reason that shorts will ultimately be wrong could not be any more evident either.
Skechers just announced yet another quarter of record revenue, $978.8 million +27.4% year over year. I say another because quarters of record revenue and operating profits have become the norm over the last two years. While Skechers's ongoing growth and performance is rightfully attributed to a growing fleet of endorsers and major changes to footwear style and marketing, Skechers has also proven to be one of the most consistent retailers/designers in the industry since 2013.
With that said, any time a retailer seemingly comes from nowhere with incredible growth, its stock is always punished. I know that sounds crazy, but the reason lies in the market's desire to look ahead, and bet on a high-flying retailer's eventual collapse, whenever that may be. After all, consumers are trendy, and the hottest brands never seem to last. The best example that comes to mind is Michael Kors (NYSE:KORS).
In 2014, Michael Kors grew revenue 51%, and then in 2015, it grew another 32%. In both years, it added a billion dollars to its top line. However, despite KORS's growth in 2014 and 2015, its stock was still falling fast, from a peak of $100 to a low of $35. Ironically, the company's growth has since slowed - 7% this fiscal year and it is expected to grow another 4% next year - but its stock has gone higher. KORS is nearly 50% above the low it set back in January of this year.
In my opinion, the reason KORS's stock has finally begun to soar is because it got too cheap, and the doomsday scenario that so many were betting on, didn't pan out. As seen below, KORS carried a P/E ratio below 8.5 at one point this year. And while KORS has rallied this year, it is still very cheap relative to earnings, much cheaper than other retailers that have no growth at all.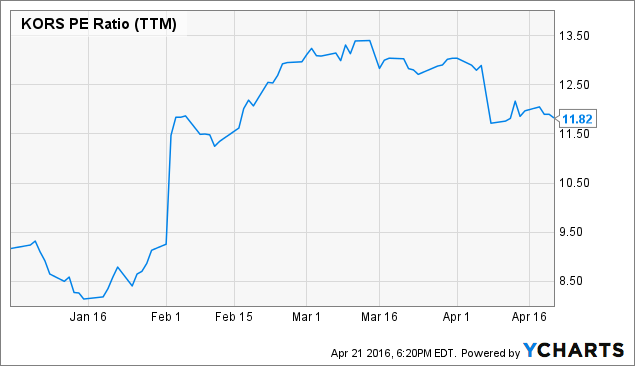 Looking at SKX, there are a lot of similarities between it and KORS. In particular, there is no logical way to explain a company with high 20% growth (like SKX) that is trading at less than 12x forward earnings. Much like KORS, the fact that SKX has fallen so much despite maintaining its rapid growth is what makes it such a great investment.
With that said, there is one big difference between KORS and SKX: Skechers is nowhere near the end of its growth line - its first quarter results and second quarter guidance proves that - and it has a much better chance to maintain its growth rate long term. For one, Skechers operates in a footwear space that is far larger than a niche industry like luxury, high-end handbags. Despite Skechers reporting upwards of $900 million per quarter, it is still a small player relative to the footwear industry as a whole. At last tally, Skechers's market share was less than 5% according to SportsOneSource, thereby giving it room to gain more share down the road.
Most importantly, Skechers has been down this road before, whereas KORS seemingly came from nowhere as the newest, hottest fashion brand in the U.S. Back in 2010, Skechers had a nice run of moderate growth where its stock got close to $15, and it had another good run back in the early 2000s. In both instances, the nice run ended as quickly as it began. However, never has Skechers experienced a run like this where it became the go-to brand of women, runners, and walkers (casual) alike, and maintained its performance for several years
Keep in mind, Skechers grew revenue more than 30% last year, and did so with its fourth consecutive year of rising operating margins. In January of last year, analysts were expecting Skechers to grow just 15% in 2015, and less than 10% this year. Those estimates have risen to 17% this year after its record-breaking 2015, and already, Skechers is on pace for yet another 20% plus year of growth.
In the end, I think Skechers's success and failures of the past have better prepared it for this moment, and that those who are betting on an eventual collapse, will be waiting for a while. This is a company that tightly manages inventory levels, and has been very calculated in how it penetrates new markets. In the past, Skechers's growth story was fueled by the U.S. and North America, and while Skechers continues to grow domestically, the company's international business is now starting to carry the load with near 50% growth in its international wholesale business alone. Collectively, Skechers's experience is a strength for investors,
As a result, shorts could have a while to wait for this growth train to slow, and when it finally does, my guess is that it'll be like Michael Kors with above GDP growth. Still, by the time that comes around, and Skechers produces another 2-4 years of double-digit growth and margin expansion, it would be trading in the mid single-digit earnings multiples if its stock price does not appreciate.
In a market that lacks value, and in a retail sector that has very sporadic growth, it's tough to imagine that SKX's stock does not go much higher. In other words, I don't know if SKX will hold its 5% afterhours gains when the market opens tomorrow, but I do know that the chances of it being far higher this time next year are much greater than not.
Disclosure: I am/we are long SKX, KORS.
I wrote this article myself, and it expresses my own opinions. I am not receiving compensation for it (other than from Seeking Alpha). I have no business relationship with any company whose stock is mentioned in this article.