On Wednesday, SA Editor Michael Hopkins asked if telecoms and utilities are in a bubble:
Utilities and telecom stocks, long-time favorites of dividend investors, have had a good run this year. But is it time to bail?...Year-to-date performance for the combined sector is around 10.66%. Not bad.
So we revisited our favorite telecom, Verizon Communications (NYSE:VZ).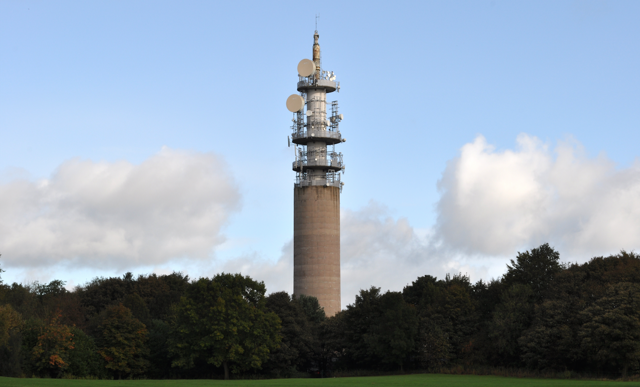 A Best of Breed American Staple
We endorsed Verizon in September as the best player in an industry that has become something of a utility for its ubiquity.
Verizon was trading at $45.22 then, and yielding 5% on the button. Since then, Verizon has traded more than 20% higher, before falling back to about $50 and a 4.5% yield.

On Thursday, Verizon released its Q1 results and gave a business update. So, is it time to bail?
Slow and Steady Wins the Race
Verizon's Q1 earnings were solid, if underwhelming. Earnings per share were up 3.9%, EBITDA was us up 1.7%, and the company added 640,000 net retail postpaid accounts over the year-ago period.
But Verizon was down more than 3% on the news, as the company is projecting no earnings growth for the full year 2016.
Part of the problem is a union strike in the wireline segment, which will negatively impact the second quarter. CFO Francis J. Shammo on today's conference call:
At this point in the year we continue to expect full year 2016 adjusted earnings to be a level comparable to our strong full year 2015 adjusted earnings. However, given the status of our labor contract negotiations, there will be pressure on earnings in the second quarter due to the timing of cost reductions. Depending on the progress of the negotiations we may need to update the full year guidance at a later time.
The strike should prove ephemeral, but it is hardly against a backdrop of robust growth.
Growth Plan
Virtually, every American that will ever have wireless service already has it, so Verizon needs to look elsewhere for growth. Two major areas that the company is targeting for growth are 5G and content.
Verizon's 5G network will not be ready until around 2020, but it represents a quantum leap forward from the 4G network Verizon pioneered. 5G will allow around 50 times the throughput of 4G, and should accommodate the data explosion expected from the Internet of Things.
Verizon has also already gotten into the content business. Last year, Verizon acquired AOL, and the company also recently announced plans to expand its video platform by adding content from Hearst and AwesomenessTV, and through a joint venture with Hearst to acquire Complex Media. In addition, Verizon is the favorite to acquire Yahoo! (YHOO) for its content generation.
CFO Shammo discussed Verizon's growth plan on the call:
We remain confident in our three-tier strategy for long-term growth, which is to lead at the network connectivity level in the markets we serve, develop new business models through global platforms in video and Internet of Things, and create incremental revenue opportunities in applications and content.

In terms of progress on this multi-tier strategy we are focused on network leadership and operating efficiency, while we develop new ecosystems in video and the Internet of Things, leveraging our capabilities in the United States and scaling our platforms globally. We are also developing a portfolio of unique content targeted at the Millennial Generation so that we can capitalize on the opportunity transforming mobile.
Verizon resembles a utility more than a growth stock, but the company is positioning itself strategically for the long term, and should at least have incremental growth in the coming years.
Deleveraging
Verizon took on a lot of debt in 2013 when it acquired Vodafone Group Plc's 45 percent indirect interest in Verizon Wireless. The three major credit ratings agencies cut its rating one notch then, but Verizon remained investment grade, and it has been deleveraging.
Net debt to adjusted EBITDA was 2.2 in Q1 2016, down from 2.5 a year ago. CFO Shammo reiterated that paying down debt is a top priority, and anticipates getting a credit upgrade in the next few years:
We've been pretty open that our main priority is to get our debt level back to an A-minus rated company. And we are on track to do that. And everything we do, that continues to be the top priority. So even with all of the M&A activity you've seen, I mean if you look back, we started this at a pre-Vodafone debt of - post-Vodafone debt of $113 billion. We've reduced that to $109 billion...So we are right on course. But that is top of mind at everything that we do.
Verizon also picked the right time to take on a lot of debt in exchange for acquiring quality business, as interest rates have stayed near all-time lows.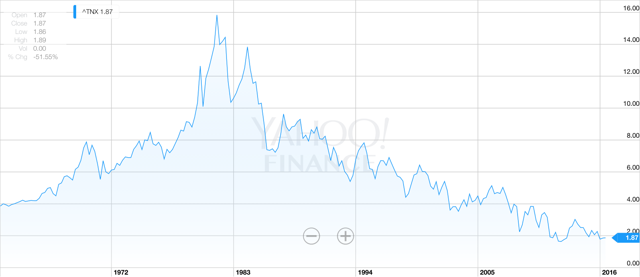 Income and Trading
Verizon may not have a lot of near-term growth, but its revenue streams are reliable, and its dividend is secure.
With bonds paying as little as they are, we have a hard time seeing Verizon's yield going much over 4.75%. And with Verizon projecting no growth this year, we also have a hard time seeing its yield going much under 4.25%.
That equates to a trading range of $47.16 to $52.71. Within those values, we think Verizon should be held for income, and outside of that range, we think Verizon can be traded.
Verizon itself may have enough volatility to fluctuate from $47 to $53 several times before its growth plan gets underway. In addition, while interest rates have remained very low, they have also been consistently volatile. If a trader gets fortunate, the bond market could provide Verizon enough volatility for this trade to work repeatedly.
Conclusion
Things are good but not great for Verizon. Its dividend is secure, and while near-term growth is unlikely, the company has a multi-pronged long-term growth strategy. At present levels, Verizon provides excellent income. With some volatility, we think Verizon is an excellent stock to trade, as its secure dividend may keep it in a relatively tight trading range.
Disclosure: I am/we are long VZ.
I wrote this article myself, and it expresses my own opinions. I am not receiving compensation for it (other than from Seeking Alpha). I have no business relationship with any company whose stock is mentioned in this article.