Pinnacle Entertainment, Inc. (NYSE:PNK) is a gaming company which owns and operates various casino and entertainment properties throughout regions of the U.S. The proposed spin-off with shares of Gaming and Leisure Properties, Inc. (NASDAQ:GLPI) makes for a potentially interesting situation. A spin-off of an operating company's real estate effectively forces investors of the company to put a value on the operating entity versus the real estate entity of the original concern. Original shareholders may not have the intellectual facility to accomplish this act and the difficulty of fairly valuing two parts of the same company separately might be complicated by the fact that share prices may move in irrational ways prior to and after the spin-off due to the presence of enterprising speculators.
Leverage remains via fixed lease payments
The PNK spin-off effectively separates out the company into a bond piece and an equity piece. The bond piece is possible due to the capital markets valuing GLPI at a yield of roughly 7%. In effect, PNK has actually added some medium term leverage through a 10 year lease agreement which, although it doesn't have maturing principal, actually increases the fixed cost burden of PNK for the next 10 years. The math is straightforward. Prior to the spin-off, PNK will have $624 million in LTM 1Q2016 EBITDA with an interest expense of $244 million. Due to the spin-off reducing the interest expense by roughly $204 million via a debt transfer along with the real estate assets, interest expense will be reduced to about $40 million per year whereas there's an additional $377 million in rental expense. EBITDA will decrease to $246 million whereas EBITDAR remains the same because it excludes rent.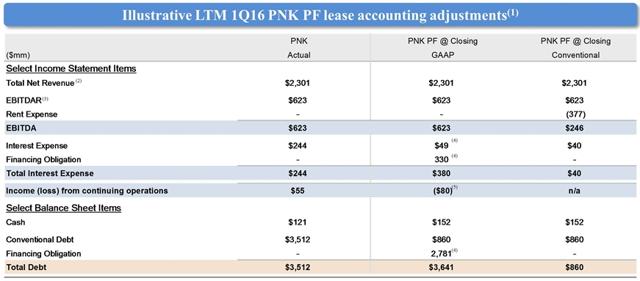 Source: PNK's Form 425 SEC filing
Management's description of interest coverage by dividing EBITDA by interest expense equaling 6.1x is a bit misleading. The triple net lease payments represent the equivalent of an unsecured bond on PNK and it would be more appropriate to go by the old pre spin-off EBITDA number, now known as EBITDAR of $623 million and divide it by the sum of rent expense and interest expense which gives us $417 million in total fixed cost obligations. Therefore, fixed cost coverage ratio is more like 1.5 times which is a fundamentally uncomfortable situation to be in unless you have a very reliable stream of income like that of a utility operation and/or massive free cash flow after the fixed payments relative to the cost of your equity stub like the situation we had at Windstream (NASDAQ:WIN) which I wrote previously about.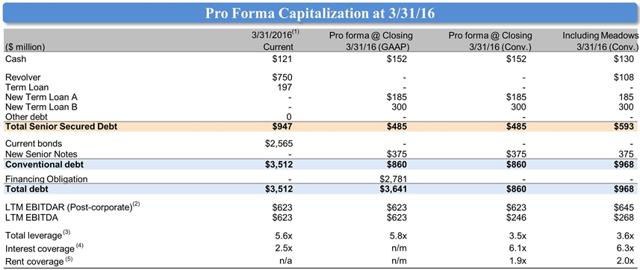 Source: PNK's Form 425 SEC filing
Free cash flow and valuation
Inclusive of Meadows, free cash flow is estimated to be around $130 million for LTM 1Q2016. The main variables here are maintenance CapEx and effective taxes. If we were to take them as they are, the valuation we would get under the current price of $38 per share of PNK and $32 per share of GLPI is roughly $11 per share of the new post spin-off operating company since we receive 0.85 shares of GLPI per share of PNK. With roughly 61.1 million shares of PNK outstanding by February 15, 2016, the equity stub's value implied within PNK is about $672 million. This is roughly 5.17x free cash flow or a 19.3% yield.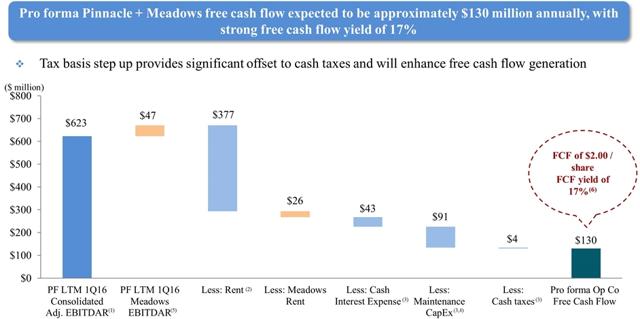 Source: PNK's Form 425 SEC filing
Hence, the free cash flow yield benchmarking comparison shown below via management's presentation may be somewhat misleading due to the lack of massive lease payments with respect to the companies being compared to PNK. Furthermore, although PNK has been growing its asset base over the last few years, capital expenditures far outpaced the $91 million management claims to be maintenance CapEx. Due to the small residual cash flows, a misstatement of this number may have an outsized effect on the returns of the company.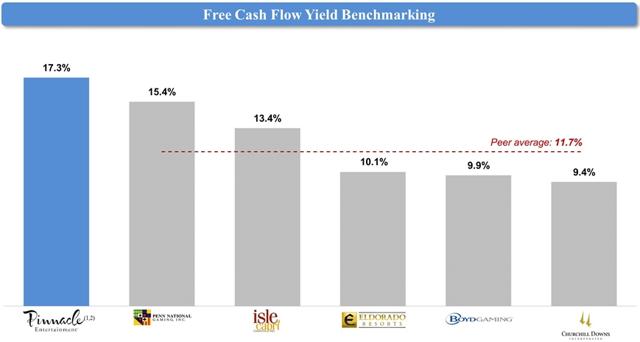 Source: PNK's Form 425 SEC filing
Investors' behavior post spinoff
The spin-off transaction will likely create a group of shareholders who have no interest in owning GLPI since they have little to no understanding of the other assets GLPI owns except that there are casino properties as well. The equity stub of PNK's operating company could be viewed as having given up too much of its cash flows to GLPI and taken on too much of a lease obligation to provide safe returns. The new operating company will be the equivalent of the lowest rated tranche of cash flows in a mortgage backed security and should trade unfavorably unless investors are very enthusiastic about the company's business prospects and future developments.
Possible paths to shareholders' return
It is very difficult to value the new operating company due to the operational leverage involved via the lease agreement and my opinion of the best use of cash would be either to further reduce debt or hoard cash which is the equivalent of saving up for lease reduction for the future or to pay out a steady dividend of around $43 million per year which is the equivalent of a roughly 6.4% yield and would be covered by LTM 1Q2016 free cash flow by a multiple of 3 times. Of course, this would not be enough if operations were to go poorly due to the operational leverage involved in the structure of the new operating company as well as the cyclical nature of the gaming business. Hence, timing is an important factor here as time could very well work against the investor due to leverage and cyclicality. The best case scenario would be continued EBITDA and revenue growth without having to spend excess amounts of credit or cash on the development of new capital assets. Management has stated that they intend to be very prudent with leverage, but that remains to be proven and if a recession were to hit, there won't be any time to start being prudent.
Conclusion
The superficial view of PNK is that it will undergo a massive deleveraging after the spin-off. However, the leverage of the bond debt is merely replaced with leverage from the lease agreement and it actually increases the fixed costs per year for the spun off operating company. Hence the free cash flow is not comparable to other companies because the leverage from the lease makes the bottom line much more sensitive to any changes to revenue, unforeseen operating expenses, etc. The conclusion I draw from all this is that the new operating company will be more similar to an in the money or near the money call option that does not have an expiry date. However, for it to be deeply in the money, it would need to be priced much more attractively than around $670 million. I eagerly wait to see how it will trade after the spin-off and whether or not it will be worth a speculative position to be in.
Disclosure: I am/we are long WIN.
I wrote this article myself, and it expresses my own opinions. I am not receiving compensation for it (other than from Seeking Alpha). I have no business relationship with any company whose stock is mentioned in this article.