The biotech sector continues to rise from its deepest bear market since the financial crisis. At this point, I think it is safe to say that bear market is officially dead and the lows of February will not be seen again. The sector managed an almost 3% rise in trading on Thursday despite an overall market that was down for the day.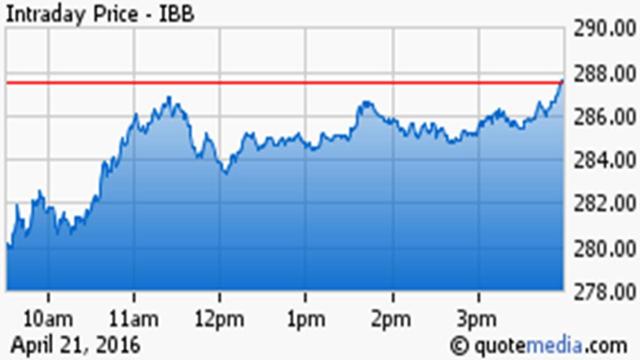 Impressively, this happened even as high-profile Sarepta Therapeutics (NASDAQ:SRPT) imploded as the stock dropped more than 40% on the day. The trigger for the decline is the documents released before its Ad Comm meeting on Monday that seem to indicate its primary candidate eteplirsen for Duchenne muscular dystrophy ("DMD") has little chance to recommend for approval by this panel at this time. Given the stock was pretty much a binary play on eteplirsen getting approved, the sell-off was understandable and the shares might have further to fall if and when the compound is rejected on Monday.
Helping sentiment on this sector on Thursday was a nice earnings beat by Biogen (NASDAQ:BIIB). Jonathan Weber provided a good overview of the company's solid results yesterday. The stock was up 5% in trading and this bodes well for other biotech stalwarts like AbbVie (NYSE:ABBV), Amgen (NASDAQ:AMGN), Celgene (NASDAQ:CELG) and Gilead Sciences (NASDAQ:GILD) when they report next week. This could power the next leg of the current rally in biotech. Given Amgen and Gilead have easily beat expectations for eight straight quarters, I am expecting some good news out of these large caps next week.

Recently spotlighted hyperkalemia concern Relypsa (NASDAQ:RLYP) was up 10% in trading Thursday as it was buoyed by another buyout rumor. This was particularly vague and seemed to be confined to Twittersphere that centered on Merck (NYSE:MRK) bidding $58 a share to acquire the company.
I would not even put a half a grain of salt in this latest rumor. As I have been saying for weeks, this stock is going to ebb and flow in line with the latest buyout chatter. I still think the company is a likely buyout candidate, but it is not a slam dunk. Given I believe the company is attractive as a stand-alone entity, I ignore the day-to-day movements in the shares. Investors in this small biopharma would be wise to do the same.
The FDA announced it has lifted the clinical hold on a Phase 3 clinical trial assessing an intravenous formulation of Cara Therapeutics' (NASDAQ:CARA) lead product candidate CR845 for the treatment of postoperative pain. CARA was the subject of a Spotlight feature on March 21st and is up substantially since that piece. The stock declined on the announcement in "buy the rumor, sell the news" fashion.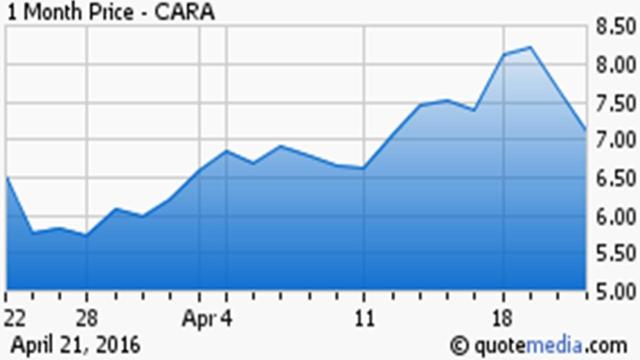 However, the stock at just over $7 a share still has substantial upside if the company continues to hit its developmental milestones. After the hold was lifted, Needham reiterated its Buy rating and a whopping $27 price target. Cantor Fitzgerald did the same, but is slightly less enthusiastic with a $24 price target.
In other news, Johnson & Johnson (JNJ), which earlier in the week provided quarterly results and boosted forward guidance, made some important comments around its blockbuster drug Remicade on its conference call concerning possible competition coming to the United States. Management is "convinced they have the legal firepower to invoke patents to halt the launch of a Remicade biosimilar in the U.S. this year by Incheon-based Celltrion." Celltrion has previously announced earlier this month that it won a U.S. FDA nod for a biosimilar of Remicade, calling its version of the intravenously administered rheumatoid arthritis drug Inflectra.

In the "thanks for nothing" department since our last Daily Digest, analysts are abandoning the before mentioned Sarepta in droves. William Blair and Wedbush downgraded the shares to Hold. More in victory lap formation, Piper Jaffray, Leerink Swann, RBC Capital and Cowen & Co. reiterated their Hold ratings. Needham, which refuses to give up the ghost, reiterated its Buy rating and $53 price target on Sarepta. We noted last week this was one of the biggest "battleground" stocks in the sector. It looks like the pessimists are going to win this round. If somehow Sarepta gets the Ad Comm's nod, the shares are going to absolutely rip on Monday.
Small-cap Eiger BioPharmaceuticals (NASDAQ:EIGR) was reiterated as a Buy at Piper Jaffray and upped its target $33 from $30 previously yesterday. It was the second analyst firm that noticed this firm in recent weeks. Jefferies on April 13th reissued its Buy rating and $30 price target. As the reason for his optimism, Jefferies' analyst noted:
"Interim ph.II LOWR-2 data for lonafarnib in HDV demonstrate confirmation of the drug's anti-HDV activity, potential for an acceptable therapeutic window, and curative potential, in our view- another step towards further de-risking the future path for the drug, whose opportunity we believe is underappreciated in EIGR shares."
I have a very small and speculative stake in this clinical-stage biopharmaceutical company that focuses on providing various products for the treatment of orphan diseases. It has an interesting early/mid-stage pipeline and might show up in a future Spotlight piece.
Note: New analyst ratings are a great place to start due diligence, but nothing substitutes for deeper individual research in this very volatile sector of the market. Many of the small-cap names highlighted in the "Analyst Insight" will eventually appear in the "Spotlight" section, where we do deeper dives on this type of promising but speculative small-cap concern.

Our spotlight today is on a small developmental concern that has been in the news of late, Heron Therapeutics (NASDAQ:HRTX). The shares rose sharply this week as the FDA stated "that it sees no substantive deficiencies in its New Drug Application (NDA) seeking approval of SUSTOL (granisetron) Injection (extended release) for the treatment of acute and delayed chemotherapy-induced nausea and vomiting." Labeling discussions are now underway.
This indication of future approval brought the analyst community out to chime in positively on Heron. Brean Capital, Leerink Swann, Jefferies and Cowen & Co. have all reiterated Buy ratings since NDA approval. Their issued price targets range from $46 at Jefferies to $55 at Brean Capital. All reiterated price targets are more than double Heron's current price of ~$22 a share.
Brean's analyst went on to say:
"We expect the commercial launch of Sustol shortly after approval. The sales and marketing teams have already been hired and are more than ready for launch. We believe that the clinically proven advantages of Sustol versus ondansetron, will allow Sustol to price at enough of a premium to Aloxi's ASP such that Heron can still discount from launch to 4Q18 (when we expect Aloxi to go generic). We also believe that the delay of the reimbursement J-code is a non-issue because it does not stop Heron from selling the drug, especially given that Sustol's attractive net cost recovery in the community setting against other competitors should grant community oncologists enough incentive to do a small amount of extra paperwork to get reimbursed. We look forward to a derisked FDA approval of Sustol near term and to HTX-011 Phase 2 data at the end of this quarter."
We must give a "shout out" to Alexander Maxwell who late in January put out an article on Seeking Alpha that Sustol would garner approval even though its first two tries to obtain permission had failed. He also went on to do some analysis that supported a peak sales level of $400 million annually for Sustol, which I found echoed in one other place. Obviously this would be significant for a company with an approximate market capitalization of $800 million. Sustol's first year's sales I have found estimated to be $50 million to $100 million depending on any labeling restrictions.
It also would be the first significant recurring revenue stream for this company that has been public for almost three decades. Heron has two additional compounds in early-stage development.
In trying to do the research on this company, I came across some significant management changes in 2013, which looks like they were triggered by previous problems with the FDA in a previous incorporation of the company when it was called A.P. Pharma.
In addition, I found that finding information on this company is exceedingly difficult for a concern with nearly a $1 billion market capitalization. Its transcripts do not appear on Seeking Alpha, and the few articles (I, II) I have found here are cautionary to say the least. Given this, despite recent hosannas from analysts and what appears to be good news from the FDA, I am going to have to pass on any investment on Heron at this time. I offer up the analysis to others contemplating investments in this concern that has been in the news this week.
Disclosure: I am/we are long ABBV, AMGN, BIIB,CARA, CELG, EIGR, GILD, MRK, RLYP.
I wrote this article myself, and it expresses my own opinions. I am not receiving compensation for it (other than from Seeking Alpha). I have no business relationship with any company whose stock is mentioned in this article.
Editor's Note: This article covers one or more stocks trading at less than $1 per share and/or with less than a $100 million market cap. Please be aware of the risks associated with these stocks.