Metro (OTCPK:MTRAF) is like 1990s Tina Turner. But instead of rocking out on stage in leather pants and a sequined top, they are delivering a great performance in the world of grocery retailing. The quality and consistency of their performance for shareholders over time has been better than all the rest.
They are simply the best.
The company reported another impressive quarter. Same-store sales increased 5% on top of 4.5% last year and they successfully passed through 3% price inflation. While Loblaw (OTCPK:LBLCF) and Wal-Mart (NYSE:WMT) Canada have yet to report, Metro's 5% comp is the highest generated by any Canadian grocer in nearly 6 years. Further, neither Loblaw or Wal-Mart Canada have delivered higher than 4.3% and Metro has led the pack for the past 5 quarters.
FX-driven inflation is helping as is the struggles of a key competitor. Industry square-footage growth is slowing and Metro's investments into refurbishing conventional stores and building new discount stores are proving well-timed. The fact that (for now) Amazon Fresh or hard-discounters like Aldi don't operate in Canada makes life a bit better but this is after all grocery retailing - one of the most competitive industries out there - and Metro is one of the leaders.
More of What you Want (Less of What you Don't Want)
For the investor focused on simple ideas (i.e. me), Metro offers more of what you want and less of what you don't want.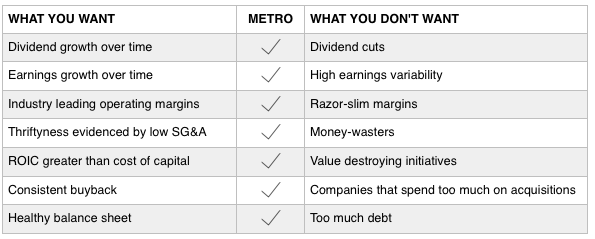 It's hard to argue with their track record. The dividend and earnings have grown steadily over time. Operating margins are higher than any other Canadian grocer (and I believe every publicly-traded American one too). SG&A as a percentage of sales (12.9%) is closer to Costco (NASDAQ:COST) at ~10% than it is to Kroger (NYSE:KR) at 18.2%. It's also far lower than Loblaw.
ROIC, while not incredibly high (this is the grocery industry after-all), has been steady suggesting the company has reinvested money wisely. Excess cash has consistently been used to repurchase shares while not burdening shareholders with excessive debt.
In short, Metro proves simple is good; that the consistency of a boring business trumps the epic-ness of an aggressive and promotional one.
Q2 Recap
Here are my notes from the second quarter release and conference call:
Successfully passed through inflation but expects FX-driven growth to moderate as 1) Canadian Dollar stabilizes and 2) Canadian growing season is upon us.
Seeing higher traffic and both conventional and discount banners with a slightly larger basket size. Management attributes success to merchandising initiatives, particularly in fresh categories, as well as capital deployed into refurbishing conventional banners and opening new discount stores.
Ontario is doing better. Metro benefits from having an Ontario and Quebec centric store base and management called the province out as a source of strength:
I don't think it's a one-quarter wonder. We've had steady same-store sales growth for several quarters now. I think we have good momentum in the business in both markets and I think we can sustain that. We feel confident in our merchandising ability, in our store execution. Ontario is certainly doing better than it was.
Sales on promotion at conventional stores are in the 60% range. This is a new one for me as I had not yet heard this statistic.
A notable event in the quarter was the announcement from Quebec competitor IGA (owned by Empire Co) reducing prices by 5-7% on thousands of centre of the store items. Metro's responses were vague and emphasized they are always watching prices. Management did note that they are trying to reduce prices at conventional stores so the gap between discount and conventional is narrowing.
Fresh was another key driver of success for Metro this quarter; centre of the store is stabilizing but really it's "fresh" that's driving results (my guess is we'll see the same at Loblaw when they report).
Management noted this was an all-around good quarter. In such a competitive sector, not all quarters will be like this but things came together nicely. Gross margins were flat (inflation passed through to consumer) and the business saw operating leverage and margin expansion. The buyback further boosted earnings growth and Loblaw closing some Quebec stores also helped:
Stabilizing industry square footage also worked to drive increased traffic into Metro stores during the quarter, which came as Loblaw's continued the shuttering of 52 of its less profitable stores. These locations include a dozen outlets in the province of Quebec, most notably Loblaw's downtown Montreal Provigo store, which closed during the quarter.
Disclosure: I am/we are long MTRAF, COST. I wrote this article myself, and it expresses my own opinions. I am not receiving compensation for it (other than from Seeking Alpha). I have no business relationship with any company whose stock is mentioned in this article.
Editor's Note: This article discusses one or more securities that do not trade on a major U.S. exchange. Please be aware of the risks associated with these stocks.