Introduction
In several articles over the past month, I compared between several asset management companies in the financial sector. The companies were Franklin Resources (NYSE:BEN), Ameriprise Financial (NYSE:AMP) and Eaton Vance (NYSE:EV). I also did a similar comparison last year, and while last year I preferred BEN over its peers, due to changes in valuation and fundamentals, my favorite right now is AMP. It is time to add T. Rowe Price Group (NASDAQ:TROW) to the comparison.
The whole asset management sector suffered from a rough year in 2015, and it is probably going to have a bumpy year in 2016. The sector suffers mainly from decline in assets under management (AUM), and while some peers like EV manage to maintain AUM almost intact, others like BEN are suffering from what Morningstar called Flowmageddon. T. Rowe is another peer that I personally hold in my portfolio, and in this article I will analyze it, and compare it to its peers.


T. Rowe Price Group is a publicly owned asset management holding company. The firm provides its services to individuals, institutional investors, retirement plans, financial intermediaries, and institutions. Through its subsidiaries, it launches and manages equity and fixed income mutual funds. The firm also launches balanced mutual funds and private equity funds. It invests in the public equity and fixed income markets across the globe. The firm also invests in alternative markets, including currency markets. It employs fundamental and quantitative analysis with a bottom-up approach.
Fundamentals
Well, the first sign of strength can be seen right here. While other peers managed at best to show flat revenues in 2015, TROW actually managed to bring growth in its top line. In a harsh environment for the whole sector, this is quite and achievement. The company managed to bring significant growth over the past five years, and is forecasted to continue to do so. Not only that TROW managed to grow its revenues in 2015, it managed to do so very nicely over the past five years.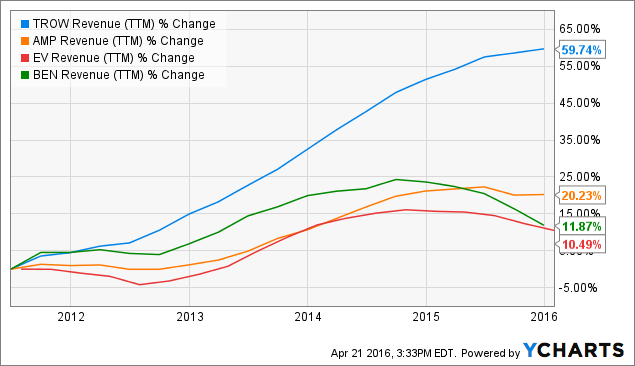 TROW Revenue (NYSE:TTM) data by YCharts
Another great sign of extremely strong fundamentals is the EPS. The company managed to grow EPS significantly over the past five years, and even in 2015. Moreover, the firm managed to do it while not allocating a lot of capital to share buybacks. In addition, the FCF is also growing, and is even higher than the EPS. The FCF grew significantly in 2015, and buying shares of TROW is buying a company that knows how to create value and excess cash for its shareholders. Only EV managed to grow its bottom line in 2015, while BEN and suffered from declining FCF.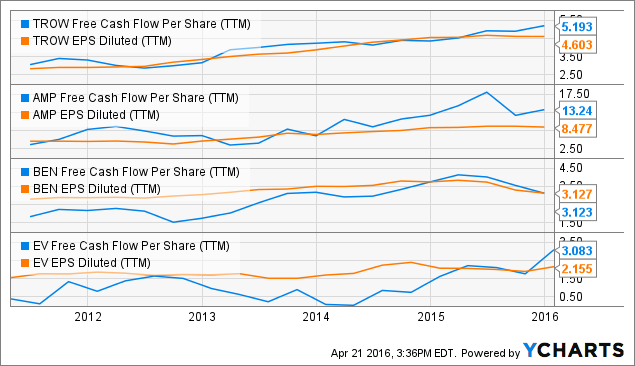 TROW Free Cash Flow Per Share (TTM) data by YCharts
As the company creates a large stream of cash flow, it uses it to reward its shareholders. The dividend yield is health at 2.7%, and it grows annually by the company which is committed to the payment. In addition, the company pays special dividends every now and then. In the past five years it paid two special dividends. The last one was in 2015. The yield is very sustainable, as the payout ratio is lower than 50%, and I cannot explain why according to YCharts the payout is closer to 90%. We have here a company that grow its top line, bottom line and dividends. While the yield may not look high for you, it is the long term growth that I like here. The dividend is also competitive when compared to its peers. The special dividends are bonuses for long term investors. All four companies pay sustainable dividends, and they will probably grow it in the years to come.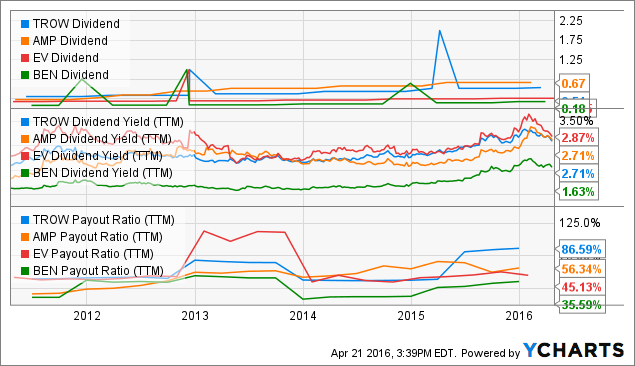 TROW Dividend data by YCharts
Buybacks are often used to increase the EPS by lowering the number of shares outstanding. As you can see in the graph, until 2015, the number actually grew, and the company still managed to bring great returns and show growth. In the past year, as the whole sector suffers, and the price declined, the company actually allocated more capital to buybacks. That is smart capital allocation which is a good sign for any long term investor. Allocating the capital correctly is a key for maintaining and growing earnings in dividends. AMP has used a lot of capital to retire almost a third of its shares over the past five years. I prefer companies to consistently buyback shares at a slow pace, and increase it when valuation is low.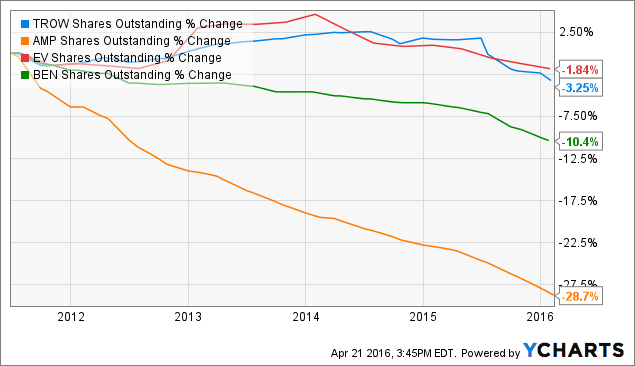 TROW Shares Outstanding data by YCharts
There is no doubt in my mind that TROW has the best fundamentals when compared to its peers. It is for sure better than BEN and AMP, and is even better than EV which showed good fundamentals. Buying TROW will bring you a company with great fundamentals. Now, I will look into the valuation.
Valuation
When I look at valuations, I compare them both to their sector and to the broad market. When I look at the valuation of TROW I see that the stock is cheaper than the S&P 500. However, when I compare it to its peers, I find a stock that trades for richer valuation than most of its peers, in most valuation metrics. Its P/E and P/S ratio are higher than those of EV, BEN and AMP, and only when I look at the forward P/E, I find that EV trades slightly higher.
Now, I totally understand why TROW trades for a premium. It has great fundamentals, and the company is growing despite the hardships that the sector is suffering. While I can justify the valuation gap between TROW and BEN or EV, there is a huge gap when compared to AMP. AMP doesn't have great fundamentals like TROW, and it probably suffers from some more uncertainties in the future. However, it is diversified and also offer insurance to its clients. It is really hard for me to understand such a massive valuation gap.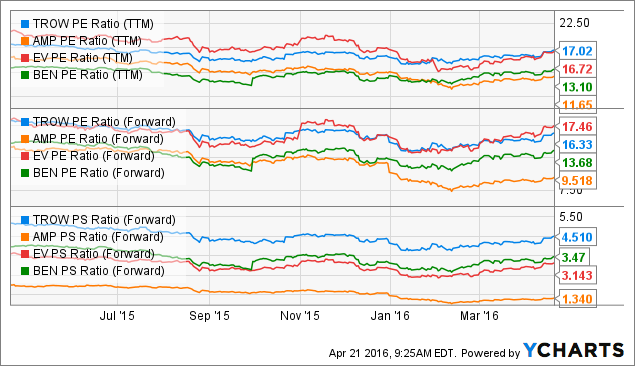 TROW PE Ratio (TTM) data by YCharts
When I compare the valuations here, I believe that AMP is most attractively valued, with forward P/E of less than 10, and forward P/S much lower than its peers. I believe that it offers a huge margin of safety for investors. TROW is the second best in my opinion. While the valuation is the richest, investors still get a growing company for a very fair P/E.
Opportunities
As I said before, the whole asset management industry is in stress right now due to the declining AUM. When you pick stocks in a stressed sector, you are taking some risk. A company might be a bargain or it can also be a falling knife. That is why I only pick companies that I analyze thoroughly and that are among the strongest in the industry. TROW just like the peers I analyzed, is among the strongest brands in the sector. It has a track record of success and bringing returns to shareholders, which will help it in this harsher environment.
Another opportunity for TROW is its low cost funds. While one of the risks for the industry is the ETFs industry, the low cost funds that TROW offers can help the company grow. They are more competitive, and most of them offer good value to investors. It is much easier to convince clients to buy them, as the they are not much more expensive than ETFs. They must of course offer superior returns, which many of them do.
TROW is managing to grow its revenues and return on equity consistently. That together with smart capital allocation, gives me the feeling that the management knows how to bring returns to shareholders for the long run. Growing ROE, growing top line and bottom lien, together with great profitability and funds that beat most of the peers, will serve as great growth catalysts going into the future.
Risks
While TROW offers low cost funds, they are still not as cheap as ETFs. Some ETFs can be found with almost no fees. The ETF is a great threat for the mutual funds, and they will have to offer higher than average returns over the long run. This is not a simple task, and I believe that only the best brands will be able to do it, and offer great value to investors.
The volatile market and the weakness that we have seen lately, are also posing a risk. They both can decrease the AUM, because of the decline in the value of the assets, or investors selling their funds. Over the past week, you can see that Coca Cola and Altria dropped significantly together with other blue chips. When blue chips decline, investors become nervous, and that is never a good sign for asset management companies.
What I believe might be a weakness for TROW is the fact that it is not very diversified. It doesn't offer insurance for example like AMP does. Others might believe that diversification is irrelevant, and that the company should concentrate on its core business, but I believe that having another source of revenue is a huge advantage as long as you don't get over diversified and mediocre.
Conclusion
When I look at this sector, I am sure that it is full of falling knives, many companies will keep bleeding. However, I am looking for the long term, and I want to find investments that will offer superior returns in the long run. Buying stocks in a beaten sector requires a thorough analysis, I look for companies that suffer from over selling, and I mean that the price was hammered much more than the fundamentals.
I believe that TROW offers such an opportunity, as its share price declined while fundamentals are strong and actually improved. When I try do differ between the for peers, I still believe that AMP is the most compelling one due to the very low valuation, and large margin of safety. TROW will take the second place, and EV the third. BEN that only a year ago was among my favorite stocks, is only fourth now, and the reason is that the earnings and revenues actually dropped faster than the share itself. BEN now offers worse valuation than a year ago, and worse fundamentals.
Disclosure: I am/we are long AMP, TROW.
I wrote this article myself, and it expresses my own opinions. I am not receiving compensation for it (other than from Seeking Alpha). I have no business relationship with any company whose stock is mentioned in this article.