If you have read any of my previous articles, you will realize by now that I am not too risk-averse in my investments in my No Guts No Glory portfolio, which I describe here.
Here is how Investopedia defines "risk-averse":
Risk averse is a description of an investor who, when faced with two investments with a similar expected return (but different risks), will prefer the one with the lower risk.
Current Holdings
It may not surprise you to read that I have a long position in the shipping sector in my portfolio, which some might consider high risk. Currently, that position consists of a single stock: Tsakos Navigation (NYSE:TNP). I bought my initial position after the stock began to rise a bit after what I believed to be the beginning of a strong uptrend in the share price. That was in May 2015 before the bottom dropped out of oil prices. Shares were trading in the $9 range then and the company seemed to be doing well.
Fast forward to nearly a year later and TNP stock continues to struggle. After reaching a 52-week low of $4.79, shares have rebounded somewhat to around $6.40 as I write this. I still believe that TNP offers a good value for a long-term investment at these prices and they did recently increase the dividend by 33%. But while doing my research on TNP, I came across this article from a fellow SA author discussing the Guggenheim Shipping ETF (NYSEARCA:SEA).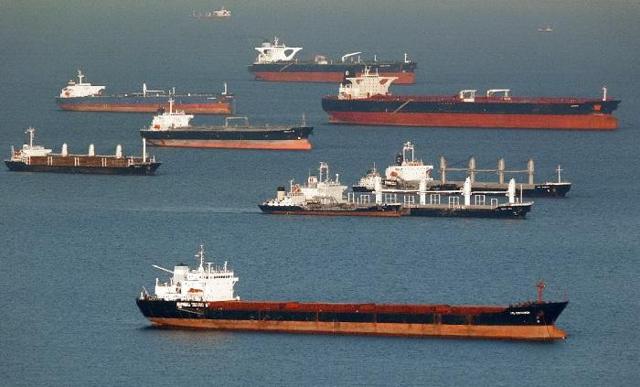 Created in June 2010 SEA is a shipping sector ETF that follows the performance of the Dow Jones Shipping Index. According to the Guggenheim fund investment objectives:
SEA will at all times invest at least 90% of its total assets in common stock, American Depositary Receipts (ADRs), Global Depositary Receipts (GDRs) and Master Limited Partnerships (NYSEARCA:MLPS) that comprise the index and the underlying stocks in respect to the ADRs and GDRs in the index.
As of April 20, 2016, TNP stock made up about 2.5% of the holdings in SEA. See the table below for all the holdings that make up this ETF.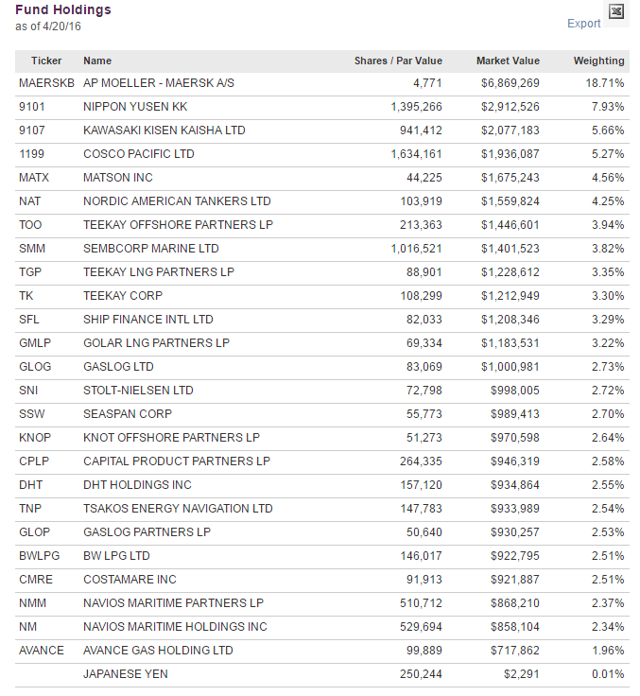 Some of the highlights for the fund include:
Offers potential to benefit from global commerce growth through exposure to the global shipping industry - oftentimes a leading indicator for global commerce and economic trends.
May provide enhanced dividend yield, as well as potential income stream.
As of March 23, 2016, the ETF announced a quarterly dividend distribution of $0.1195 payable March 31. The quarterly distributions vary depending on what the underlying stocks are doing, but in 2015, the fund paid out a total of $1.34779. The 12-month yield as of 4/15/16 is 11.86%.
The fund's performance over the past 5 years has been rather dismal with an annual average total return based on NAV of -11.65% as of March 31, 2016. Even as recently as December 10, 2015, Fitch ratings cut the outlook for global shipping to negative for 2016 based on weak demand. And as if on cue, the performance of the shipping sector dropped for the next couple months with SEA reaching an all-time closing low price of $9.81 on February 11, 2016.
Shipping Trends in 2016 and Beyond
In the past 2 months, the global economy has begun to show some signs of recovery with oil prices rising. This ETF has also begun to show signs of coming off a long-term bottom. However, there are some indications that with China's slowing growth and prolonged commodity price weakness (especially coal, iron ore, crude oil) the shipping sector may continue to experience a slowdown.
On the flip side, changing demographics and population growth rates along with a growing middle class in developing countries, could contribute to longer term growth in shipping. The lifting of sanctions against Iran should also contribute to short-term increases in demand as more oil becomes available for export. And when you add in the technology improvements in logistics (such as big data analytics) and better forecasting and tracking capabilities, shipping companies stand to benefit.
Some shippers in certain sub-sectors are likely to do better than others. This is another advantage of owning this ETF as opposed to individual stocks in the sector. For example, tankers and LNG shippers are expected to perform better than dry-bulk and container ships, at least in the short term.
Investment Rationale
For my personal investing objectives in my NGNG portfolio, I feel that SEA actually decreases my risk in the shipping sector by diversifying the holdings away from my single stock investment in TNP. At the same time, it increases my current income by more than double what TNP offers. The fund is also less volatile and not as directly impacted by market fluctuations with the holdings diversified both within the shipping sector as well as geographically.
I sold off a few shares of TNP to trim my position and to shift the cash into an initial position in SEA. Over time as the share price of TNP rises (as I expect it will after they report Q2 earnings) I will sell more shares and use those proceeds to invest in more shares of SEA with the eventual goal of replacing all my TNP shares with SEA.
For now, TNP represents approximately 7% of my NGNG portfolio and SEA is about 2%. Also, as with my other investments, I intend to use the quarterly distributions to add to my position in SEA using my commission free FRIP option to lower my cost basis and increase my annual income. So if the price of SEA drops in the short term, I really don't mind as that just makes it that much more attractive to add to my long position.
Disclosure: I am/we are long TNP, SEA.
I wrote this article myself, and it expresses my own opinions. I am not receiving compensation for it (other than from Seeking Alpha). I have no business relationship with any company whose stock is mentioned in this article.