Diversification is protection against ignorance. It makes little sense if you know what you are doing. -Warren Buffett

It's not whether you're right or wrong, but how much money you make when you're right, and how much you lose when you're wrong. -George Soros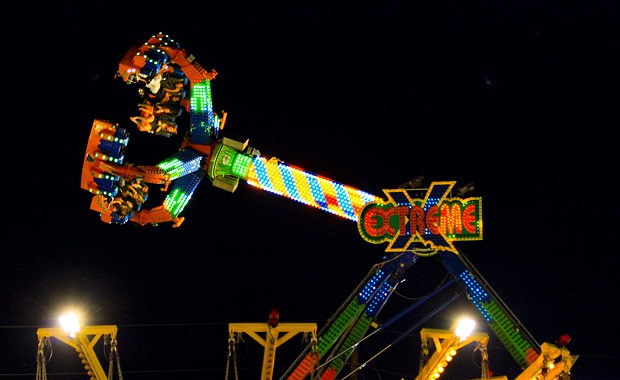 Concentrated, active investors have had one of their worst periods of relative and absolute performance over the last five years, as the gap between value and growth stocks increasingly widened from 2011 to 2015, and market breadth progressively narrowed into the fall of 2015.
Hedge fund titans William Ackman, David Einhorn, and Seth Klarman, collectively had their worst year in 2015, with Ackman and Einhorn both posting drawdowns that rivaled their losses in 2008. For these managers, concentrated holdings in companies that ultimately proved overvalued, like Valeant (NYSE:VRX), SunEdison (SUNE), and Micron (NASDAQ:MU), provided a significant headwind to results.
Building on the narrative of struggling, active investors, some of the most decorated, value-oriented mutual fund managers over the past two decades, including Mason Hawkins of Southeastern Asset Management, who was one of the key architects behind the highly esteemed Longleaf mutual fund family (LLPFX, LLSCX, LLINX, and LLGLX) and Bruce Berkowitz, who runs the Fairholme Fund (MUTF:FAIRX), and who was Morningstar's manager of the decade from 2000-2010, have seen their flagship fund's performance struggle, to the point, that both are now one-star rated (out of five stars) by Morningstar.com.
Institutional and retail investors have taken notice, and directed a record flow of their funds into passive, low-cost investment strategies, with index leader and industry behemoth Vanguard, who introduced the S&P 500 Index fund to most investors, with their Vanguard S&P 500 Index Fund (MUTF:VFINX), collecting more inflows that the next nine leading fund families combined in 2015, following a 2014 that saw passive fund flows dominate.
Remarkably, the fascination with passive strategies over the past five years has exceeded the infatuation with index strategies from 2003-2007, and we all witnessed the downfall that transpired after prognosticators proclaimed a permanent new era of low volatility, due in part to a new era of asset allocation, during that time frame. 2016 has proved to be an inflection point, and as market leadership transitions, this article will review the benefits and drawbacks of a concentrated, active investment strategy, and explain why most investors would be well served to allocate a modest portion of their portfolio to a concentrated investment manager.
Thesis
Most investors are too passively invested, overweight the same large capitalization companies that dominate nameplate indexes, and they could benefit from having a modest allocation to a concentrated portfolio.
The Best Investors In The World Are Concentrated
My short-list of investment legends that I admire, if I had to narrow it, arbitrarily, to a list of seven investors, are Paul Tudor Jones, Stanley Druckenmiller, Seth Klarman, David Einhorn, Lee Ainslie, Julian Robertson, and Warren Buffett. All of these famous investors have a history of being concentrated investors. For example, in 2014, Klarman and Einhorn both had a significant portion of their long portfolios in Micron Technology. Building on this example today, Klarman has roughly one-fifth of his portfolio's long position in one company, Cheniere Energy (NYSEMKT:LNG). Buffett's Berkshire Hathaway (NYSE:BRK.A), (NYSE:BRK.B) famously held only a couple stocks during his heavenly Partnership days, and he still holds a concentrated equity portfolio today, with his top five holdings, Wells Fargo (NYSE:WFC), The Kraft Heinz Company (NASDAQ:KHC), Coca-Cola (NYSE:KO), International Business Machines (NYSE:IBM), and American Express (NYSE:AXP) making up over 65% of Berkshire's equity portfolio. Smaller holdings like Procter & Gamble (NYSE:PG) and Deere (NYSE:DE) are relatively miniscule allocations.
As these investment managers have grown their respective funds under management, the ability to concentrate gets more difficult. Mr. Buffett is the prime example, in this regard, as Berkshire has to limit itself to all but the largest companies when deploying their investment capital.
If I expanded my list of investment managers that I look up to, it would include Mason Hawkins, and Bruce Berkowitz, both of whom were mentioned in the introduction of this article, as well as Bob Rodriguez, who built a terrific track record running a concentrated portfolio at FPA Capital (MUTF:FPPTX).
Earlier, in my career, I once had dinner with Mr. Rodriguez, and he asked me a question, where he proposed a scenario that had not discernible solution. I later found out that he did this on a regular basis, and he was encouraged when the recipient of his question would attempt to answer with an unorthodox solution, as that indicated potential to "think outside the box".
What Does A Concentrated Portfolio Look Like?
Thinking outside the box describes Longleaf Partners Funds portfolio, which has over 60% of its assets in its top-ten holdings, as shown by the position breakdown from Morningstar.com.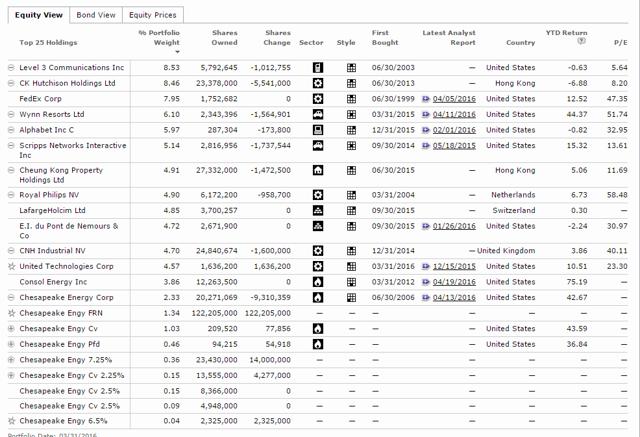 Clearly this portfolio is different than the S&P 500 Index, whose top-ten current holdings compromise roughly 18% of the index funds assets, and are Apple (NASDAQ:AAPL), Microsoft (NASDAQ:MSFT), Exxon Mobil (NYSE:XOM), Johnson & Johnson (NYSE:JNJ), General Electric (NYSE:GE), Berkshire Hathaway, Facebook (NASDAQ:FB), Amazon (NASDAQ:AMZN), AT&T (NYSE:T), and JPM Morgan Chase (NYSE:JPM). Interestingly, Alphabet (NASDAQ:GOOGL), (NASDAQ:GOOG), is not on the list, though if its share classes were combined, it would be, as the firm is clearly one of the largest ten companies by market capitalization.
In contrast to the S&P 500 Index, the Longleaf Partners Fund, which is outpacing the S&P 500 Index by roughly a 3:1 margin year-to-date in 2016, and has had a long history of outperformance prior to the last five years, particularly the last one and three-year timeframes, has a completely different portfolio, with Alphabet being the only mega-capitalization company, in LLPFX's holdings.
For comparison's purpose, the top-ten holdings for LLPFX are Level 3 Communications (NASDAQ:LVLT), CK Hutchison Holdings Ltd (CKHUF.HK), FedEx (NYSE:FDX) Wynn Resorts (NASDAQ:WYNN), Alphabet, Scripps Networks Interactive (NYSE:SNI) Cheung Kong Property Holdings (CHKGF.HK), Royal Philips NV (OTCPK:RYLPF), HOLCIM LTD REG SHS (OTCPK:HCMLF), and E.I. du Pont de Nemours and Company (NYSE:DD).
Collectively, these companies have a very different profile from the S&P 500 Index, as the table from Morningstar.com shows.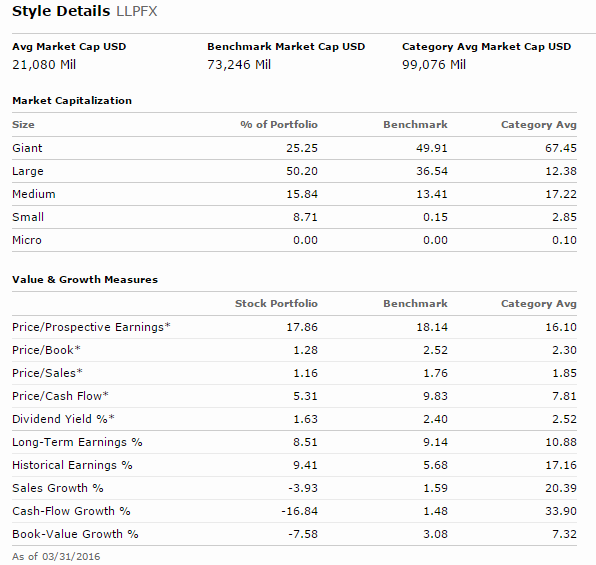 As a group, the companies in LLPFX's portfolio trade at substantially cheaper valuations than the companies in the S&P 500 Index. This is true on the price-to-book, price-to-sales, and price-to-cash flow valuation metrics. Notably, in the more widely followed price-to-earnings ratio, the comparison is more in-line.
Growth Has Outperformed Value
Many of the best long-term track records in the investment industry have been accomplished by value investors, and growth has clearly outperformed value over the past five years, as shown by the performance of the iShares Russell 1000 Value ETF (NYSEARCA:IWD) versus the iShares Russell 1000 Growth ETF (NYSEARCA:IWF) over this time frame.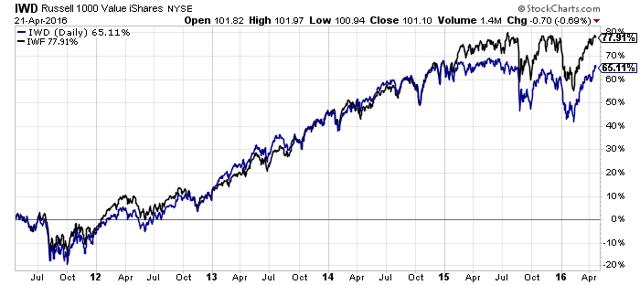 In 2016, however, value has started to outperform growth.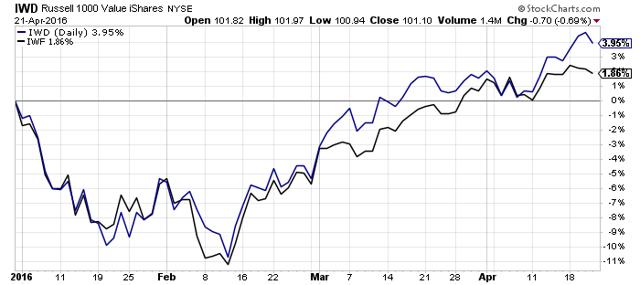 This reversal in value versus growth is even more pronounced when looking at smaller capitalization companies, as illustrated by the performance of the iShares Russell 2000 Value ETF (NYSEARCA:IWN) compared to the iShares Russell 2000 Growth ETF (NYSEARCA:IWO).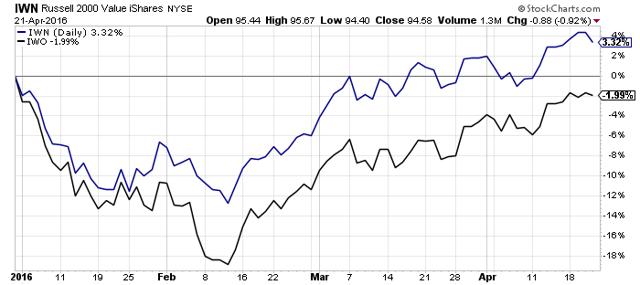 Large Versus Small
Many of the world's best investment managers have been hurt by the outperformance of growth over value, and they have also suffered from the outperformance of large companies over their smaller capitalization counterparts. Large capitalization domestic stocks, as measured by the iShares Russell 1000 ETF (NYSEARCA:IWB) have outperformed their smaller capitalization counterparts, as measured by the iShares Russell 2000 ETF (NYSEARCA:IWM) by 27% points cumulatively over the past five years!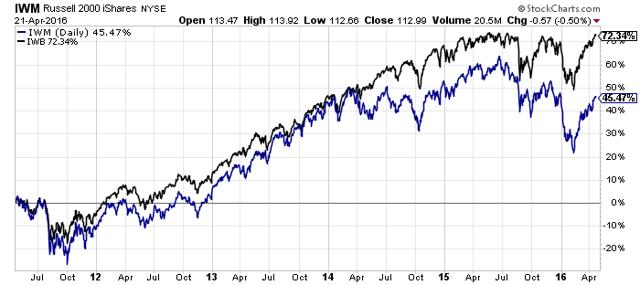 Historically, large-cap stocks rarely outperform small-cap stocks in bull markets, as smaller capitalization companies typically have a higher equity risk premium than their larger capitalization counterparts. Thus, over full market cycles, smaller capitalization stocks deliver a higher return, but this return is achieved with a higher level of volatility. The last five years have turned conventional market wisdom on its head.
U.S. Stocks > International Stocks
The best money managers in the world have struggled due to their value bias, and their exposure to smaller capitalization companies, but the final nail in the coffin has been the underperformance of international equities versus their U.S. counterparts. The following chart shows the performance of the iShares MSCI EAFE ETF (NYSEARCA:EFA) versus the SPDR S&P 500 Index ETF (NYSEARCA:SPY), and the difference in performance is stunning.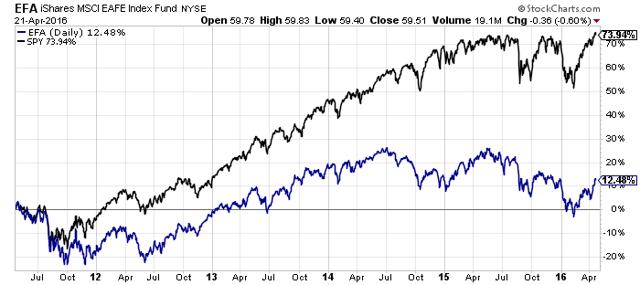 Developed international equities have trailed their U.S. peers by a cumulative 61% over this time frame. Thus, concentrated investment managers, who look for their best bargains in inefficient markets, including value stocks, smaller capitalization companies, and less followed international markets have faced significant headwinds.
Personal Perspective
Fresh off one of the greatest five-year runs in my career, including making money in 2008, and making a small fortune in 2009, I was riding high on success, both personal and business, when I decided to expand my money management business at the end of 2011. In hindsight, it turned out to be the wrong decision at the wrong time.
Studying nearly twenty-years of personal trading records, and examining the 2007-2011 time frame I became a devout believer in the merits of concentrated investments. Concentration was one of the primary components of the investment philosophies of Soros, Druckenmiller, Jones, Klarman, and Buffett, and their belief was expressed best by an interoffice exchange between Soros and Druckenmiller, which was in essence; if you knew you were right, no bet was too big. In the right hands, concentration was an asset, not a liability, and every great investor in the world was a concentrated investor. Adding to the allure of concentration, entering 2012, the pool of attractively priced investments, in my opinion, had narrowed significantly, from the heavenly days of 2009, so it was natural for investment portfolios to become more top heavy.
The tens of thousands of hours of research that culminated in the achievement of being one of the few investors that anticipated, and profited from the downturn and rebound that occurred from 2007 to 2009, led me to believe that inflation, as opposed to deflation, was the preferred, and only, debt extinguishment tool that policymakers had the ability to use exiting the 2008 financial crisis. For a period of time, this thesis played out as monetary and fiscal policy makers across the globe spurred a spectacular inflationary rebound. This inflationary recovery, however, ground to a halt by April of 2011, and the environment transitioned to a disinflationary/deflationary investment landscape. Not recognizing this change in the investment landscape, led to the biggest investment mistakes of my career. In summary, I concentrated in value investments at precisely the wrong time.
2012 was a difficult year, but I used my two decades of trading experience to battle back, for the book of business I managed. The heightened volatility, and results, put a dent in the sterling track record I had accumulated managing separate accounts, but I was confident that the storm had been weathered. From there, 2013, and 2014, became progressively more difficult, as value investments underperformed, deep value investments were obliterated, and a narrow group of overpriced securities kept leading the market higher. This all came to a conclusion in 2015, when the majority of stocks started declining, and the leading stocks crested in latter half of 2015.
This year, 2016, has seen the start of an unwinding of a majority of crowded trades that have dominated financial markets from 2011-2015. Specifically, the U.S. Dollar has declined, commodities have rebounded, emerging markets have surged, momentum growth names like LinkedIn (NYSE:LNKD), Tesla (NASDAQ:TSLA), Netflix (NASDAQ:NFLX), Amazon, and SolarCity (SCTY) have had their armor pierced, and value stocks are finally outperforming their growth counterparts. There are many lessons to be learned from the past five years, and I will never forget the pain of managing money for others, and on being on the wrong side of a tsunami. The hurricane has, passed, however, and the investing environment is ripe with opportunity.
Concentrated Strategies Outperform In 2016
When an asset class is out-of-favor for a long period of time, like value stocks, smaller-cap stocks, international stocks, emerging market stocks, and commodity stocks have been since 2011, there is typically a reversion to the mean trade, and that has been a powerful investing theme in 2016.
In December of 2015, I launched a premium research service on Seeking Alpha, called "The Contrarian", to take advantage of an opportunity set that I believed rivaled the fortuitous 2008 and 2009 bountiful years, and the timing has worked out perfectly, thus far.
The most aggressive portfolio in The Contrarian, the "Bet The Farm" Portfolio, an options focused strategy, has risen 197% since its December 7th, 2015 inception through the close of the markets, Wednesday, April 20th, 2016. While nothing rises in a straight line, I believe the impulse move higher in inflationary assets signals that we are transitioning from one investment environment to a different investing landscape.
The Contrarian's "Best Ideas" Portfolio is a concentrated equity strategy, and it too, has had a terrific move higher in 2016, as shown by the customized performance table I have put together below.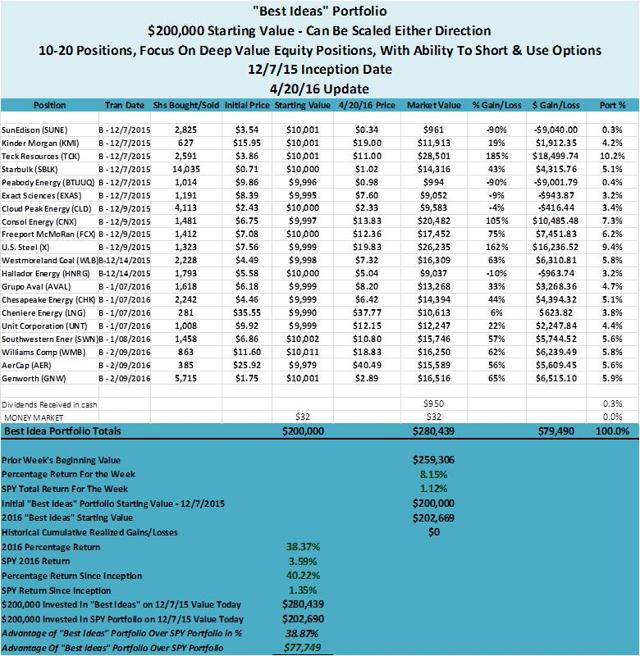 The Contrarian's "Best Ideas" Portfolio has risen 38.4% in 2016, compared to a 3.6% advance by SPY. Since inception, the "Best Ideas" Portfolio is up 40.2%, and based on my proprietary price targets for the companies in the portfolio, I think the long-term upside potential is much higher.
Currently, the portfolio holds SunEdison, Kinder Morgan (NYSE:KMI), Teck Resources (TCK), Starbulk (NASDAQ:SBLK), Peabody Energy (BTUUQ), Exact Sciences (NASDAQ:EXAS), Cloud Peak Energy (NYSE:CLD), Consol Energy (NYSE:CNX), Freeport McMoRan (NYSE:FCX), U.S. Steel (NYSE:X), Westmoreland Coal (NASDAQ:WLB), Hallador Energy (NASDAQ:HNRG), Grupo Aval (NYSE:AVAL), Chesapeake Energy (NYSE:CHK), Cheniere Energy, Unit Corporation (NYSE:UNT), Southwestern Energy (NYSE:SWN), Williams Companies (NYSE:WMB), AerCap Holdings (NYSE:AER), and Genworth (NYSE:GNW).
The "Best Ideas" Portfolio, like the rest of The Contrarian portfolios, is not static. In fact, there is a whole new round of companies that I am ready to invest in over the coming months, as shares that have appreciated towards my intrinsic value price targets are trimmed, and cash is raised to redeploy into more attractively valued opportunities.
In summary, a modest allocation to a concentrated invesment strategy, like The Contrarian's "Bet The Farm" Portfolio, or the "Best Idea" Portfolio, or a concentrated hedge fund, or mutual fund manager, has the potential to improve the overall risk-adjusted return prospects of an investors entire portfolio, as concentrated managers frequently experience return periods, and profiles, that are vastly different than the broader markets.
Conclusion - 2016 Is An Inflection Point
The last sixteen years of investing have been a rough and tumble affair for most investors, as the investment markets have cycled repeatedly, from boom to bust, and once again, we stand on the precipice of a generationally overvalued stock and bond market.
Looking back, the investment years of 2011-2015 can certainly be characterized as unique, as value stocks, smaller capitalization companies, and international equities, historical outperformers, have all massively underperformed. Concentrated investment legends, the best investors in the world, have suffered during these aforementioned years, and retail and institutional investors have moved a record amount of funds away from active strategies.
With everyone crowded on one side of the boat, holed up in index strategies, dividend payers, and large capitalization growth stalwarts, the opportunities for contrarian investors are abnormally large. In this environment, a modest concentrated investment allocation, added to well diversified portfolio, has the potential to boost returns, and reduce risk, by "zigging" while everyone else "zags". To close, while we remain cautious on the broader stock and bond markets, opportunistic investors should keep their eyes open to out-of-favor investments, and alternative investment strategies, as this market historian sees one of the most fascinating investment landscapes in history straight ahead.
Disclosure: I am/we are long AER, AVAL, BTUUQ, CHK, CLD, CNX, DE, EXAS, FCX, GNW, IBM, KMI, LNG, MU, SBLK, SUNE, SWN, TCK, UNT, WLB, WMB, WYNN, X, AND SHORT AMZN, AND SPY.
I wrote this article myself, and it expresses my own opinions. I am not receiving compensation for it (other than from Seeking Alpha). I have no business relationship with any company whose stock is mentioned in this article.
Additional disclosure: Every investor's situation is different. Positions can change at any time without warning. Please do your own due diligence and consult with your financial advisor, if you have one, before making any investment decisions. The author is not acting in an investment adviser capacity. The author's opinions expressed herein address only select aspects of potential investment in securities of the companies mentioned and cannot be a substitute for comprehensive investment analysis. The author recommends that potential and existing investors conduct thorough investment research of their own, including detailed review of the companies' SEC filings. Any opinions or estimates constitute the author's best judgment as of the date of publication, and are subject to change without notice.
Editor's Note: This article covers one or more stocks trading at less than $1 per share and/or with less than a $100 million market cap. Please be aware of the risks associated with these stocks.