Great Basin Scientific (NASDAQ:GBSN)

is not (and has never been) a common name when talking about well performing stocks.
Unlike most companies that have had a 99.999% drop in their stock price, GBSN has sales of actual products and has a large staff of full-time employees and has actual FDA approvals for their equipment. It is worth mentioning at this time that GBSN is not a start-up drug company. So what is going on with the stock?
A History of Great Basin's Stock
Great Basin commenced their Initial Public Offering on October 8, 2014. Per the company's 2014 SEC Annual Report filing: "On October 8, 2014, the SEC declared effective our initial public offering registration statement on Form S-1 (File No. 333-197954) related to 1,150,000 shares of common stock and 1,150,000 Series A Warrants, which were sold in combinations of one share of common stock and one Series A Warrant at a public offering price of $7.00 per unit. Each Series A Warrant is exercisable for one share of common stock and one Series B Warrant. In addition, the managing underwriter, Dawson James Securities, Inc. exercised its option to purchase 172,500 Series A Warrants."
From the humble beginnings of that 1.15 million share public offering GBSN went on an unprecedented dilution spree. In December 2015 a 1:60 reverse split was effected. Subsequently, just four months later in March 2016 a 1:35 reverse split was effected. Adjusted for these two splits the IPO shares have fallen from $14,700 a share to the current $3.23 at the close of trading April 21, 2016, despite trading on the NASD CM platform. So lets examine how that transpired.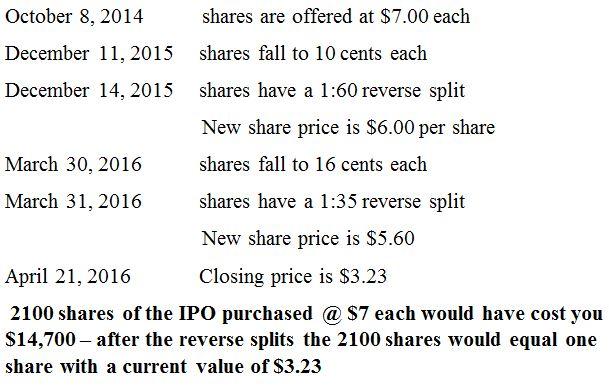 So what led to the free fall in the stock price? Thanks to warrants offerings and conversions the company issued shares at a pace that was similar to the pace of water falling from Niagara Falls.

Management has been forthright regarding the dilution and the need for it to change in the future. In the most recent press release where the company discussed their results they stated: "As we've outlined in two recent press releases, we are preparing our plan for returning to compliance, continuing compliance with Nasdaq rules on the market value of listed securities. And we are very optimistic that we will be granted the extension we need to regain compliance. The plan for returning to compliance is also the same as the plan for simplifying our capital structure. And over the past four months, we have made significant progress in reducing those risks as well. We eliminated the highly dilutive series C warrants. We have also eliminated the series E warrants at a significantly reduced level of dilution than we would have faced at a later date. And our finance team, led by our CFO, Jeff Rona and our new banker, ROTH Capital Partners, has worked to assure that our two recent financings have each been progressively less dilutive than the financings that preceded them. And we are committed to do all we can to continue that trend as we look to return to the capital markets in the second half of 2016."
That last sentence is the one that stands out. Earlier this year GBSN announced that they received a delisting notice from NASD. The company has requested a hearing with NASD to explain how they will be NASD compliant in the future, but the company is offering no specifics to shareholders at the current time. It is likely that it is this return to the capital markets that will enable GBSN to be NASD compliant in 2016. Hopefully this capital raise will not be highly dilutive to current shareholders, but based on history that is an unlikely scenario.
Operational Metrics
As mentioned earlier, GBSN does indeed have actual products and sales. Here is the company description per their 10-K: "We are a molecular diagnostic testing company focused on the development and commercialization of our patented, molecular diagnostic platform designed to test for infectious disease, especially hospital-acquired infections." As of December 31, 2015, GBSN had 134 full-time employees. Great Basin is not a shell company or a scam. That is undisputed. What is disputed is whether the company has a viable business plan that will enable it to survive.
Growth
In the April 14, 2016, GBSN business update conference call extracted from SA's archives CEO Ryan Ashton made the following comments regarding the business:
Earlier this afternoon, we released our preliminary first quarter revenues and customer numbers. It was our strongest quarter to date by a significant margin with - where revenue increased 59.4% year-over-year to approximately $731,000. This also represented a sequential increase of 19.5% over the prior quarter, the fourth quarter of 2015.

We also announced that we ended the first quarter with 222 revenue generating customers, an increase of 36 customers from 186 at the end of the fourth quarter. This is more than double our customer acquisition rate in the first quarter of 2015 when we added 17 new customers.

In 2015 we added 102 customers, ending the year at 186.

And today, we are providing guidance on our customer acquisition. We expect to add between 115 and 140 new customers in 2016 and end the year with between 300 and 325 customers.

The guidance for 2016 and 2017 are that in 2016 we expect to end the year with 300 to 325 customers and four FDA cleared tests, another five tests either in trial or already submitted to the FDA. And in 2017, we expect to end the year with 500 to 550 customers, nine FDA cleared tests, and another five to six tests either in trial or already submitted to the FDA.
There is no question that the company has products/machines that are needed. These products/machines are FDA approved. The company is selling them. But they are losing more and more money with every unit they sell. How can GBSN reverse this and stop the need for more capital (and subsequent dilution)?
From the 2015 Annual Report, here are the revenue and P/L numbers:

For 2015 Great Basin recorded a net loss of $57.9 million (of which $19.7 million was an operating loss) on revenues of just $2.142 million. To put it bluntly, for every dollar in revenues the company generated they lose almost $10 in 2015. This is a major deterioration from the ~$5 lost for every revenue dollar generated in 2014. In other words, the more GBSN sells the more they lose. The company's products are manufactured manually. The lack of automation allows no economies of scale.
In 2015 GBSN ended the year with two FDA cleared tests. The company guidance calls for 2016 to end with the company having four cleared FDA tests and 2017 projections are for nine FDA cleared tests (with another five to six tests either in trial or submitted to the FDA).
Research and Development Spending
Full speed ahead! That is the only way of describing the R&D spending of GBSN. Spending increased from $4.6 million in 2014 to $8.5 million in 2015. Between the positive comments made by Mr. Ashton regarding 2016 and 2017 guidance and the corresponding R&D spending, GBSN does indeed seem to have the potential to be a market mover in the coming years (as long as the cash flow allows it).
Short interest
The stock of GBSN has clearly been on the radar of shorts and momentum players lately. The following is the short interest as reported by NASDAQ.com: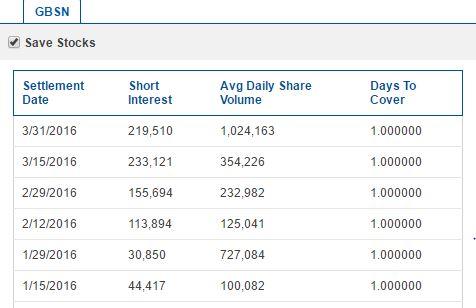 While 219,500 shares does not seem to be a large number, you need to remember that there are only 3.3 million shares of GBSN stock outstanding.
Also of note is that for April 2016 the average trading volume is over 2 million shares a day. That represents over 60% of the shares outstanding changing hands every day. Clearly this is not ordinary trading activity for GBSN or "any" stock.
Conclusion
So what does it all mean? The business model may not be broken, but it definitely exhibits stress fractures. There seems to be a definite need for Great Basin's products. Sales are ramping up quickly. Great Basin however needs to find a way to produce their test units for less money. This is key to their survival. If we are to take management at their word regarding both the growth and the company's willingness to control future dilution, GBSN is a VERY speculative opportunity. With a market capitalization of $10 million, most of the risk seems to have been eliminated.
Disclaimer: Investing in penny stocks such as Great Basin can be risky. There is no guarantee that your investment will be safe. There is also a great likelihood that you may lose some or all of your investment. Please do your own due diligence before investing in Great Basin or any other investment. Information provided in this article is informational and should not be the sole guide to determine if investing in the company is appropriate for you. The above are my opinions and should not be the sole purpose for initiating a trade. Always do your own due diligence prior to investing. Also remember to only initiate trades that are within your pre-defined risk parameters.
Disclosure: I/we have no positions in any stocks mentioned, but may initiate a long position in GBSN over the next 72 hours.
I wrote this article myself, and it expresses my own opinions. I am not receiving compensation for it (other than from Seeking Alpha). I have no business relationship with any company whose stock is mentioned in this article.
Editor's Note: This article covers one or more stocks trading at less than $1 per share and/or with less than a $100 million market cap. Please be aware of the risks associated with these stocks.