By Contributing Analyst Alex Graham
Southwest Airlines (NYSE: LUV) is a passenger airline that provides air transportation in the United States and near-international markets.
Founded in 1967 in Dallas, TX, Southwest serves around 94 destinations in 40 states across the US. The company trademark is a fleet of Boeing 737 aircraft, which they have around 670 of. Southwest boasts an impressive record, 43 consecutive years of annual profitability, which is unmatched in the US aviation market. The company also is a member of the Fortune 500.
Consistency
Southwest has become a household name, and while thought of as a bargain brand, the company has managed to stay very profitable. Southwest has reported 43 consecutive years of annual profitability. In 2015, their net income was 2.2 billion and earnings hit 2.4 billion, a new record. Since 2010, shareholder value has increased more than three-fold and dividends per share have increased more than sixteen-fold. Southwest has been able to produce consistent returns for its shareholders and shows signs of continuing this pattern long term. Southwest has steadily lowered training and maintenance costs due its exclusive use of 737 aircraft.
Profitability
2015 was a great year for Southwest, which broke many of its own records. Southwest boasted record air traffic, record revenues, record profits and a record year-end stock price. While many factors contributed to these successes, one major factor was the lifting of domestic restrictions at Dallas Love Field in late 2014, which allowed for a 50% increase in flight activity. The company also saw its overall flight traffic up by 150%. LUV boasts a gross margin of 74.67% and operating margin of 20.77%, which are at the top of the airline industry. These two figures indicate the airline has more cash to reinvest back into the company. Since 2010, Southwest has given $4.3 billion back to the shareholders. Today the payout ratio of Southwest is 8.6% which is on par with other airlines. The company has many projects in motion to increase company earnings. Southwest purchased AirTran in 2011 and fully integrated operations in 2015. This full integration will allow for increased profits in the coming years. Other projects include adding more slots at Washington Reagan and New York LaGuardia Airports, which will increase flight travel and will increase their presence in these markets. In 2015, the company witnessed an 85% operating profit, mainly the results of a plunge in jet fuel costs and lower operating expenses. The company has shown its ability to stay highly profitable and to return profits back to the shareholders.
Oil Prices
As mentioned before, in 2015 the price of oil plunged and Southwest experienced a tremendous surge in profits. Now picture 2016, where oil has been at its lowest in years, and the outlook for Southwest is highly favorable. Southwest's largest variable cost is the price of jet fuel. The lower price of oil will only lower Southwest's operating expenses. The lower price in oil will also be better for the consumer, as indicated from an NPR report that estimates airfare is 14%-15% lower this year than past years. Southwest is releasing earnings on 4/21 and these earnings will reflect this current drop in oil prices, EPS estimate for Q1 is .84 USD. Even after earnings Southwest can expect to have increased revenue. This is due to an increase in travel during summer months. In 2015, A4A estimated that 222 million people would fly on U.S. airlines over June 1 - Aug.31. The number of passengers who travel by air is increasing every year and especially during peak summer months. The decrease in oil prices will help both airlines and their customers.
Fundamentals
Along with the fundamentals mentioned before, Southwest shows a variety of good signs. P/S is 1.45x which shows healthy signs of growth for the company. The company has a P/E ratio of 13.76x which is higher than 80% of their peers in the industry. Southwest has a ROA of 10.63% which shows that management is very effective at creating returns - this is above average for the industry. The company also has a revenue growth of 6.52%, which also is above average for the airline industry. These solid fundamentals demonstrate that Southwest is a strong company that has effective leadership and has a knack for creating profits.
Competitive Analysis
LUV has very strong margins when compared to its peers Delta (NYSE:DAL), American (NASDAQ:AAL) and JetBlue (NASDAQ:JBLU), as well as the industry. It has proven this margin to be sustainable quarter after quarter as well. Its EBITDA also is noticeably strong when compared to the industry, although it is below that of its peers it is very strong when weighted by market capitalization. LUV's operating profit margin of 0.22 is strong, growing and also sustainable similar to its P/E ratio of 13.76x. This P/E on top of its very strong PEG ratio prove that LUV is the premier growth candidate when compared to its peers. Lastly, its P/S of 1.45x confirms our thesis that investors are paying for LUV's strong potential and expected growth.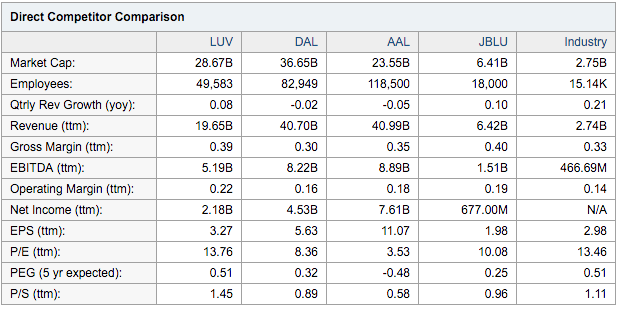 Technical Analysis
LUV recently traded off its lows of about 34.00/share and through its previous highs between 42.50-45.00/share. Its recent leg up has been on relatively strong volume for the airline and we believe it has the potential to push through its high of 51.34/share from November of 2015. To the downside we do see the 45.00/share level to act as a key level of support, and it makes for the perfect level to trade off of.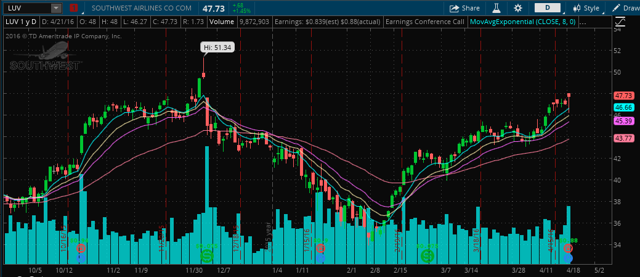 Summary
LUV has many positive qualities, a consistent experience to its customers, many strong fundamentals, a decrease in operating costs, and initiatives to lower costs. The low price of oil and the upcoming summer months mark an opportunity to invest.
Disclosure: I/we have no positions in any stocks mentioned, but may initiate a long position in LUV DAL AAL over the next 72 hours.
I wrote this article myself, and it expresses my own opinions. I am not receiving compensation for it (other than from Seeking Alpha). I have no business relationship with any company whose stock is mentioned in this article.