JD.com Overview and Competitive Landscape
JD.com (NASDAQ:JD) is the second largest e-commerce company in China. JD directly competes with TMall and Taobao, which are subsidiaries of Alibaba (NYSE:BABA). JD is a B2C (Business to Consumer) channel, which means that JD makes the spread between wholesalers and consumers. JD focuses on investing in the logistics network to facilitate better shopping experiences. While JD and TMall offer highly homogeneous products, the key differentiator has been the last mile delivery, i.e. the delivery speed and the customer services at delivery. JD has been the Company with an upper hand as the company uses its own logistics chain to provide quality services to the consumers.
JD is the largest player in the consumer electronics retailing space. Competitions from Guomei and Suning with brick-and-mortar stores are pressuring JD in the third and fourth-tier cities where JD's logistics network is still under development. Meanwhile, JD's attempt to broaden the product offerings was not as successful, because the entrenched competitors (TMall, Vipshop (NYSE:VIPS), Jumei (NYSE:JMEI)) were able to compete against JD effectively. In my opinion, JD's sales growth will be directly related to the development of the logistics network and the effectiveness of promoting new product categories. I believe the development of logistics network is a long-term project and the fierce competition makes it difficult for JD to promote new product categories and accelerate growth in e-commerce within a short time frame.
JD Eco-System
JD's most recent Internet + Logistics + Finance platform strategy allows the company to attract third-party service providers. The platform is backed by four business segments, including JD Finance, JD Cloud, JD Logistics and JD Shopping. JD Shopping is the consumer shopping interface; JD Cloud helps the consumers find the best products based on the search history/behaviors and offers cloud storage and cloud computing services; JD Finance offers various financing options for consumer goods and wealth management products for average consumers; JD Logistics is an in-house logistics network that facilitate delivery services.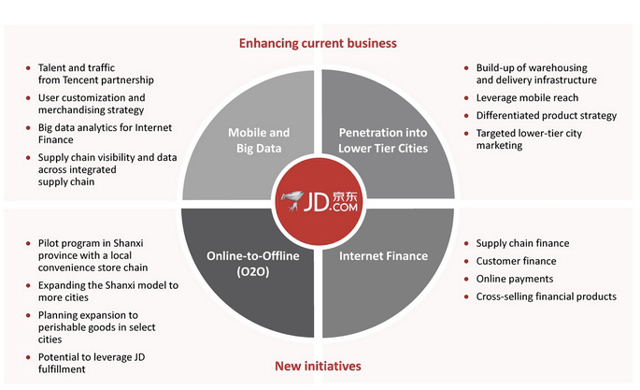 JD Shopping directly competes with TMall and Taobao. Consumers in large cities normally expect same day delivery when ordered through JD, typically within 3-5 hours. JD's ability to ship quickly ties in its successful investment in the modern warehouses and logistics facility. The logistics service is also heavily related to the Rural Area and Online to Offline strategy (to be explained later).
JD Finance is of strategic importance to JD, and is currently offering seven different types of services, including:
Supply chain finance for third-party service providers that use JD platform as a sales channel (small portion of the revenue);
Financing of goods (account payable consolidation);
Wealth management/investment management products/services;
Crowdfunding;
Payment services;
Insurances
Securities and financial advisory.
JD Cloud provides cloud storage and cloud computing services. JD Cloud is in the very early stage of development, yet JD Cloud will be the first cloud service provider in China with an e-commerce focus.
JD's Internet + Logistics + Finance platform strategy is very similar to that of Alibaba. Alibaba holds several key advantages over JD, however, including that i) Alibaba has first mover advantages over JD in developing and executing similar strategy; ii) Alibaba is much stronger financially, which allows BABA to raise more capital if needed; iii) Alibaba have more users than JD and; iv) Alibaba has a stronger technology platform/team.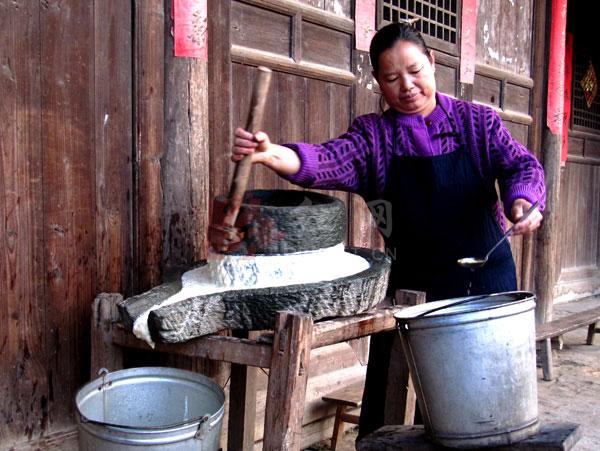 Will the Rural Area and Online to Offline strategy be the key differentiator?
The strategy is similar to Amazon's (NASDAQ:AMZN) food delivery strategy. The only difference is where the food/goods come from. In JD's case, a portion of the goods/food will come from rural areas. The strategy essentially allows rural area farmers to grow/process agricultural products or raise poultry in old/traditional ways (as opposed to industrialized and mass production; picture of old school tofu production) and sell the products/goods through JD's platform to people in the large cities. People living in large cities would like to purchase agricultural products from the rural area due to i) higher quality food (without excessive usage of fertilizer) and; ii) people want to eat what they grew up eating. The Rural Area and Online to Offline strategy offers real social and economic benefits as well. From the farmers' standpoint, it helps them i) make more money by selling at higher prices in the city than locally (significant price difference in rural area and in large cities) and; ii) improve their living standard. From the consumers' standpoint, the strategy brings i) access to higher quality food (without pollution and the abuse of illegal chemicals) and; ii) fresh food delivered to the consumers at the designated locations (Online to Offline strategy). The success of this strategy heavily depends upon investment in the logistics network, which is expected to be one of the best operated logistics chains in China. This looks like a tremendous opportunity to bridge the wealth gap and create social benefits.
Will this necessarily work? I am not very sure about it in both the short run and long run. Firstly, rural area farmers are poorly educated, thus making it hard for them to adopt new ideas/technologies quickly. Second, it will take many years of successful execution to gain traction. A lot of investors are short-term focused, unfortunately. JD will likely to be pressed with high level investments, low profitability, and lack of a short-term growth catalyst.
Valuation and Profitability
Growth Rate and Profitability
With the heavy investments in the JD Finance, JD Cloud, and JD Logistics, the company lacks an immediate short-term growth driver. The quarterly earnings in the next couple of quarters will be driven by the performance of JD Shopping, which has already shown signs of weakness lately as growth tops.
EV/Sales


Amazon traded at around 1.5-2.0x P/S, and investors should expect JD to trade at a similar valuation. However, in my opinion, JD's current valuation is justifiable, especially given the current weakness in China.
Final Thoughts
JD looks more like Amazon as of now, but will look more like Alibaba in the future based on its growth strategy. I am not completely sold on JD. JD is different from Baidu (NASDAQ:BIDU), BABA, and Tencent (OTCPK:TCEHY) as being the late adopter of the Online to Offline strategy, thus have already lost customers to competitors. Moreover, JD possesses little competitive advantages over others, especially considering that BIDU is the most technologically advanced company; BABA has more than enough capital to throw around; Tencent has probably the best/most used social application in the world. I am not completely comfortable with putting my money into a company that lacks clear short-term catalyst and lacks long-term competitive strength (moat). In my opinion, the low valuation of JD is justifiable, and I'd wait before jumping onto the bandwagon.
Disclosure: I/we have no positions in any stocks mentioned, and no plans to initiate any positions within the next 72 hours.
I wrote this article myself, and it expresses my own opinions. I am not receiving compensation for it (other than from Seeking Alpha). I have no business relationship with any company whose stock is mentioned in this article.
Editor's Note: This article discusses one or more securities that do not trade on a major U.S. exchange. Please be aware of the risks associated with these stocks.