In this letter, I want to revisit a topic I last discussed back in June 2015 - Can the boon of cheap energy eclipse the collapse of energy investment? In this article I wrote:
The impact of the oil price collapse is still feeding through the US economy but, since the most vulnerable states have learnt the lessons of the 1980's and diversified away from an excessive reliance of on the energy sector, the short-run downturn will be muted whilst the long-run benefits of new technology will be transformative. US oil production at $10/barrel would have sounded ludicrous less than five years ago: today it seems almost plausible.
This week, the San Francisco Fed picked up the theme in its FRBSF Economic Letter - The Elusive Boost from Cheap Oil:
The plunge in oil prices since the middle of 2014 has not translated into a dramatic boost for consumer spending, which has continued to grow moderately. This has been particularly surprising since the sharp drop should free up income for households to use toward other purchases. Lessons from an empirical model of learning suggest that the weak response may reflect that consumers initially viewed cheaper oil as a temporary condition. If oil prices remain low, consumer perceptions could change, which would boost spending.
Given the perceived wisdom of the majority of central banks - that deflation is evil and must be punished - the lack of consumer spending is a perfect example of the validity of the Fed's inflation targeting policy; except that, as this article suggests, deflation's effect on spending is transitory. I could go on to discuss the danger of inflation targeting, arguing that the policy is at odds with millennia of data showing that technology is deflationary, enabling the consumer to pay less and get more. But I'll save this for another day.
The FRBSF paper looks at the WTI spot and futures price. It suggests that market participants gradually revise their price assumptions in response to new information, concluding:
The steep decline in oil prices since June 2014 did not translate into a strong boost to consumer spending. While other factors like weak foreign growth and strong dollar appreciation have contributed to this weaker-than-expected response, part of the muted boost from cheaper oil appears to stem from the fact that consumers expected this decline to be temporary. Because of this, households saved rather than spent the gains from lower prices at the pump. However, continued low oil prices could change consumer perceptions, leading them to increase spending as they learn about this greater degree of persistence.
In a related article the Kansas City Fed - Macro Bulletin - The Drag of Energy and Manufacturing on Productivity Growth observes that the changing industry mix away from energy and manufacturing towards the production of services has subtracted 0.75% from productivity growth. It attributes this to the strength of the US$ and a decline in manufacturing and mining.
…even if the industry mix stabilizes, the relative rise in services and relative declines in manufacturing and mining are likely to have a persistent negative effect on productivity growth going forward.
The service and finance sector of the economy has a lower economic multiplier than the manufacturing sector, a trend which has been accelerating since 1980. A byproduct of the growth in the financial sector has been a massive increase in debt relative to GDP. By some estimates, it now requires $3.30 of debt to create $1 of GDP growth. A reduction of $35trln would be needed to get debt to GDP back to 150% - a level considered to be structurally sustainable.
Meanwhile, US corporate profits remain a concern as this chart from the PFS group indicates: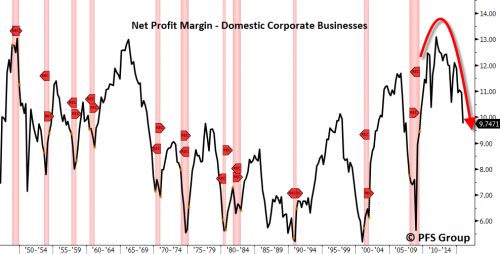 Source: PFS Group, Bloomberg
The chart below from Pater Tenebrarum - Acting Man looks at whole economy profits - it is perhaps more alarming still: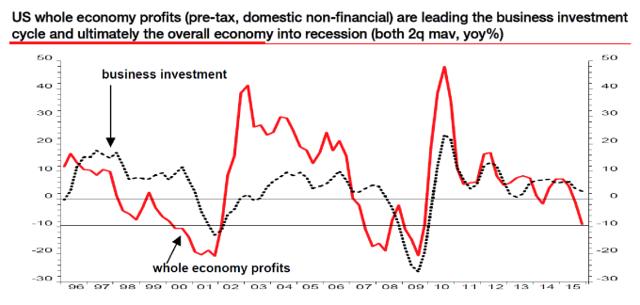 Source: Acting Man
With energy input costs falling, the beneficiaries should be non-energy corporates or consumers. Yet, wholesale inventories are rising, total business sales seem to have lost momentum and, whilst TMS-2 Money Supply growth remains solid at 8%, it is principally due to commercial and industrial lending.
US oil production has fallen below 9mln bpd versus a peak of 9.6mln. Rig count last week was 351, down three from the previous week, but down 383 from the same time last year. Meanwhile the failure of Saudi Arabia to curtail production limits the potential for the oil market to rally.
From a global perspective, cheap fuel appears to be cushioning the US from economic headwinds in other parts of the world. Employment outside mining and manufacturing is steady, and wages are finally starting to rise. However, the overhang of debt and muted level of house price appreciation has dampened the animal spirits of the US consumer: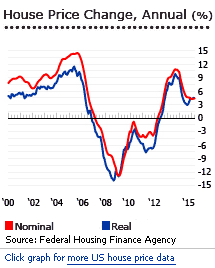 Source: Global Property Guide, Federal Housing Finance Agency
According to the Dallas Fed - Increased Credit Availability, Rising Asset Prices Help Boost Consumer Spending - the consumer is beginning to emerge:
A combination of much less household debt, revived access to consumer credit and recovering asset prices have bolstered U.S. consumer spending. This trend will likely continue despite an estimated 50 percent reduction since the mid-2000s of the housing wealth effect- an important amplifier during the boom years.

…Since the Great Recession, the ratio of household debt-to-income has fallen back to about 107 percent, a more sustainable-albeit relatively high-level.

…The wealth-to-income ratio rose from about 530 percent in fourth quarter 2003 to 650 percent in mid-2007 as equity and house prices surged. Not surprisingly, consumer spending also jumped.

The conventional estimate of the wealth effect-the impact of higher household wealth on aggregate consumption-is 3 percent, or $3 in additional spending every year for each $100 increase in wealth.

…Recent research suggests that the spendability, or wealth effect, of liquid financial assets-almost $9 for every $100-is far greater than the effect for illiquid financial assets, which explains why falling equity prices do not generate larger cutbacks in aggregate consumer spending. Other things equal, higher mortgage and consumer debt significantly depress consumer spending.

…The estimated housing wealth effect varies over time and captures the ability of consumers to tap into their housing wealth. It rose steadily from about 1.3 percent in the early 1990s to a peak of about 3.5 percent in the mid- 2000s. It has since halved, to about the same level as that of the mid-1990s. During the subprime and housing booms, rising house prices and housing wealth effects propagated and amplified expansion of consumption and GDP.

During the bust, this mechanism went into reverse. High levels of mortgage debt, falling house prices and a reduced ability to tap housing equity generated greater savings and reduced consumer spending. Fortunately, house prices have recovered, deleveraging has slowed or stopped, and consumer spending is strong, even though the housing wealth effect is only half as large as it was in the mid-2000s.
Countering the positive spin placed on the consumer credit data by the Dallas Fed is a recent interview with Odysseas Papadimitriou, CEO of CardHub by Financial Sense - Credit Card Debt Levels Reaching Unsustainable Levels:
In 2015, we accumulated almost $71 billion in new credit card debt. And for the first time since the Great Recession, we broke the $900 billion level in total credit card debt so we are back on track in getting to $1 trillion.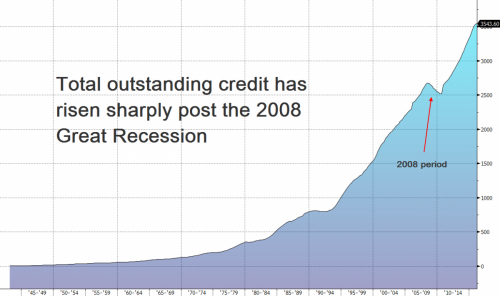 Source: Bloomberg, Financial Sense
Another factor which has been holding back the US economy has been the change in the nature of employment. Full-time jobs have been replaced by lower paying part-time roles and the participation rate has been in decline. This may also be changing, but is likely to be limited, as the Kansas City Fed - Flowing into Employment: Implications for the Participation Rate reports:
After a long stretch of declines, the labor force participation rate has risen in recent months, driven in part by an increase in the share of prime-age people flowing into employment from outside the labor force. So far, this flow has remained largely confined to those with higher educational attainment, suggesting further increases in labor force participation rate could be relatively limited.

…Overall, the scenarios show that while more prime-age people could enter the labor force in the coming years, the cyclical improvement in the overall participation rate may be limited to the extent only those with higher educational attainment flow into employment. In addition, the potential increase in the participation rate could be constrained by other factors such as an increase in the share of prime-age population that reports they are either retired or disabled and a limited pool of people saying they want a job, even if they have not looked recently. Thus, while higher NE flow indicates the prime-age participation rate could increase further, it will likely remain lower than its pre-recession rate.
Conclusion
At the 2015 EIA conference, Adrian Cooper of Oxford Economics gave a presentation - The Macroeconomic Impact of Lower Oil Prices - in which he estimated that a $30pb decline in the oil price would add 0.9% to US GDP between 2015 and 2017. If this estimate is correct, lower oil is responsible for more than a quarter of the current US GDP growth. It has softened the decline from 2.9% to 2% seen over the last year.
I would argue that the windfall of lower oil prices has already arrived, it has shown up in the deterioration of the trade balance, the increase in wages versus consumer prices and the nascent rebound in the participation rate. That the impact has not been more dramatic is due to the headwinds on excessive debt and the strength of the US$ TWI - it rose from 103 in September 2014 to a high of 125 in January 2016. After the G20 meeting in Shanghai, it has retreated to 120.
According to the March 2015 BIS - oil and debt report, total debt in the Oil and Gas sector increased from $1trln in 2006 to $2.5trln by 2015. The chart below looks at the sectoral breakdown of US Capex up to the end of 2013: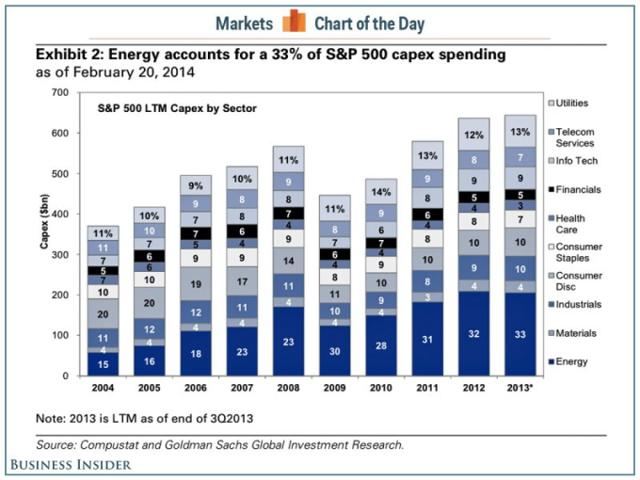 Source: Business Insider, Compustat, Goldman Sachs
With 37% allocated to Energy and Materials by 2013, it is likely that the fall in oil prices will act as a drag on a large part of the stock market. Energy and Materials may represent less than 10% of the total, but it impacts substantially in the financial sector (15.75%).
Notwithstanding the fact that corporate defaults are at the highest level for seven years, financial institutions and their central bank masters will prefer to reschedule. This will act as a drag on new lending and on the profitability of the banking sector.
The table below from McGraw-Hill shows the year-to-date performance of the S&P Spider and the sectoral ETFs. This year Financials are taking the strain whilst Energy has been the top performer - over one year, however, Energy is still the nemesis of the index.
| | | |
| --- | --- | --- |
| Sector SPDR Fund | % Change YTD | % Change 1 year |
| S&P 500 Index | 2.86% | 0.10% |
| Consumer Discretionary (NYSEARCA:XLY) | 2.23% | 5.05% |
| Consumer Staples (NYSEARCA:XLP) | 4.16% | 6.83% |
| Energy (NYSEARCA:XLE) | 10.20% | -19.16% |
| Financial Services (NYSEARCA:XLFS) | -2.49% | 0.00% |
| Financials (NYSEARCA:XLF) | -1.22% | -2.85% |
| Healthcare (NYSEARCA:XLV) | -1.01% | -3.31% |
| Industrials (NYSEARCA:XLI) | 6.41% | -0.07% |
| Materials (NYSEARCA:XLB) | 8.45% | -5.78% |
| Real Estate (NYSEARCA:XLRE) | 1.98% | 0.00% |
| Technology (NYSEARCA:XLK) | 3.60% | 5.19% |
| Utilities (NYSEARCA:XLU) | 10.74% | 7.08% |
Source: McGraw-Hill
The benefit of lower oil and gas prices will continue, but until debt levels are reduced, anaemic GDP growth is likely to remain the pattern for the foreseeable future. In Hoisington Investment Management - Economic Review - Q1 2016 - Lacy Hunt makes the following observation:
The Federal Reserve, the European Central Bank, the Bank of Japan and the People's Bank of China have been unable to gain traction with their monetary policies…. Excluding off balance sheet liabilities, at year-end the ratio of total public and private debt relative to GDP stood at 350%, 370%, 457% and 615%, for China, the United States, the Eurocurrency zone, and Japan, respectively…
The windfall of cheap oil has arrived, but cheap oil has been eclipsed by the beguiling spectre of cheap debt.
Disclosure: I/we have no positions in any stocks mentioned, and no plans to initiate any positions within the next 72 hours.
I wrote this article myself, and it expresses my own opinions. I am not receiving compensation for it. I have no business relationship with any company whose stock is mentioned in this article.