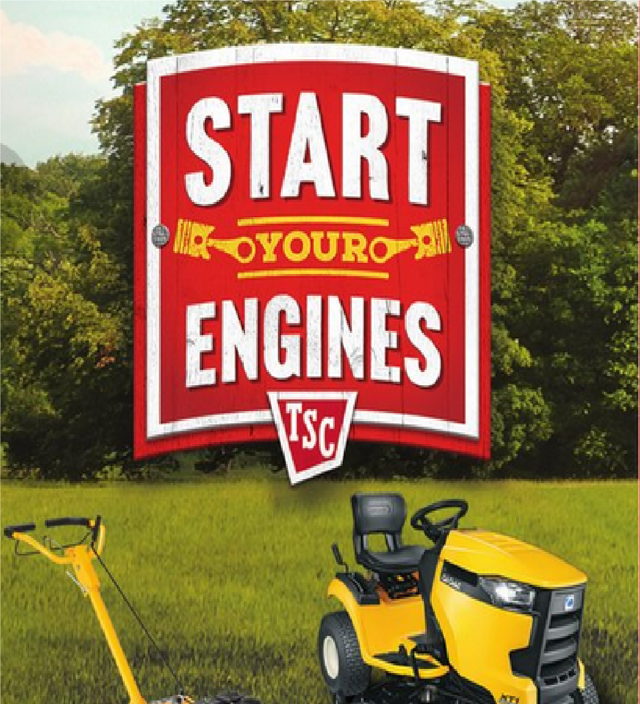 Tractor Supply (NASDAQ:TSCO), the largest farm and ranch retailer in the United States, started 2016 with grand plans - expand its geographic footprint by 8.1%, increase sales by a minimum of 10.8% and EPS by a minimum of 13.3% and repurchase 2% to 3% of its outstanding shares. Operationally, the company is focused on broadening its customer loyalty program, exploiting its redesigned website, further developing an exclusive house brand and shipping from its newly-opened distribution center in Arizona.
Simply, growth via geographic expansion is not enough for Tractor Supply; it intends to reestablish its same-store sales growth track record. The mild winter of 2015 wreaked a record of 30 consecutive quarters of same-store sales growth. But, the weather was not able to upset the trajectory of consecutive quarters of same-store transaction count growth.
For 2016, Tractor Supply projects sales in a range of $6.9 billion to $7 billion. Earnings per share are projected in a range of $3.40 to $3.48. The company expects to open 115 to 120 locations. When Tractor Supply reported 2016 first quarter results on April 20th, the numbers exceeded the average of analysts' estimates. However, it may not have been evident the company was on track regarding annual projections.
Sales in the 2016 first quarter tallied $1.47 billion. Compared to the same quarter in 2015, sales improved 10.2%. The double-digit improvement outpaced the store count growth of 7%. While the mild winter created a strain in the 2015 fourth quarter, the early spring bolstered the 2016 first quarter. And, yet, the first quarter revenue equates to an annual run rate of just $5.88 billion. That run rate is over $1 billion and more than 17% less than the low end of Tractor Supply's annual projection.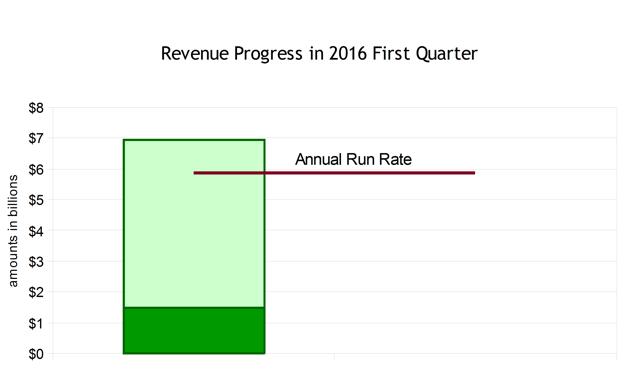 Source: Author-created from company data
It is imperative to recognize Tractor Supply's sales are seasonal in nature. The second and fourth quarters typically produce the highest revenue and profit. In fact, the first quarter is typically the lightest of the four. In both 2014 and 2015, second quarter sales outpaced first quarter sales by over 33%. In that regard, 2016 second quarter sales will likely be bumping over $1.95 billion. Prior to first quarter reporting, analysts were projecting sales of $1.94 billion for April through June.
First quarter diluted earnings tallied $0.50 per share. Like sales, the year-over-year improvement registered a double-digit improvement at 19%. And, like sales, Tractor Supply's earnings in the first quarter typically lag the other three quarters. So, again, although the first quarter's production equates to a run rate of just $2.00, it is not worthy of panic. In both 2014 and 2015, Tractor Supply's earnings more than doubled in the second quarter as compared to its first.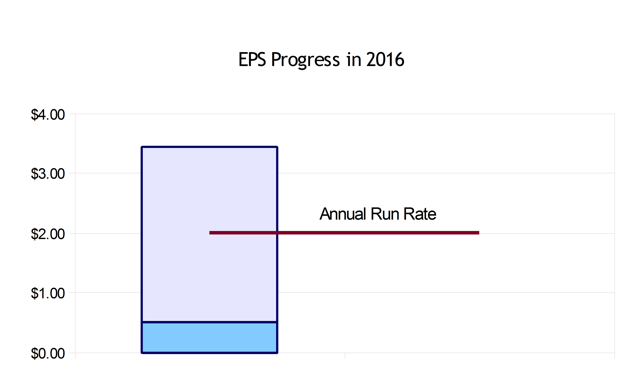 Source: Author-created from company data
On the measure of same-store sales growth, Tractor Supply restarted its course. Year over year, same-store sales increased 4.9%. Transaction counts increased 4.2%. Average ticket sales increased 0.7%.
Another encouraging sign for meeting full-year projections showed in Tractor Supply's first quarter margins. Margins showed improvement at every level. Tractor Supply credited gross margin improvement to "price management, imports and exclusive brands as well as cost negotiations and vendor support programs." Operating margin improvement occurred as a result of decreased SG&A expenses attributed to "effective expense control and payroll management."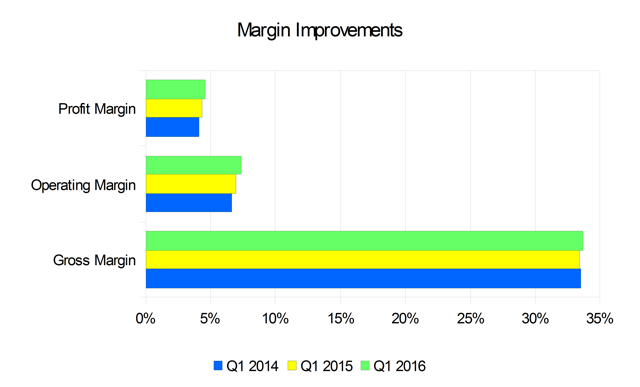 Source: Author-created from company data
When asked whether the margin expansion would continue, Tractor Supply's Chief Merchandising Officer, Steve Barbarick, offered confidence.
"We've got a plan and the team is executing to it."
Management was quick to sing praises of its implementation of Revionics. The cloud-based software offers merchandise modeling, rules-based pricing, markdown optimization, and predictive analytics. Revionics proposes intelligent, data-driven price optimization has the potential to deliver 2% to 7% in increased sales and 2% to 5% in gross margin improvement. Tractor Supply is currently employing the software to determine regular pricing and clearance pricing. Mr. Barbarick summarized the impact:
"Our systems are much more science than art."
The company opened 36 stores in the quarter and closed three for a net increase of 33. Tractor Supply's pace for opening stores has been fairly steady throughout the year. Based on a goal of 115 to 120 stores in 2016, the first quarter represents progress of over 27% complete. Therefore, the company is tracking well for the full year.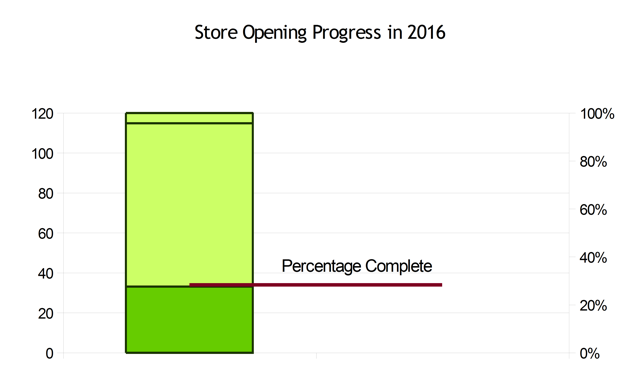 Source: Author-created from company data
Tractor Supply has a share repurchase authorization worth $2 billion valid through December 2017. When 2015 ended, $571.7 million remained for repurchases. Based on the 2015 year-end outstanding share count of 136.8 million shares, Tractor Supply's 2016 repurchase projection ranges from 2.7 million shares to 4.1 million shares. At an average price of $83.70, the company expended $99 million in the 2016 first quarter and repurchased 1.18 million shares. Thus, Tractor Supply completed, minimally, 29% of its full-year goal in the first quarter.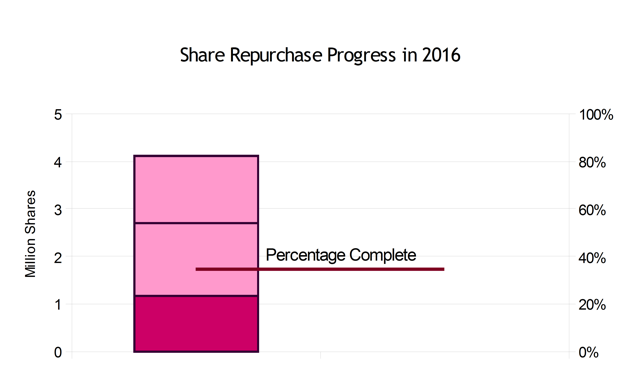 Source: Author-created from company data
There is little question Tractor Supply is executing well against its 2016 projections. The market noticed. On April 21st, as the market pulled back, Tractor Supply surged nearly 5% past $94 and neared its 52-week high. For several years, the company has been granted a hefty multiple, routinely topping 25%. The multiple is based partially on the company's expansion plans and partially on its ability to deliver on the whole of its growth plans.
Included in those growth plans is an expectation to grow EPS at a mid-teen pace. As the company tracks toward meeting its 2016 full-year projections, it is not that surprising to see the market value the stock with a historical multiple based on 2017 estimates. With a current-year EPS projection of $3.44 at the midpoint and target growth of 15%, 2017 EPS approaches $4.00. A multiple of 25 means Tractor Supply's share price will approach and possibly break the $100 mark.
Disclosure: I/we have no positions in any stocks mentioned, and no plans to initiate any positions within the next 72 hours.
I wrote this article myself, and it expresses my own opinions. I am not receiving compensation for it (other than from Seeking Alpha). I have no business relationship with any company whose stock is mentioned in this article.