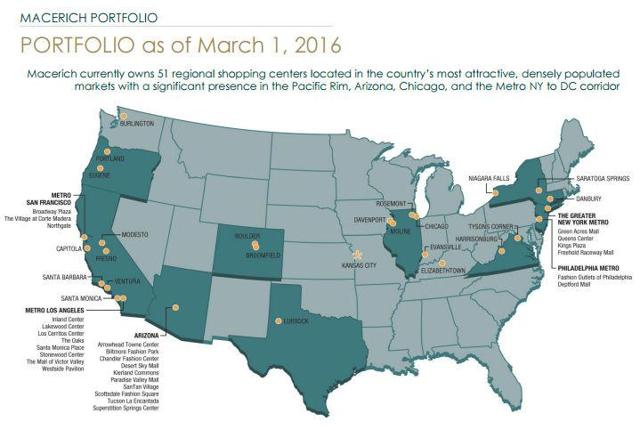 One of my favorite mall real estate investment trusts, or REITs, is Taubman Properties (NYSE:TCO). However you can tell a lot about a REIT by the company it keeps. Which is why Macerich Co. (NYSE:MAC) is such an interesting name to look at.
What Taubman does
The reason I like Taubman is because it has a small portfolio of top performing malls. And when I say small, I mean tiny... it owns about 20 malls. Compare that to industry giant Simon Property Group (NYSE:SPG), which own around 200 malls. Taubman has actually sold more malls through its history than it owns today.
But being small alone isn't the end of the story. Taubman focuses on running its properties at a high level. Which helps explain why rent per square foot at its properties is around $800 compared to Simon's tally, which is around $620-third place in the industry. The number two player is Macerich, with sales per square foot of about $635.
I'm sure that Simon has some really great malls, but my guess is that it has some others that aren't as good. The end result is a weaker average across the portfolio. By focusing on a small number of properties Taubman is kind of forced to ensure its malls are all top notch. So where does Macerich fit in? The company owns around 50 malls, still relatively small.
A deal between midgets
Macerich isn't a new name in the REIT industry, but what drew my attention to it was the early January deal it inked in conjunction with Taubman to buy Country Club Plaza in Kansas City. I really like the Taubman business model, so if the company is willing to work with Macerich I figured it was worth taking a deeper dive in a company I hadn't looked at in a while.
So what is there to like? For starters, Macerich has a modest portfolio of good malls. The 50 malls it owns might be preferable to some investors who think Taubman's 20 or so is too small a portfolio. Indeed, with 50 malls a laggard or two won't hurt nearly as much as a single sluggish mall would at Taubman.
The next piece to like is that Macerich has been reworking its portfolio, having sold 32 properties since 2012. Although most investors praise REITs for expanding their portfolios, there are only just so many worthwhile enclosed malls so mall REITs really need to be good asset allocators. And that means investing in the best properties, building new ones from the ground up, and, equally important, recycling cash from the "worst." Taubman has done that throughout its existence, and Macerich has been focused on it of late, too.
The third thing to like is really big picture. Both Taubman and Macerich appear to be preparing for a future in which shopping is more about the experience than just buying stuff. As the Internet continues to take share away from brick and mortar stores, the weaker stores and, by extension, malls are going to find it harder and harder to compete. So the strategic move to shrink the portfolio so it contains only great assets that people want to visit is one that I think will hold up well.
But, it ain't all good
While I like the company's business approach today, Macerich has a notable blemish. The REIT cut its dividend during the 2007 to 2009 recession. Worse, unlike Simon (which also trimmed its payout), the distribution isn't yet back to where it was before the cut. Taubman, in contrast, didn't cut its dividend during that difficult period. If you are an income investor, Taubman's dividend consistency is a big selling point. And, conversely, Taubman's cut is more than a little concerning.
Moreover, the sales per square foot figures above point out a not so minor fact... Macerich's malls aren't as productive as Taubman's malls. And they are only a little more productive than Simon's malls, despite the more focused portfolio. However, if Taubman is willing to share ownership of a mall with Macerich, the REIT can't be all bad. This is a metric to keep an eye on, if Macerich's focused approach is gaining traction rent per square foot should be heading generally higher. If rent per square foot stalls, there's a problem.
Basically, for those worried that Taubman's diminutive portfolio doesn't offer enough diversification, a completely justifiable concern, Macerich might be a good alternative. You'll just want to keep a close eye on the relative performance of its properties.
At this point, however, both Taubman and Macerich appear fully priced. They each yield around 3.5% or so, toward the low end of their historical ranges. Macerich, it's worth noting, normally trades with a wider yield discount compared to Taubman than it has been recently. That could be the market realizing that their models are converging or simply that investors are bidding mall REIT prices up too high-along with so many other dividend-focused investments.
In the end, I'd say Taubman is the best situated mall for the Internet age. Macerich looks like it's on the same path and could appeal to investors uncomfortable with Taubman's highly focused portfolio. However, at this point, neither is a great deal. If you are looking to own a collection of well run malls, put these two on your watch list and wait for a market dislocation to bring the yields into a more desirable range north of 5%.
Disclosure: I/we have no positions in any stocks mentioned, and no plans to initiate any positions within the next 72 hours.
I wrote this article myself, and it expresses my own opinions. I am not receiving compensation for it (other than from Seeking Alpha). I have no business relationship with any company whose stock is mentioned in this article.