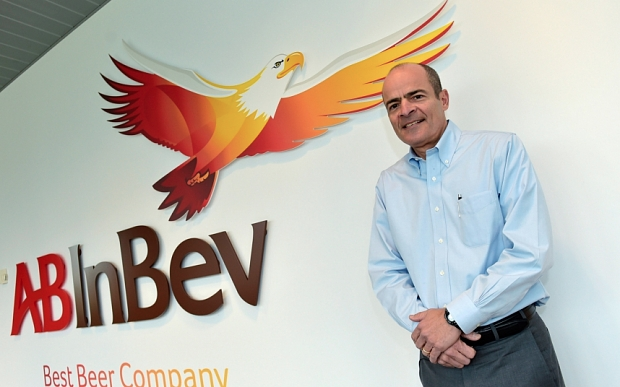 As part of my quest to find companies with wide moats, high staying power, average to low payout ratios, market leadership positions and segment duopolies/oligopolies, I have (un)covered several that fit these criteria. You can read some of my recent and older articles here.
That search has now led me to Anheuser-Busch InBev (NYSE:BUD) and Ambev (NYSE:ABEV). Though the two companies are not strictly duopolies - they operate in different markets, and Anheuser-Busch InBev is a majority owner of Ambev, so the fortunes of the one are tied to the other - I still think it's worth owning a piece of each in the long run. There's a caveat to that, however, as you'll subsequently see.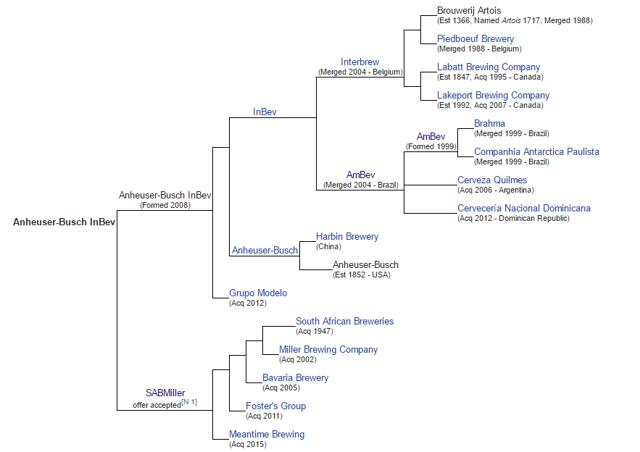 Source: Wikipedia
Anheuser-Busch InBev is the world's largest brewer in terms of size, scale and market cap. It is possibly the poster child of how to create a large company through acquisitions - a trend that has now led the company to the doorstep of SABMiller (OTCPK:SBMRY) (OTCPK:SBMRF). Fellow author, The Investment Doctor, covered the intricacies of the impending merger in detail in his article Will Anheuser-Busch InBev's $100 Billion Net Debt Hurt The Dividend Policy? It's a must-read before you click the buy button on the stock.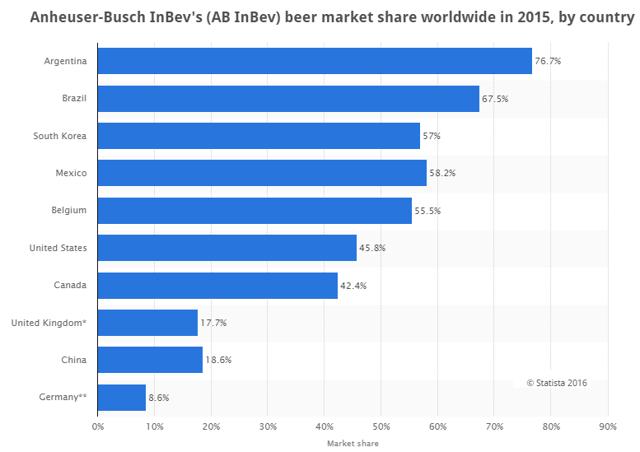 With an enviable list of brands under their combined belts, Anheuser-Busch InBev and Ambev have a dominant position in major markets around the world. It's more like Anheuser-Busch InBev - and then everybody else. Such scale does result in tremendous advantages for the company.
If the SABMiller deal clears the regulatory hoops, it will have huge implications for the global beer market - and for investors in that market.
"A $104.2 billion combination of the world's two biggest brewers, Anheuser-Busch InBev NV and SABMiller PLC, would redraw the map of the global beer industry and is likely to trigger higher beer prices for consumers around the world.

The agreement would give AB InBev a dominant presence in nearly every major market and an estimated 28.4% market share world-wide after expected divestitures-nearly three times its closest rival, Heineken NV, according to beer industry tracker Plato Logic. The combined companies would generate $64 billion in revenue." - Source: WSJ
Having said that, there are two ways to look at this. On the one hand, the joint dominance of the top two brewers in the world will practically give them a monopolistic advantage that may even manage to pass through anti-trust regulations because of various factors. On the other, their combined reach will be so massive that you will not longer expect them to keep growing at a fast clip.
The new giant entity can only grow so fast, but it will have the opportunity to improve its profitability by pushing higher-end beers into our hands and taking over all but fiercely niche markets one by one. Over the years, margins have started showing signs of stability, so there's a clear opportunity to take it a step further from where they are.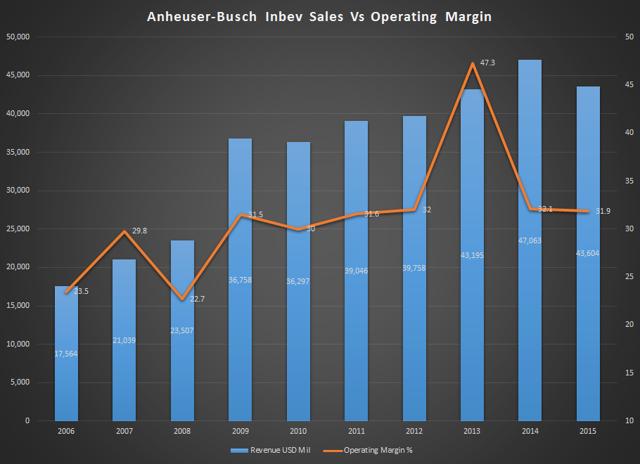 Capital expenses are up by 2.6 times over the last 10 years while free cash flow is up by 3.7 times. Obviously, with the majority of their revenues coming from developed markets which are already in the mature phase, there is very little room for organic growth, which is why increased profitability is the only way to go forward quickly at this point.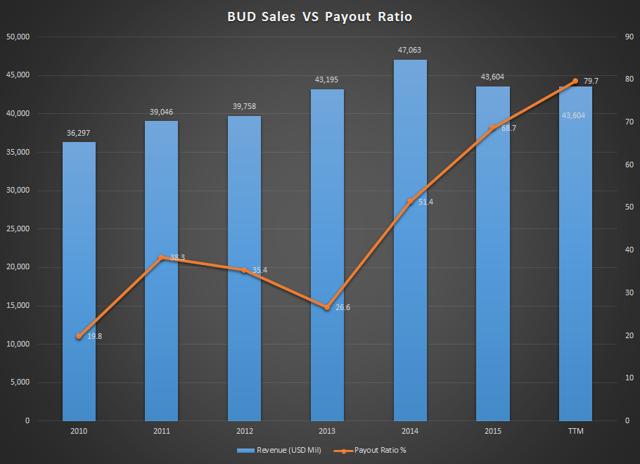 Source: Morningstar BUD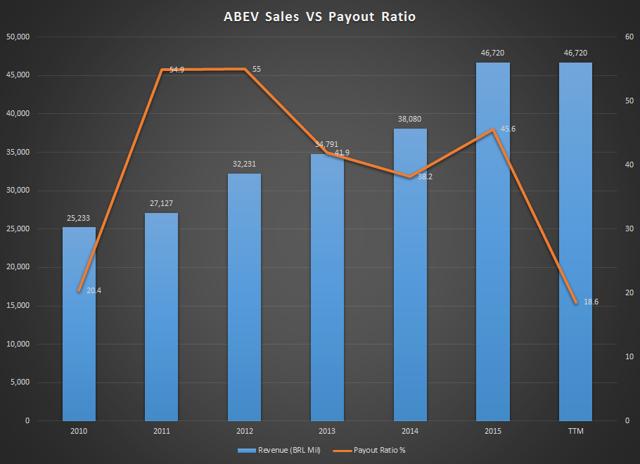 Source: Morningstar ABEV
From a dividend sustainability perspective, BUD seems stretched right now. Its debt profile has become heavier over the years and, although there's no doubt about its financial strength, everything about its balance sheet, dividend payouts and free cash flow positions could significantly change if the SABMiller acquisition goes through.

Personally, I prefer companies with dividend payout ratios less than 50% to 60%. Though the lower the better, I'm flexible depending on the life stage of the company. Even from that point of view, Anheuser-Busch is possibly a bit over the top. Ambev's situation on the payout ratio front is a lot better now, but I would still rather wait to invest in both companies.
Investor-speak: The Tension of the Wait
Admittedly, Anheuser-Busch's six-century-long history has given it enough experience and capability in M&A, so it'll be exploiting synergies rather than worrying about downsides to the impending acquisitions.
Nevertheless, I would rather wait for this - possibly its most significant acquisition - to play out and see what it looks like when the dust settles.
I love the segment and the market leadership position the company has, and I am not even worried about the prospect of slow growth in several key markets; and let's not forget the attractive yield at the moment.
What I am concerned about, though, is the balance sheet and how things could change if the SABMiller acquisition executes according to plan. Until that time, I think we wait this one out, but with a close eye on the proceedings.
Have you seen the new investment plan I've been working on? Would love to hear your thoughts on that. Here it is: How To Create a Portfolio You Can Invest In On Autopilot.
Disclosure: I/we have no positions in any stocks mentioned, and no plans to initiate any positions within the next 72 hours.
I wrote this article myself, and it expresses my own opinions. I am not receiving compensation for it (other than from Seeking Alpha). I have no business relationship with any company whose stock is mentioned in this article.
Editor's Note: This article discusses one or more securities that do not trade on a major U.S. exchange. Please be aware of the risks associated with these stocks.