The Reserve Bank of Australia (RBA) released a "Monetary Policy Decision" on April 5th which held interest rates at 2-percent. The report suggests that slower-than-expected global economic growth is the reason for leaving rates unchanged.
The RBA's policies and weak commodity prices have not diminished the high rate of housing price appreciation in Australia (11.6% year-over-year growth as of January 2016). Nonetheless, consumer price inflation in Australia remains low. In fact, the RBA report states, "inflation in Australia is likely to remain low over the next year or two." Despite a bearish interest rate outlook, the Australian dollar reached a 10-month high on Tuesday.
In markets where economic fundamentals are in a flux, consumer sentiment often plays an outsized role in driving stock and housing prices. Given low interest rates and a counterintuitive move in the Aussie dollar, psychology appears to be at work in the Australian markets.
All Ordinaries Sentiment
Following the steep declines in commodity prices since 2014, there exists great uncertainty in Australian markets. In such a context of uncertainty, prices become untethered from fundamentals and are more like to swing based on shifts in sentiment.
The sentiment expressed about the top 500 companies in the Australian stock market is aggregated into the Thomas Reuters MarketPsych Indices (TRMI). The TRMI are the world's most comprehensive finance-specific sentiment data. The TRMI data is produced by quantifying references to tradeable assets across thousands of news and social media articles obtained in real-time. Emotions (optimism, confusion, urgency, etc.) and financial topics (price forecasts, earnings forecasts, etc.) in the media are quantified and converted into time series. Coverage of 130 countries, 32 currencies, 35 commodities, 52 equity indexes, and over 8,000 global equities is published in these data feeds. The TRMI data is used by large hedge funds and banks for the augmentation of trading strategies, research, risk management, and macroeconomic forecasting. Our new book, Trading on Sentiment: The Power of Minds Over Markets (Wiley, 2016), explains in greater detail how media sentiment can be quantified and traded on.
In examining media sentiment data for the Australian stock market (the All Ordinaries index) since 2008, one media sentiment indicator has appeared highly predictive. This predictive index is called the priceDirection index, and it is a sum of all references to prices rising versus falling for the stocks of the top 500 companies, ranked by market cap, in Australia.
The priceDirection TRMI is plotted superimposed on the value of the All Ordinaries in the following chart. The priceDirection index measures perception (not reality), but we see in this chart that perception often drives reality in the Aussie stock market. The priceDirection TRMI is calculated as the net difference of references to price increases versus mentions of price decreases.
When we plot 90-day and 200-day averages of the priceDirection TRMI, we can visualize when the majority of recent media chatter is about prices rising versus falling. In markets susceptible to herding (such as the All Ordinaries), such chatter creates an echo-chamber - enthusiasm about prices rising later leaks into prices themselves. When investors discuss declines, prices head downwards over the next few weeks. When the color between the lines is green shading, then short-term average discussions of price direction are more positive. When the color is pink, the tone is turning more bearish.
As can be seen in the following chart, the pattern of green and pink is strongly correlated with actual price direction.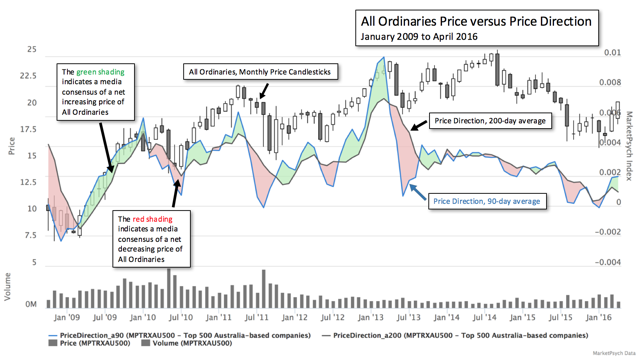 There is a recent, bullish, uptick in chatter about the price direction of the All Ordinaries in March to April 2016. After a period of negativity about commodity price declines, this bodes well for the stock market.
Conclusion
The Australian economy may not be setting up for high-growth, but it has the strength to hold steady in the current volatile global market conditions. Sentiment data indicates, and recent economic developments affirm, the Australian economy has a firm foundation, and the stock market is likely to benefit.
Disclosure: I/we have no positions in any stocks mentioned, and no plans to initiate any positions within the next 72 hours.
I wrote this article myself, and it expresses my own opinions. I am not receiving compensation for it (other than from Seeking Alpha). I have no business relationship with any company whose stock is mentioned in this article.