I think it's fair to say I am not a momentum trader. Based my posts in the past, you can tell I am relentlessly focused on the data. Macro investing always has its place in the headspace of all investors. However, it becomes of much more significance when cycles are at their peaks and troughs. I have been focusing on macro because I believe we are at a peak in the economic cycle. This is difficult to pinpoint exactly because different parts of the economy peak at different times. For example, the labor market is still strong because it peaks last. When cycles peak they tend to move in the same direction lower over time instead of having a momentary blip. This is why I am researching this so much. It's safe to say, if I thought the negative economic data points where temporary blips, I wouldn't harp on them so much.
The chart below shows the point I am making about the cycle peaking at different times because industrial production peaked in November of 2014. Judging by past cycles, there is a gray bar which indicates a recession is beginning about to show up at the right end of the chart. Any momentary decline is met with a strong rally when the cycle is in its strengthening portion. Based on the length of time of the previous expansion period, it would seem there is still much more room for industrial production to fall.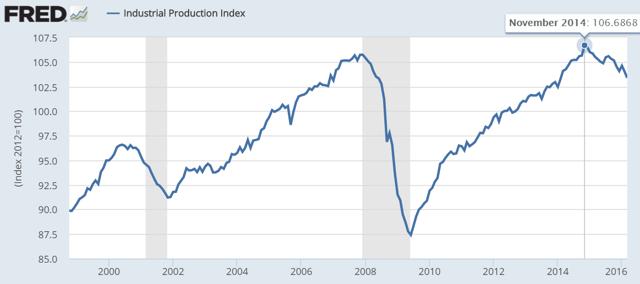 Earnings show a similar picture to the one above as margins are being squeezed which has led to declining corporate profits. Declining margins and profits usually mean job cuts are on their way because firms fire people as a last resort. Today we saw Intel announce it was laying off 12,000 workers which is 11% of its workforce. The company may be restructuring, but usually major firms don't announce layoffs if the economy is strengthening.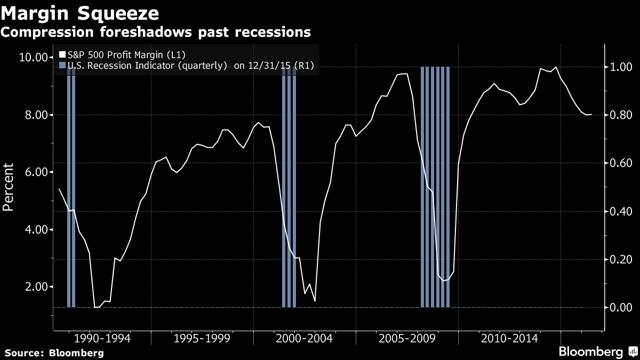 I believe this earnings season is going to make or break the market. Expectations are low while the market has been increasing. This bifurcation could lead to increased volatility if there aren't major beats. More importantly, Q2 guidance needs to show improvement or else the stock market will fall substantially.
Investing is a game of probabilities. If the market was at the February lows, it wouldn't make sense to bet heavily against it. I wouldn't be positive at that level, but it would be a fairer representation of the data. With the market at its highs and the data slowing, I cannot see any reason to be bullish on equities unless you have found a rare special situation. Even if you have, I would balance out that long with a short because it is much easier to find short ideas in a bubble market than it is to find diamonds in the rough.
Disclosure: I/we have no positions in any stocks mentioned, and no plans to initiate any positions within the next 72 hours.
Business relationship disclosure: I am being paid to contribute to this account.