I've penned some articles about Netflix (NASDAQ:NFLX) in the past. I'm bearish, I'm short the stock, and my opinions never drone on about the wonders of this earth-shattering innovator. Rather, I put out an open-source model of its valuation (users can download and play around with it). I have evaluated its accounting for content amortization. And I have attempted to identify how severe the international subscription growth assumptions have become.
Given the lofty expectations, it was not a surprise to me when the quarterly growth results began to show cracks, but still, there was one quote which rang in my head for a few days:
"We currently have $2.4 billion of long term debt. With our low debt to enterprise value of 5%, our plan is to raise additional capital through the high yield market later in 2016 or 2017. Given the attractiveness of our business model in a growth area relative to other large cap companies, as well as our low debt to EV ratio, investors view our bonds as quite secure; they trade better than the BB index, despite our Single B credit rating, (but not yet as well as media firms like Viacom or Discovery). Over time, the ratings agencies may catch up to the buyside in their views of the credit risk for Netflix."

Source: Investor Relations Letter
Full disclosure, I'm retired from my CPA, and my continuing education is mostly focused on retirement planning and statistical evaluations of risk and reward. And, I had never heard of a debt-to-EV ratio.
First stop google - checked online, Investopedia and NetMBA - nope.
Decided to get in the CFA website:
Debt ratings - An objective measure of the quality and safety of a company's debt based upon an analysis of the company's ability to pay the promised cash flows, as well as an analysis of any indentures.

Debt-to-assets ratio - A solvency ratio calculated as total debt divided by total assets.
Debt-to-capital ratio - A solvency ratio calculated as total debt divided by total debt plus total shareholders' equity.
Debt-to-equity ratio - A solvency ratio calculated as total debt divided by total shareholders' equity.
EV - Total Company value (the market value of debt, common equity, and preferred equity) minus the value of cash and investments.

Source: Cfainstitute.org
After scanning the underlying definitions and interpolating the meanings, I understand that the ratio is a modified solvency ratio. Okay, fine. But I'm amazed at the hubris and gamesmanship embedded in this ratio and its presentation in the investor letter.
Management has wisely selected the most appealing ratio that it could find. In addition to excluding the enormous content liability (which could be considered analogous to debt), it has focused on market value of debt and equity, which is skewed to its favor right now, but which moves with the market volatility…what goes up, can come down.
And while 5% of debt to EV sounds great, some of the other ratios are not so supportive: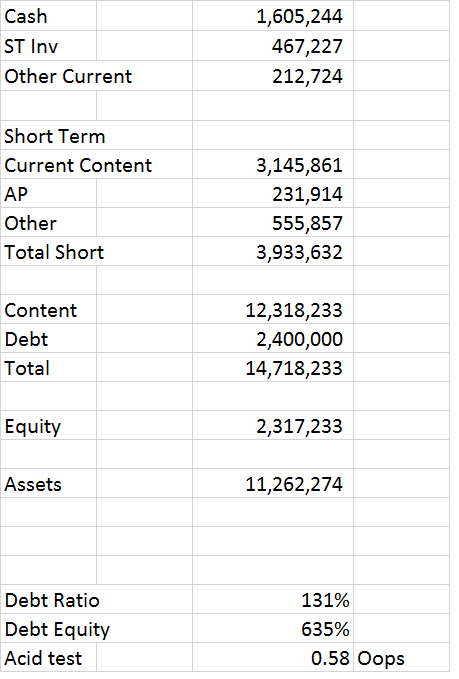 Asset, Liability and Equity Numbers from 10-Q
Ratios - from author, formulas from Investopedia
I'm not surprised that management chose the most appealing ratio, but what rung in my head was the sentence that followed:
"Over time, the ratings agencies may catch up to the buyside in their views of the credit risk for Netflix."
That quote was Enron-esque in its chutzpah. Let me know how that goes for you, guys; I expect you'll find that the credit analysts are a bit more detail-oriented than the FANG fad and the momentum algos and it's not impossible that the buyside may catch up with the ratings agency views…!
Free Cash Flow
Debt investors prefer to see companies which have the ability to generate sufficient cash flow to make good on their obligations. And I know that the executives in these momentum companies never have to worry about mundane things like free cash flow, but the facts are clear that liquidity is strained. In its earnings transcript, it is made clear that free cash flow will bleed $1 billion in 2016 and 2017. Management has repeatedly stated that funds are needed. But take a moment to read this exchange from the transcript:
David B. Wells - Chief Financial Officer

So no change on the outlook on either this year or next year. I would say $1 billion is a pretty good guide for both this year and next year. And really, on free cash flow positive, it really depends on the size of the business. It depends on how much more we'll continue to grow the content, which does depend on the size of the business. So in that way, I will turn the question around and say, how big will we be? And then I'll tell you when we'll be free cash flow positive.

Wilmot Reed Hastings - Founder and CEO

It's how big we'll be, and then how crazy does Ted go on these productions. And what we found is that these really big productions, like The Crown are just terrific for us in global brand building. And so, we're very excited about being able to deploy the cash to create shows like that and like The Get Down that's coming this fall also.

Theodore A. Sarandos - Chief Content Officer

Yeah, you should kind of think about it, though, that those big productions play a much more like a big blockbuster film in the fact that not only do they get more watching in the US, but they travel much better too. So you see in all these non-English speaking territories, these series perform very well.

Source: Seeking Alpha Netflix Q1 2016 Conference Call Transcript
There does not even seem to be an inkling that management is aiming towards positive cash flow in the near term. And of course, no mention that these blockbusters could be flops. Investors must ultimately decide, I'm speechless.
Growth Assumptions
The open source model contains worksheets where users can estimate international and domestic subscriptions, and then feed those assumptions into earnings. And to come close to the current valuations, the company needs to be at 180 million subscribers by 2020. That's why the stock tanked when the growth last quarter was lower than expected and when Q2 was also estimated to be lower than the analysts were forecasting. And now, we're seeing analysts saying things like - it will be fine, just a blip, the company needs a more local touch for its global growth, yada yada.
I think these are denials of the reality that the growth assumptions through 2020 require successively more and more imagination to be remotely feasible. And yet, time marches on, and as we head towards 2020, the results may begin to falter, and the lack of rigor in the forecasting may begin to wear thin. And in the event that the analysts do some fancy footwork on their spreadsheets, this $130 stock could very easily come down to the mid-40s.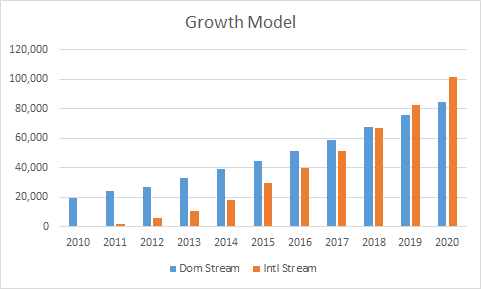 Source: Author's Open Source Model on GDocs
Above you can see, one estimate of how the subscriptions need to behave to get the stock price to around $90. I can't be creative enough to get the price to the Street estimates, but I'm sure there is some way to force the numbers to work - it's just a model, and you can torture them as you see fit.
It's a long road from here; enjoy the journey.
Disclosure: I am/we are short NFLX.
I wrote this article myself, and it expresses my own opinions. I am not receiving compensation for it (other than from Seeking Alpha). I have no business relationship with any company whose stock is mentioned in this article.
Additional disclosure: This article is not investing or trading advice! Please consult an investment professional and do your own research before making any financial investment or trading decision.