The faith of Advanced Micro Devices' (NASDAQ:AMD) investors has been rewarded by an impressive 35%+ gain in the stock following AMD's earnings report on Thursday. I don't share the faith of AMD's investors and fans, as it runs contrary to too many inconvenient facts. Although many will point to Mr. Market for validation, the reaction of the market by no means affects or improves AMD's competitive position.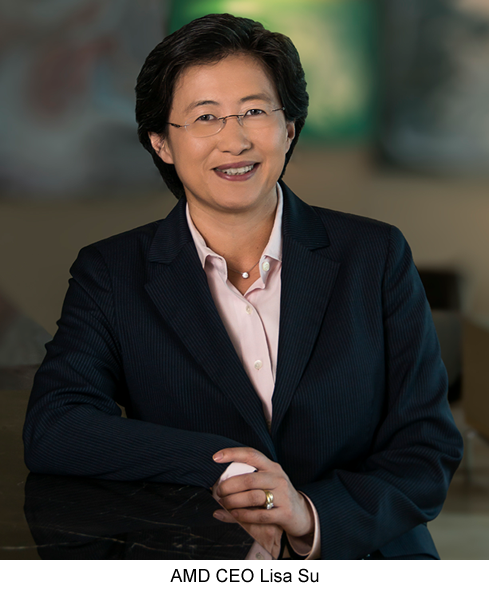 Source: AMD
Belief System
AMD's earnings call immediately confronted investors and analysts with management beliefs that convey a tenuous at best grip on reality. In her prepared remarks and responses to question, CEO Lisa Su referred to her belief that AMD has gained or will continue to gain share in x86 processors. For instance, in her prepared remarks, she states:
We reduced our operating loss from the prior quarter, outperformed the PC market and believe we regained processor and GPU share.
If you listen to the audio, you'll notice how she seems to strain to get the word "believe" out, as if she doesn't quite believe it herself. AMD could have substantiated this belief in actual processor shipment data, but chose not to.
The belief is not reconcilable with the known facts. In the Computing and Graphics segment, AMD reported a 14% y/y decline in revenue to $460 million. The year-over-year decrease was explained in AMD's earnings release as "driven primarily by decreased sales of client notebook processors. AMD also noted a sequential decrease in revenue of 2% relative to 2015 Q4, "due to decreased sales of client desktop processors."
While AMD would not offer the specifics for processor unit shipment declines (even as percentages), Intel (NASDAQ:INTC) was a bit more forthcoming in its Q1 earnings release. Intel acknowledged that desktop PC unit shipments were down 4% year over year, and notebook platform unit shipments were down 2%.
But these were considerably better results than the PC market as a whole in Q1, which declined in unit shipments (desktop and notebook combined) by about 10-11%, according to Gartner and IDC.
How does one reconcile Su's belief with reality? I don't think it can. With Intel minimizing unit declines relative to the industry, as well as growing revenue for the Client Computing Group y/y, the logical conclusion is that INTC gained market share at AMD's expense.
This is further supported by the fact that AMD has no compelling products to offer in the x86 space. Its latest announcement of Bristol Ridge as a successor to Carrizo is a perfect example of AMD substituting hype for reality.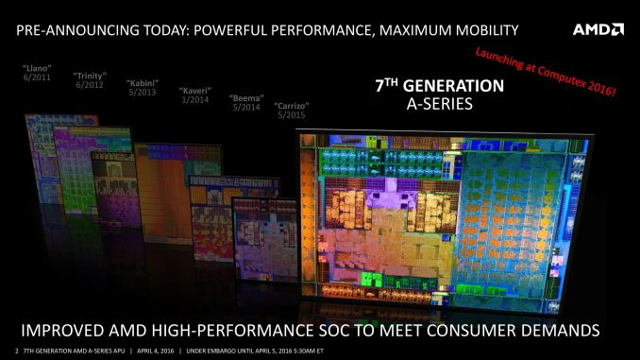 Bristol Ridge cannot justifiably be called a new-generation processor compared to Carrizo. As AnandTech explains, it's just a very slight update to Carrizo, mostly involving a faster memory controller. I doubt that any other processor maker in the world would claim that this was a "new generation" processor on the basis of the minor changes present in Bristol Ridge.
Waiting for the Zen
At least, AMD will have no compelling x86 processors until Zen arrives. SA contributor Anchorite confidently predicted that Zen would arrive in Q4. This belief also appears to be contradicted by the facts. About Zen, Su stated the following:
I'm also pleased to share that we are making excellent progress on our strategy to reestablish our presence in the datacenter market, as we successfully passed several key milestones related to our next-generation Zen-based server processor. The Zen silicon running in our bring-up labs is meeting our expectations, and priority customer sampling is on track to begin this quarter in advance of datacenter system availability in 2017.
The fact that availability will wait until 2017 didn't come as a great surprise. AMD had until now only been willing to state that production would start "late in 2016." What came as a surprise is that Zen appears to have completely dropped off the radar as a consumer product. Instead Zen has become a data center product with a rumored massive number (up to 32) of cores.
This conveys to me that Zen isn't competitive core for core with current generation Intel Skylake processors, as so has had to be repurposed away from direct competition in the consumer space. Perhaps this isn't so surprising. Zen's claim to fame was that the core architecture finally implements dual threading, something Intel has offered for years. The claimed performance increase (40%) was not going to put Zen ahead of Intel by any stretch of the imagination.
Polaris vs. Pascal
In the conference call, Su hedged about the exact launch for the new Polaris architecture GPUs, allowing that there might be some revenue contribution due to Polaris in the June quarter, implying a launch ahead of mid-year.
At least in graphics, I find the claim of share gains in Q1 credible, and if Polaris does indeed launch in Q2, I can believe that AMD will achieve further share gains in GPUs during the quarter. SA contributor Business Quant has asserted that AMD's claimed graphics advantage over Nvidia (NASDAQ:NVDA) will be maintained into the next-generation architectures.
Specifically, Business Quant claims that Pascal "won't have hardware support for async computing." This seems rather implausible, given that the current generation of Nvidia graphics cards already has hardware support for async compute, as I've already pointed out. Furthermore, the link Business Quant references states up front that this is "100% rumor."
Reporting rumors as if they were facts is something I try to avoid, and this is not a rumor I have much faith in. Given the fact that actual hardware is due very soon from both companies, I'm going to defer further discussion until we have some hard data.
My expectation remains, and this is partly based on NVDA's very impressive Pascal GP100 processor, that Nvidia consumer Pascal GPUs will outperform AMD Polaris. At the very least, I doubt that AMD is even capable of achieving a decisive advantage over Nvidia. What AMD did with Bristol Ridge is indicative of what it will do with Polaris. I expect Polaris to be primarily a die shrink to the 14 nm node, along with some minor architecture tweaks. This is what passes for a "new generation" at AMD these days.
Investor Takeaway
AMD's very bullish outlook for Q2 has probably fueled the spike in the share price. AMD's outlook for a sequential gain of 15% in revenue amounts to basically flat y/y. Nothing to get excited about unless you're an AMD investor. Even a sequential revenue gain must seem like manna from heaven.
As I thought about it, I realized that AMD's guidance for Q2 is probably justified. AMD's joint venture to develop server processors with Tianjin Haiguang Advanced Technology Investment Co., Ltd. looks good to bring in some much needed cash, and the Nantong Fujitsu Microelectronics JV should relieve any near-term cash flow concerns.
AMD has reasonable visibility into its semi-custom business, so its expectations for a revenue boost there appear to be justified. I consider expectations of x86 processor share gains to be entirely specious, but AMD may be able to get the drop on Nvidia and roll out Polaris to consumers first.
But even if everything falls into place in Q2, I still don't think it makes any difference for AMD in the long run. Next year, Intel will start shipping its first 10 nm silicon. That's going to reset the bar for AMD all over again, putting it even further out of reach. Zen is not going to be the savior of the company in the consumer PC space that AMD fans believe it to be.
AMD is probably more competitive in GPUs. As AMD fans point out, asynchronous compute is a good idea that the company thought of first a few years ago. I just doubt that AMD is going to be able to get much more mileage out of that. AMD is competing with a better funded, profitable rival.
AMD is an overloaded, aging jet with engine trouble, barreling down the runway in the hope that it can still take off. It's running out of runway. Based on the overblown, faith-based expectations of AMD investors, I now consider it an excellent short candidate.
Disclosure: I am/we are long NVDA.
I wrote this article myself, and it expresses my own opinions. I am not receiving compensation for it (other than from Seeking Alpha). I have no business relationship with any company whose stock is mentioned in this article.