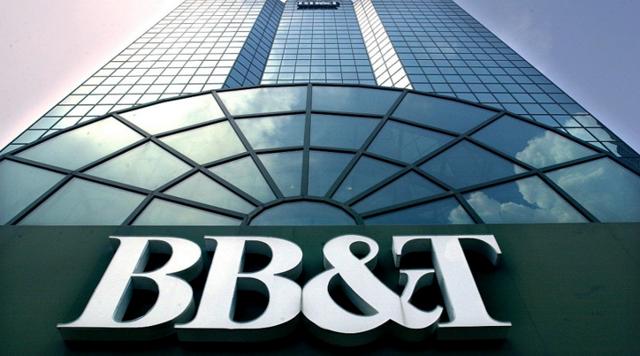 BB&T (NYSE:BBT) has been struggling to grow organically for some time and its growth-by-acquisition strategy has proven expensive. I was a cautious bull on BBT in 2014 but last year I switched to a position of displeasure with BBT's strategy and its weak results and opined that BBT's share price was going to have a hard time getting back to $40 anytime soon. With the stock at $35 following the company's Q1 earnings report, it seems that $40 is further out of sight than it was.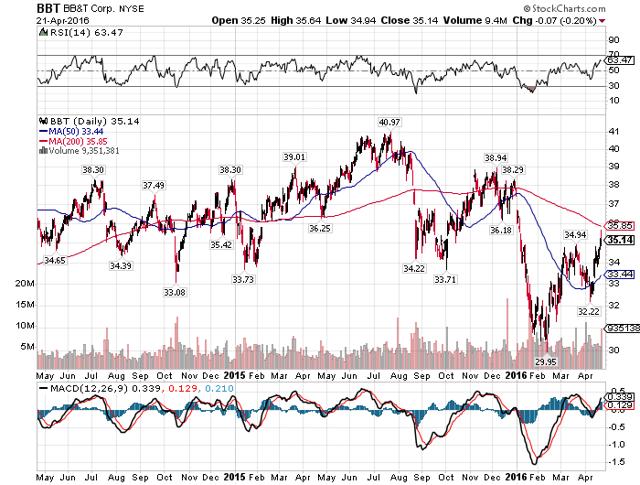 BBT's strategy of trying to acquire growth has succeeded in the sense that BBT's revenue base continues to grow. Indeed, revenue was up 10.3% in Q1, an unheard of level of growth for a bank these days. But of course, the growth was due to acquisitions and not comparable growth and while pushing the top line higher is fine BBT is doing so at great expense. Acquiring companies is very expensive as large premiums must be paid and the time between the purchase and the acquisition becoming accretive to earnings can drag out to several quarters. BBT is virtually always in the midst of at least one acquisition so it is always in a period where it is trying to get its capital back from a prior acquisition. Over time you would expect these myriad buys to produce stronger earnings but that hasn't been the case of late.
To its credit, BBT did see its NIM expand 8bps to 3.43% in Q1. That is both a nice level of growth and absolute level of NIM as BBT continues to squeeze income from its asset base. It's one of the highest NIMs around and the fact that it is rising means BBT is benefiting from the rate hike that took place in December. That bodes well for BBT's NIM and revenue going forward and should help it capitalize on some of the purchases it has made of late.
In addition to strong NIM, BBT posted a lower adjusted efficiency ratio as it gained some leverage on its fixed costs. Its adjusted efficiency ratio was 58.3% against 50bps higher than that last Q1 and again, that level is strong. Efficiency ratios used to hover around 50% for big banks but in the post-crisis world, it seems that may never happen again. The mid-50s is the new gold standard and BBT is right there - the bank has continued the good work it's been doing in this space for some time and we should see gradual improvements here continue to roll in. BBT has a harder time improving its efficiency ratio because of the acquisitions it makes - constant restructuring will do that.
Average deposits barely budged from last year's Q1 but the cost of those deposits did likewise. With its average interest bearing deposit cost up just 1 basis point and 31% of its total deposits still bearing no interest, BBT is well positioned to continue to take advantage of higher rates. This is why NIM was up so strongly in Q1 and there is no reason to think that will stop as long as the Fed sticks to its two hike forecast this year. It will be interesting to see to what extent these gains carry over into Q2 as I expect we'll see similar numbers.
At 12.2 times this year's earnings, BBT certainly isn't cheap. That is toward the upper end of big bank valuations and given that BBT's earnings growth has been weak that's a substantial valuation. However, BBT took advantage of the Fed rate hike from December in Q1 and if it can keep that momentum up while maintaining discipline on its cost base, it could see decent organic earnings growth this year.
But BBT is owned by many investors as an income stock because the list of banks paying a 3%-plus dividend is still very short even almost a decade on from the crisis. BBT continues to be a strong income stock and management understands the power and importance of the dividend so it will grow the payout at any cost. As a bond equivalent, BBT is still a great choice because the stock trades in a narrow range with low volatility and pays a very nice yield. As a capital appreciation story, nothing has changed despite the fact that BBT improved its results slightly in Q1. Its valuation is still too high to represent value so if you want to own a bank for capital appreciation, I would suggest you look elsewhere. But for a bond replacement dividend, you can do much worse.
Disclosure: I/we have no positions in any stocks mentioned, and no plans to initiate any positions within the next 72 hours.
I wrote this article myself, and it expresses my own opinions. I am not receiving compensation for it (other than from Seeking Alpha). I have no business relationship with any company whose stock is mentioned in this article.