A key takeaway from AMD's (NASDAQ:AMD) Q1 2016 results is that AMD is turning around strongly under the leadership of President and CEO, Lisa T. Su. During the Q1 earnings call, Su said that AMD has outperformed the PC market in the quarter. Su also said that VR will be a key long-term demand driver for AMD. AMD is going to be one of the best turnaround stories of recent times.
Lisa Su has done a great job in two ways, (1) by creating Radeon Technologies Group (RTG), a vertically-integrated graphics organization and (2) by preparing AMD to launch Zen-based processors for datacenters.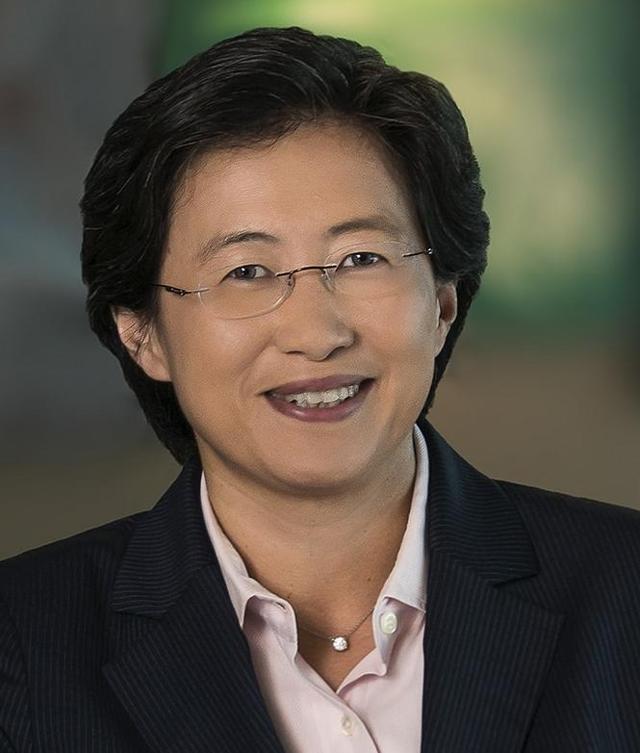 Lisa T. Su: Visionary Leadership
Creating RTG: A Great Job By Lisa Su
Su was appointed President and CEO of AMD in October 2014. One of the most important decisions she took during the past 18 months is forming RTG under the leadership of Raja Koduri. And the decision is paying off in terms of gaming and virtual reality.
1. Gaming: AMD, in collaboration with RTG, is creating semi-custom SoCs for game consoles. Lisa Su said in Q1 earnings call:
As we enter into the second quarter, we see strong demand for our Semi-Custom and Graphics products, which we believe will lead to stronger than seasonal sequential revenue growth.
Ars Technica reported that AMD executives are estimating a 15% sequential revenue growth in Q2 2016, give or take 3 percentage points, primarily due to three semi-custom SoC wins in the gaming sector, which could generate around $1.5 billion in revenue over the next three or four years.
Ars Technica speculated that one of those SoCs could power Nintendo's upcoming console called Nintendo NX. Nintendo's Wii U console still uses PowerPC architecture, and the Japanese console maker, like Microsoft (NASDAQ:MSFT) and Sony (NYSE:SNE), could replace IBM's (NYSE:IBM) PowerPC architecture by AMD's x86-64bit SoCs.
The other two wins could be a new version of PlayStation 4, codenamed Neo, and an upcoming Xbox refresh. The wins are significant and as far as graphics are concerned, all credit goes to RTG. Clearly, Lisa Su has done a great job by forming RTG.
2. Virtual Reality: Recently AMD announced that it has partnered with Crytek, a company which launched Cinebox few years ago for implementing its CryEngine game engine in movie production. AMD said that it wants to bring Crytek's VR First initiative into the VR labs of colleges and universities in order to provide developers, students, and researchers a ready-made VR solution.
AMD's plan is to equip the VR labs with its new Radeon Pro Duo graphics cards along with LiquidVR SDK. I have shared more about this topic in a previous article. Recently, Crytek announced that it will launch its Film Engine tool on April 28, which is a modified version of its recently launched CryEngine V. With Film Engine, Crytek is targeting to take both Hollywood and the game development industry by storm. Film Engine will be powered by AMD's Radeon Pro Duo GPU rendering engine.
Clearly, AMD has huge growth potential from VR going forward. RTG head Raja Koduri said:
We need a new generation of developers whose educational foundation includes mastery of game engines and GPU programming. We're dedicated to nurturing that future, and see the collaboration with Crytek and the VR First initiative as a key step in realizing the goal of expanding immersive experiences outlined in our VR Ready Programs.
Zen-Based Server Chips: Lisa Su's Second Option
For turning AMD around, Lisa Su is targeting the server market. During the Q1 2016 earnings release, AMD management has revealed that the company is planning to license its Zen-based server chip design to a newly formed Chinese company, known as THATIC (Tianjin Haiguang Advanced Technology Investment Co. Ltd.).
This is a great strategy Lisa Su has taken, because it will help AMD rapidly expand its footprint in the Chinese server market. Cash-starved AMD will earn quick royalties by licensing its server chip related IPs (intellectual properties), which could be an excellent way to earn revenues in China, world's fastest growing and second largest server market after the U.S.
Conclusion
During Q1 2016, AMD's revenue of $832 million was down 19% YoY and 13% sequentially. However, I expect AMD to double its revenue from today's level within the next two or three years.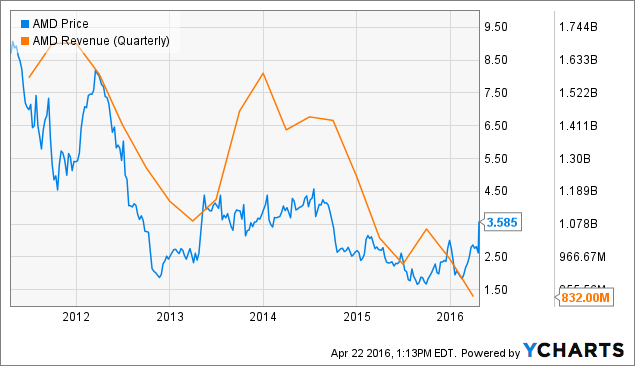 I also expect that AMD's share price will shoot up significantly from today's level.
Disclosure: I am/we are long AMD, IBM.
I wrote this article myself, and it expresses my own opinions. I am not receiving compensation for it (other than from Seeking Alpha). I have no business relationship with any company whose stock is mentioned in this article.