Introduction
After the merger, Kraft Heinz (NASDAQ:KHC) combined into one of the largest food and beverage companies in the world. The company is present in over 190 countries and territories worldwide with roughly $28 billion in annual sales. The merger was backed by Warren Buffet's Berkshire Hathaway (NYSE:BRK.A) (NYSE:BRK.B) and 3G Capital. Before the merger Kraft had little international exposure outside the U.S, while Heinz was exporting around 60% of their products. After the merger the combined company is more diversified geographically. The consumer staples industry is generally linked to population growth. So it's especially important to capture the market share in countries that are seeing higher population growth than the U.S. In the midst of this transformation there will be soft financial results, especially at the bottom line.
Costs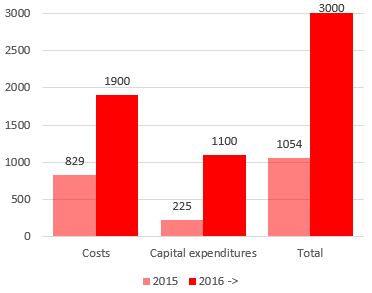 Source: Kraft Heinz IR. Only 1/3 of the merger costs and expenditures have been reported to date.
Since the merger was finalized last year, there's been little over $ 1Bn reported as costs and capital expenditures to date. They are currently expecting around $1.9 billion pre-tax costs and $1.1 billion in capital expenditures, totaling $3 billion. The costs are coming from various different actions. They are implementing zero based budgeting, which will examine the organization and the production of the combined company. Any overlap or inefficiency will be eliminated or restructured in a matter that complements the new company. There's clearly overlap in both organizations and parts of the manufacturing, since both companies operated in the same market. Streamlining and leveraging each others platforms, the combined company will be more efficient with higher growth potential.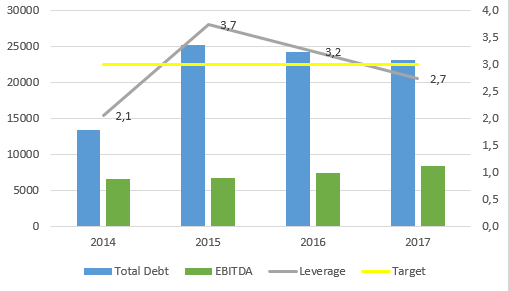 Source: Kraft Heinz IR
In order for the merger to happen, there was cash and stock offering for the previous shareholders of Kraft Foods. The merger pushed the total debt to $25 billion. However the new combined company is seen as less risky by the creditors and Kraft Heinz is able to reduce the interest rates on their outstanding debts. Refinancing the Heinz high-yield debt into investment grade lowers the annual interest expenses and it's a simple way to find savings.
The company's target is to deleverage in the coming years to under 3 times the EBITDA. In the graph above, there is an overview of the situation. I compiled from 2014/2015 reported results the total debt and EBITDA and then added the analyst projections for EBITDA for 2016/2017. There's $2 billion due in debt payments in 2017 and 2018, which will lower the leverage to the target range. Kraft Heinz is also committed into paying their shareholders increasing dividend. In 2015, they paid 90% of their cash flow from operations, leaving limited potential for dividend increases.
Synergies
The target for annual cost savings is $1.5 billion. They were already able to achieve $125 million in 2015. It's still just 1/15 of the projected savings and the restructuring is still long way from being finished. Management expects completion by 2017. They are trying to achieve synergies by winning additional shelf space with increased scale. Expand Kraft's products to international customers and to leverage both platforms previously establish by separate companies. With this leverage they are able to offer products for more customers and gain market share. One other key advantage is that both companies' products use same ingredients and with the economy of scale they are able to lower their material costs.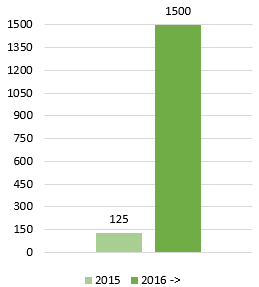 Source: Kraft Heinz IR
Conclusions
In July, Kraft Heinz celebrates one year anniversary as a combined company, however the merger is still a long way from being finished. In 2015, the merger costs amounted to $1 billion or $1.1 in EPS, while there's still 2/3 of the costs unrealized. There is clearly long term value to be found and while the management transforms this company, investors can find assurance in the 3% dividend yield. For 2016, it's still more streamlining and restructuring ahead before the full effect of synergies to materialize in 2017. For anyone that is looking for recession proof business and backing from the one and only Warren Buffet, Kraft Heinz is a good choice.
Disclosure: I/we have no positions in any stocks mentioned, and no plans to initiate any positions within the next 72 hours.
I wrote this article myself, and it expresses my own opinions. I am not receiving compensation for it (other than from Seeking Alpha). I have no business relationship with any company whose stock is mentioned in this article.