Voestalpine - Why this firm has a stable revenues and a bright future ahead
Voestalpine (OTC:VLPNF) is a major metals producer in the CEE region. Headquartered in Austria it has benefited from its location in the middle of the CEE region. Although the firm is located in the CEE region and has been doing great business with the region for a while, there has been a shift in recent years in terms of future business activity. The US has become one of the most promising markets for the firm. (Voestalpine and technology, 21.4.2016)
The Chinese steel that is sweeping the European markets
In the recent years China has tried to sell its oversupply of steel to Europe in order to protect domestic producers from lower demand and overcapacity on its domestic market. That seems to have worked for a while because many European producers are cash stripped and their earnings are very low. Moreover the commodity market has slumped in the recent years and many metal firms find it hard to survive. There were talks that Tata Steel, the Indian conglomerate, is aiming to sell off its UK operations because it makes no sense to compete with the low priced Chinese produce. Up to now there has been no action from the EU to protect domestic producers from dumping prices. But closing a steel plant is not that easy in Europe nowadays. There are many jobs that are directly affected by steel plants, that adds a social question to a closure of a steel plant to the economic one. There has been no response from the EU, no import ban on Chinese steel at dumping prices. Voestalpine has started to lobby the EU banning Chinese steel, but was not successful until now. (Chinese steel in Europe, 1.4.2016)
Why Voestalpine is not a usual metals firm anymore
In the recent years Voestalpine has gone through an internal transformation. Since many analysts expect a consolidation in the steel industry, the CEO of Voestalpine said that his firm will likely not take part in it, because in the next couple of years Voestalpine will not be called a regular steel company anymore. According to CEO Eder 70% of Voestalpine's turnover is not being generated from ordinary steel production anymore. In the last years the firms focus has been on creating technology associated with producing metal products. (Know-how and Voestalpine, 30.3.2016)
Voestalpine and its ambitious plans for the US market
Voestalpine has invested a record amount of €550 million in a new factory in Texas, US. The firms hopes to reduce costs by investing a huge amount of money into a futuristic and cutting edge factory. The new production facility will also be leading from an environmental perspective. According to the firm there were plans to invest in building such a facility in Europe, but eventually the US has been chosen because of better investment and growth perspectives. Natural gas, which is 3 times as expensive in Europe than in the US, was one of the major reasons that made the firm chose the US for its new facility. Currently the firm only makes 9% of its turnover in the US. That will change and the CEO plans to raise that number to 20% by the year 2020. Due to weak commodity prices the firm hat to cut back its plans for investments already. However, Voestalpine still hopes to be successful and invests in future technology in the field of metal production. (Voestalpine in the US, 22.4.2016)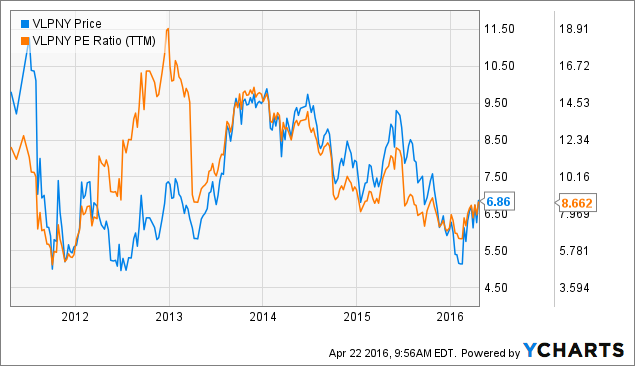 Conclusion
From my point of view Voestalpine is a future oriented firm in an old fashioned industry. Compared to its peers the firm offers an attractive outlook for the future and shows that its business model seems to work. In my view the worst is over in the commodity markets and therefore the stock is a buy, not only because of improving market sentiment but also because of its technology oriented business model. Voestalpine is trying to be ahead of the game and I think that you will see this being reflected in the share price in the next couple of years.
Disclosure: I/we have no positions in any stocks mentioned, and no plans to initiate any positions within the next 72 hours.
I wrote this article myself, and it expresses my own opinions. I am not receiving compensation for it (other than from Seeking Alpha). I have no business relationship with any company whose stock is mentioned in this article.
Editor's Note: This article discusses one or more securities that do not trade on a major U.S. exchange. Please be aware of the risks associated with these stocks.