Introduction

Travelers (NYSE:TRV) is a leading property and casualty insurer. The company divide its business into three segments: Business & International, Personal Insurance, and Bond & Specialty Insurance.
The Business segment accounts for ~65%, Personal at around 30%, and Bond & Specialty bringing up the rest.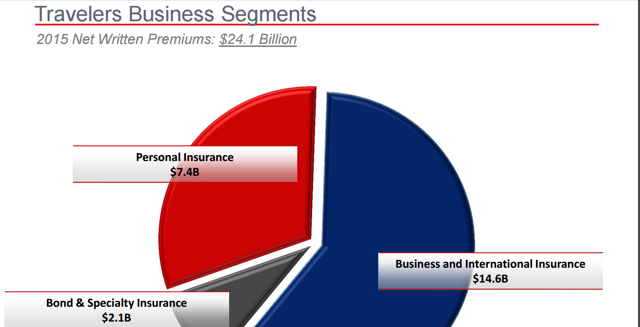 For those unfamiliar with insurance companies, generally they make the majority of their income from their investment portfolios while a lesser amount comes from underwriting profits.
Insurance companies use the money acquired via premiums to invest and earn a return until that money is needed for claims. The best scenario for the company is to collect premiums on a policy without ever having to pay claims on that policy. They got to invest the money along the way without ever having to pay out.
Claims are inevitable, though, and insurance companies use the law of large numbers, averages, and history to price their products so they hopefully break even or make a profit underwriting in the long run.
Great insurance companies will find a way to write more and more premiums every year, but they must also stay conservative with who they insure and at what price, aka their underwriting standards.
For example, hypothetically dropping all standards and insuring every 55 and up smoker on planet earth at half the price of the competition would mean that revenues and money available to invest shoot through the roof in the near term, but would expose the company to an avalanche of expensive claims in the future that they will likely not be able to meet.
This is the balance that every company must strike.
Recent Results
Travelers has been growing EPS at a solid pace the last few years, mostly driven by improvements in underwriting profits.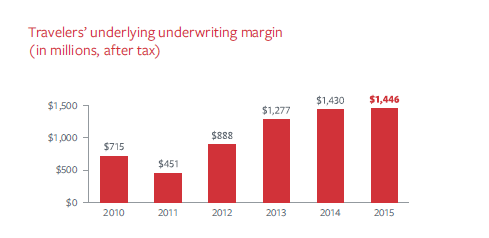 Its actual top-line policy premium growth has been tepid at best with only about a 2% CAGR and investment income has been similarly flat, due mainly to the continuing low interest rate environment that has been present since 2008-09.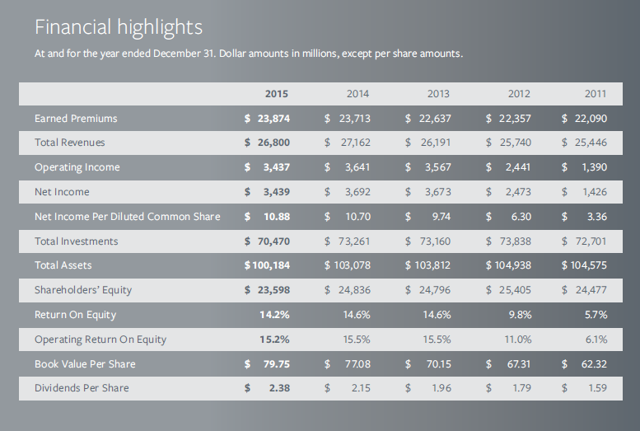 Net income has grown at a 19.25% CAGR over the past five years. Return on equity has greatly improved as well, as you can see above. 2013-2015 ROE is a more normal long-term ROE that I expect Travelers to be able to hit, and 2011 and 2012 were both rough years.
In 2011, Travelers actually had its first underwriting loss since 2005, and 2012 saw a very weak underwriting profit at 1.6%, which can largely account for that weak ROE in those years.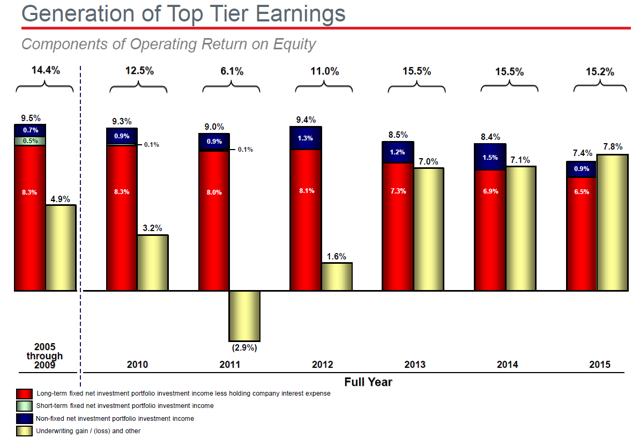 It is my opinion that when looking at an insurance company like this, it helps to look forward and backward multiple years rather than focusing on the current quarter, as we will see later. Claims have a tendency to bunch up around certain natural or global events and can make results lumpy when compared to how smooth and solid they look stretched out.
Hopefully, this article will give you an indication of whether Travelers' core business is healthy or not along with the appreciation that there may be bumps in the road occasionally.
Investment Portfolio
Often when new investors hear about the business model of insurance companies, they assume their investment portfolio is made up of all sorts of exotic things like gigantic stock positions, real estate, alternative currencies, and the like.
The reality of the situation is almost the complete opposite. At least for Travelers, the majority of its portfolio is in fixed-income investments. The majority of those fixed income are taxable fixed maturity and non-taxable fixed maturity investments.
More "exotic" investments such as hedge funds, private equity, and real estate partnerships only make up around 5% of the investments the company has.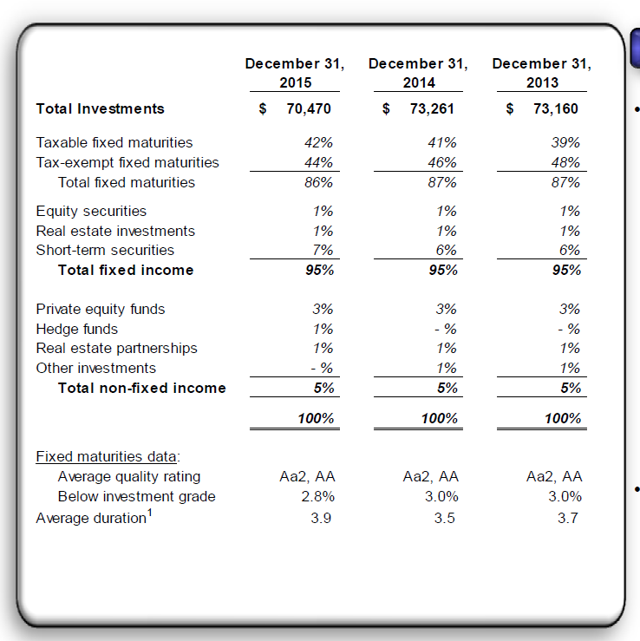 Why might that be?
Well, think about it. If this is money that customers are entrusting you with and allowing you to invest with the expectation that you cover them if they have a valid claim, where should most of that money be invested?
Insurance companies can ill afford to have the stock market crash 40-50%, which it tends to do from time to time, at the exact same time that their claims spike for whatever reason. This would be a devastating combination effect causing them to have to cash out a good portion of their portfolio at the worst time to meet claims.

Therefore, they invest in things like treasury bonds, investment-grade bonds, municipal bonds, etc. These items usually have less volatility but also less return.
That is acceptable for insurance companies since their portfolios are so large they are able to make an acceptable return, whereas for a regular investor, a 3% return on a $100,000 portfolio of investment grade bonds might not move the needle enough.
How Low Rates Impact Travelers
Low rates hurt insurance companies the same way they do to the banks. Since the majority of their portfolio is in fixed income securities, when they sell these securities or they mature, they must be reinvested and the prevailing rate complex will determine how lucrative those reinvestments are.
One of the primary reasons the company cited for lower investment income in 2015 versus 2014 was:
Net investment income in 2015 was $2.38 billion, $408 million or 15% lower than in 2014. Investment income from fixed maturity investments in 2015 was $2.09 billion, $153 million lower than in 2014. The decrease primarily resulted from lower long-term reinvestment rates available in the market and a modestly lower amount of fixed income investments that were impacted by the Company's $579 million payment in the first quarter of 2015 related to the settlement of the Asbestos Direct Action Litigation. Investment income generated by non-fixed maturity investments in 2015 was $317 million, $256 million lower than in 2014 due to lower private equity and hedge fund returns. Private equity returns in 2015 were impacted by lower valuations for energy-related investments.
Interesting also is energy-related investment hurting private equity return.
Higher rates mean better opportunities for reinvestment of their fixed income portfolio that rolls over. The Fed rate hike in December of 2015 might help Travelers a tiny amount going forward, but a much larger catalyst would have been the four rate hikes in 2016 that now appear off the table.
Asbestos Exposure
Asbestos remains a thorn in the side for Travelers as it does for many insurers. In January of 2015, the company settled one long-standing lawsuit and made $500 million payment related to that suit the same year.
This is a huge topic that covering in precise detail would not add much value here, but I will mention that the company has resolved many past lawsuits, remains in litigation on many more, and expects more lawsuits in the future.
This is definitely a company-specific and industry-specific risk that investors need to weigh when considering diversification in its portfolio.
The company does have reserves set aside for this exact purpose, though, but it is hard to predict if these will be sufficient or not going forward, and TRV admits as much in its filings.

My personal attitude towards this is that, given the unknowable nature of the costs of this, I acknowledge that it exists, but since the company has still put up good metrics and shareholder returns despite this ever present black cloud, it is merely another factor that has to go into valuing a company.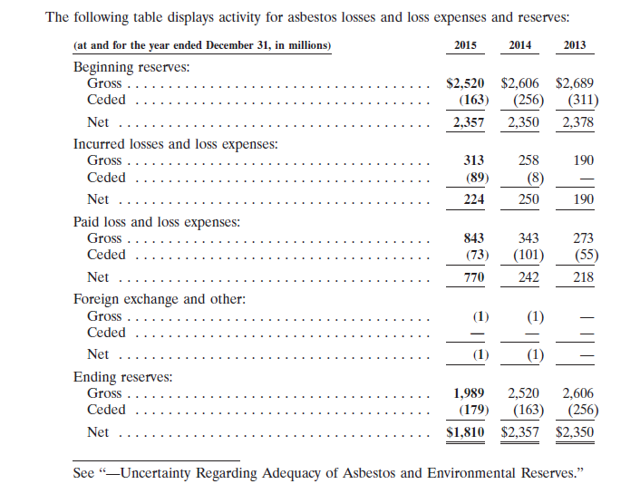 Should or does this make the company trade at a slightly cheaper valuation than it otherwise would? I would love your thoughts about that in the comments and how big of an issue this is (or not) in your investment decisions.
2016 Q1 Results
The company reported a somewhat weak quarter on April 21, 2016, as profit decreased largely due to higher catastrophe claims, up $156 million pre-tax. The company primarily blamed hailstorms in Texas for this increase. The number that most impressed me was the net written premium growth of 5%. This is much stronger than the premium growth in past years.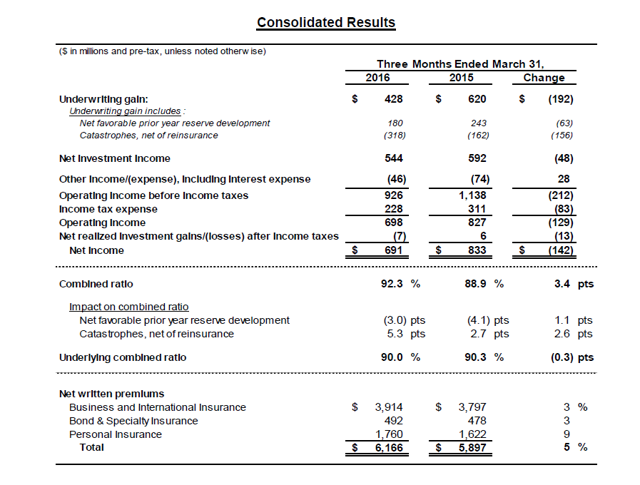 EPS was $2.30 per share versus $2.55 prior. The company paid out $181 million in dividends and repurchased $609 million worth of shares in the quarter. The dividend was also raised 10%.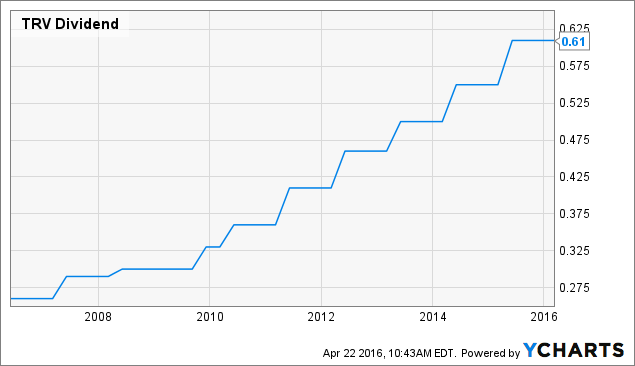 TRV Dividend data by YCharts
Obviously, on the whole, it was a mixed quarter. As I mentioned above, the results will not be smooth every quarter, but when looking at the yearly results for 2016, the picture might be much brighter, we will see.
Bad quarters like this could give you a buying opportunity on weakness.
Valuation
Travelers trades at 10.2 times TTM earnings. The company's five-year average PE is 11.1. Chubb (NYSE:CB) trades at 13.7 TTM. Cincinnati Financial (NASDAQ:CINF) trades at 16.75 times TTM earnings. The insurance cohort average is 12.3 times TTM earnings.
The stock has a 2.24% dividend yield as of publication, and the five-year dividend growth is 11.12%, including the recent 10% hike. Price to book is 1.37, and price to sales is 1.22.
Conclusion
Despite a sub-par Q1, I think Travelers is a very appealing investment at current levels and sports what I feel is a great entry point.
Whether or not lingering asbestos issues make the stock cheaper than it otherwise would be is up for debate, but the operating results over the long term are impressive, and I see no reason why they should not continue.
Whether rates go up or not in the near term is certainly a wildcard factor, but if you believe rates will eventually go as the world gets back on the right path, then Travelers may be attractive to you, but just lacking a near-term catalyst to drive the share price higher.
Disclosure: I/we have no positions in any stocks mentioned, and no plans to initiate any positions within the next 72 hours.
I wrote this article myself, and it expresses my own opinions. I am not receiving compensation for it (other than from Seeking Alpha). I have no business relationship with any company whose stock is mentioned in this article.