Kinder Morgan (NYSE:KMI) has been an investor favorite due to its perceived safety (huge moat and defensive business, "toll road") and attractive dividend, but after the business model had to be changed late last year (which also resulted in a dividend cut), I believe investors might better go for another defensive income pick: Duke Energy (NYSE:DUK).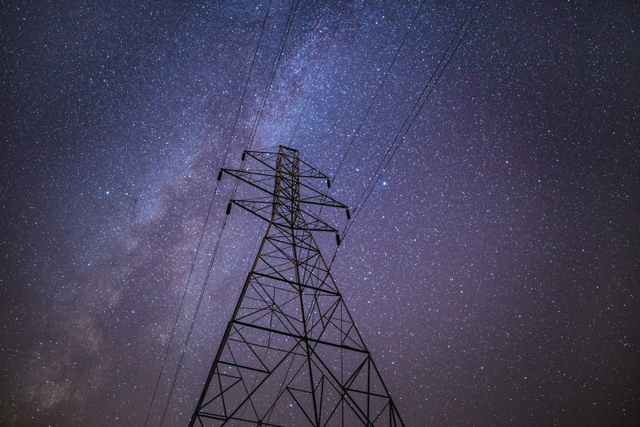 A fellow SA user gave me the idea to compare Duke Energy to Kinder Morgan, and despite being active in different businesses, there are a lot of similarities between the two companies.
Duke Energy is the largest electric power company in the United States. The company is also active in several Latin American countries and Canada. The company's US power generating capacity is 53 gigawatts, while International has a power generating capacity of 4 gigawatts. Additionally, Duke Energy holds a 25% stake in Saudi Arabian National Methanol Company. In its fourth quarter earnings announcement, Duke Energy has stated that the company was willing to divest its Latin American business, which consist of hydro and thermal assets in Brazil, Argentina, Chile, Ecuador and Peru. Duke Energy is looking for a buyer, and the company expects that it will be able to sell all assets at a compelling price. Duke Energy aims to focus on its core businesses after divesting its Latin American operations, thereby targeting lower business risk and safer, higher-quality cash flows. This should be possible as Duke's focus on North American operations will come with lower currency risk and lower political risk, which makes cash flows more predictable in the future, after the company has exited the South American market.
These cash flows are what allows Duke Energy to pay out attractive dividends, the same way it is with Kinder Morgan. There are a lot of similarities between the two companies: Both operate in a highly regulated market, both own a huge and expensive asset base that is hard, or in some cases impossible, to replicate, since huge investments would be required and environmental regulation would not allow for some of the assets to get built again. These two facts allow for a huge economic moat for the two companies. Due to low cyclicality, both companies are able to provide stable, relatively secure cash flows. With enterprise values of $96 billion and $86 billion, Duke Energy and Kinder Morgan are also comparable in size; both are the biggest in their peer group by market capitalization.
Since these two companies are similar on a couple of key points (economic moat, non-cyclicality, size, both are active in the energy industry), I believe it makes sense to compare the two to find out which one might be the better dividend growth investment for the coming years.
The ratings for the companies reflect how safe they are as an investment: Standard & Poor's rates Duke Energy A-, whereas Kinder Morgan gets a BBB- rating. This shows that the risk of investing into Duke Energy is a lot lower than the risk of investing into Kinder Morgan, which also explains why the interest rates on Kinder Morgan's debt are a lot higher those Duke Energy pays for its bonds. Duke Energy's bonds with a maturity around 2045 have interest rates of roughly 4%, whereas the interest rate for Kinder Morgan's debt notes maturing in 2045 is roughly 250 base points higher (about 6.5%).
The assumption that Duke Energy is a lower risk investment than Kinder Morgan is strengthened by the fact that Duke Energy's leverage ratios are a lot lower than those of Kinder Morgan: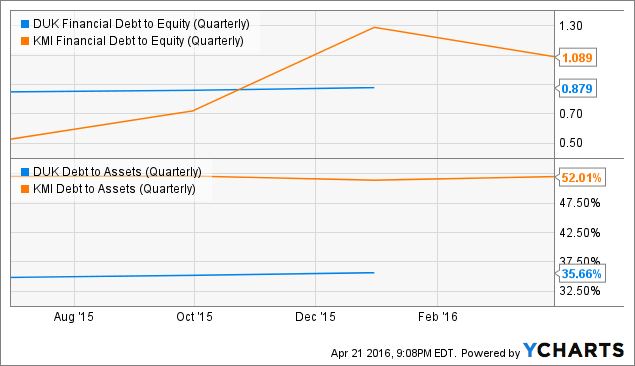 Duke Energy's debt to equity ratio is 0.88, whereas the debt to equity ratio of Kinder Morgan is about 25% higher at 1.09. Looking at the debt to assets ratio, Kinder Morgan again has a leverage that is a lot higher than that of Duke Energy (52% versus 36%).
When we look at each company's debt to EBITDA ratio, we see that, again, Duke Energy is the company with the lower leverage (4.5 for Duke Energy, 5.5 for Kinder Morgan).
In addition to the better credit rating and lower interest rates for Duke Energy, this strengthens the case that Duke Energy is the lower risk investment among the two companies.
Let's look at income opportunities next: Duke Energy pays a current dividend of $0.825 quarterly, whereas Kinder Morgan pays a dividend of $0.125 right now. With stock prices of $76 and $18, this means the dividend yield for the two companies comes in at 4.2% and 2.8%, respectively -- Duke Energy offers a dividend yield that is one and a half times as high as the dividend yield of Kinder Morgan.
Duke Energy also has the better dividend growth track record, over the last three years Duke Energy has raised its dividend each year, by an average of 2.5% (not a high dividend growth rate) annually, whereas Kinder Morgan has cut its dividend by more than 75% at the end of 2015. The dividend growth track record for Kinder Morgan thus looks pretty bad, and it is not certain whether the company will increase its dividend anytime soon (in the current year no dividend increases should be expected, as management has stated the company would pay out $0.50 in dividends this year, which is equal to four $0.125 payments).
We can thus say that in terms of income generation and income growth, Duke Energy compares favorably to Kinder Morgan as well.
The next point we have to look at is valuation, to determine which company is more attractively priced right now: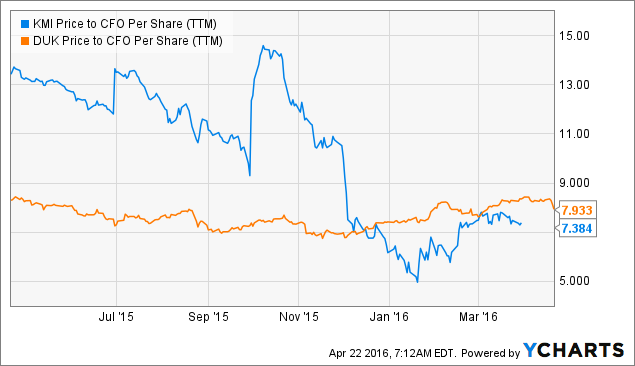 The most important metric for both companies is, I believe, the price an investor has to pay relative to the cash flows the company produces. When we look at the price to operating cash flow metric, we see that the valuations for both companies do not differ a lot: Duke Energy trades at 7.9 times operating cash flows (which means an operating cash flow yield of 12.7%), Kinder Morgan is trading at a price to operating cash flow yield of 7.4, which is about 6% lower. Both companies produce huge cash flows relative to the price investors have to pay for the shares. Duke Energy pays out a higher portion of these cash flows to investors though (that's why Duke Energy has a dividend yield that is a lot higher than Kinder Morgan's).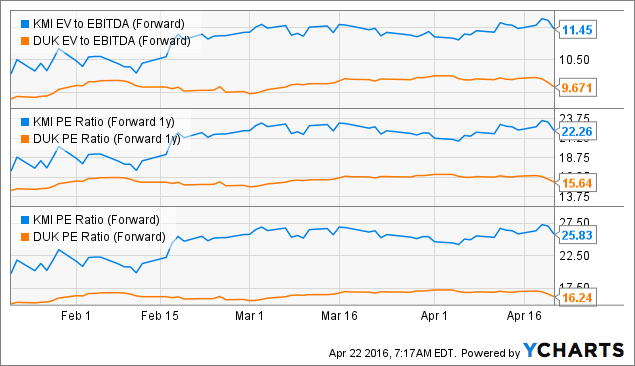 When we look at forward valuations, we see that Kinder Morgan is more expensive than Duke Energy: The EV to EBITDA ratios are 11.5 and 9.7, respectively, which shows a 15% discount for Duke Energy's shares relative to Kinder Morgan's.
The forward earnings multiples for the coming two years show a huge discrepancy for the valuation of the two companies: Duke Energy trades at 16.2 and 15.6 times forward earnings, whereas Kinder Morgan trades at 25.8 and 22.3 times forward earnings, which means Duke Energy trades at an average discount of 33% compared to Kinder Morgan.
I believe the earnings multiples are less important than the cash flow multiples for the two companies, but since both are trading relatively on par in terms of cash generation, Duke's significantly lower (forward) earnings multiples (and the lower EV to EBITDA multiple) favors the utility company over the pipeline operator here.
We can summarize that Duke Energy looks like a lower risk investment than Kinder Morgan. Duke also provides a superior income yield to Kinder Morgan. Lastly, Duke Energy's valuation compares favorably Kinder Morgan's. It looks like Duke Energy is indeed the "better Kinder Morgan," at least for investors who are seeking a safe, high income yield that will likely be increased continuously over the coming years.
Takeaway
A year ago, Kinder Morgan promised investors attractive dividend yields, consistent dividend growth and an overall safe investment due to its low risk toll-road business model. Duke Energy looks like it could actually deliver on such a promise, since the company's risk profile is a lot lower than Kinder Morgan's, the income generation is a lot higher and lastly, Duke Energy is priced more attractively.
Disclosure: I/we have no positions in any stocks mentioned, and no plans to initiate any positions within the next 72 hours.
I wrote this article myself, and it expresses my own opinions. I am not receiving compensation for it (other than from Seeking Alpha). I have no business relationship with any company whose stock is mentioned in this article.