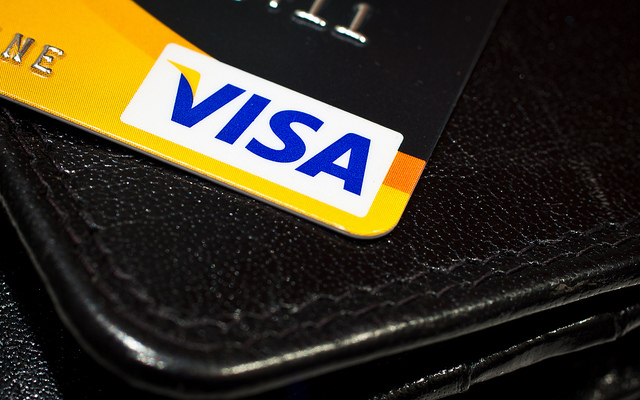 Ouch! Reaction to Visa's (NYSE:V) Q2 results were not all that generous. Currently, over 3% down on a flat S&P 500: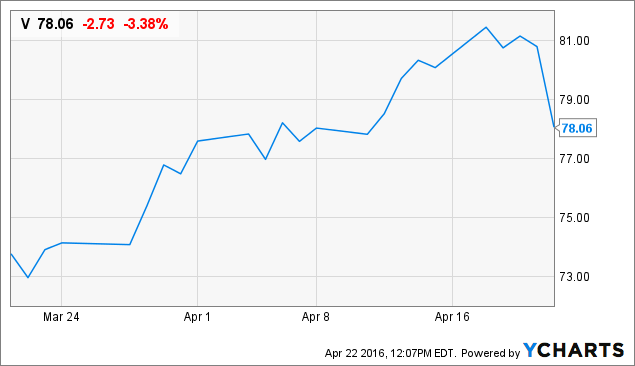 V data by YCharts
Why? Quite simply it seems to have been due to the revised guidance. Visa felt they needed to revise constant currency revenue from the earlier high-single to low double-digit growth guidance to a new, lower 7% to 8% growth for FY 2016 results. It is this which seems to have fed the price declines. As Visa CFO, Vasant Prabhu, explained:
We now expect net revenue growth in fiscal 2016 to come in at 7% to 8% in constant dollars, a couple of points below our expectations from last October. This is driven by three factors: first, no improvement in cross-border volume growth from current levels; second, somewhat weaker domestic payment volumes due to gas prices as well as weakness in large commodity-based economies like Brazil; third, client incentives likely to come in at the high end of our 17.5% to 18.5% range.
Clearly, this was not welcomed by many investors suggesting they felt the current valuation failed to reflect this lower growth projection. Fair enough. Personally, as a long-term investor, I don't see the valuation as unappealing. Yet, conversely, I think another aspect of the guidance may be in line for revision in due course: free cash flow.
Generally Good Progress
First, I should stress that I have not gone bearish on Visa. Far from it. The company continues to fire on all cylinders in what can only be described as a challenging environment. Indeed, on other guidance fronts they look very much on track. Visa also reported that they still were targeting an operating margin for 2016 in the mid-60s. So far, this looks set to be true. Indeed, up to Q2 2016 Visa had managed to improve slightly upon both FY 2015 and Q2 2015: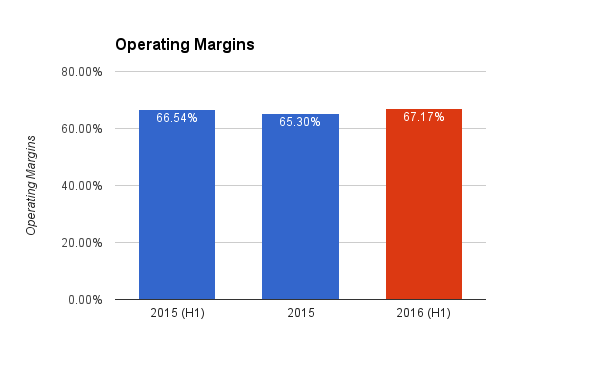 This remains an impressive margin and suggests that, in fact, guidance may be a little modest here.
Also, generally I was very impressed by the results. Faced by tough economic headwinds, strong underlying results like Visa's remain compelling. This is a company that continues to grow and is plugged into superb secular growth opportunities. Taking reported results, they hardly look weak. Growth in both revenue and operating income continued: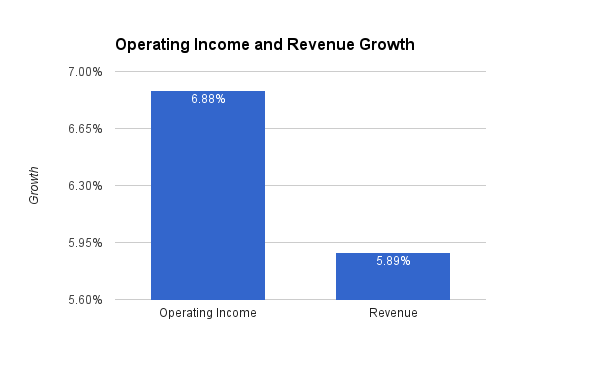 Yet if we take a look at the underlying constant currency performance, revenue growth looks more robust: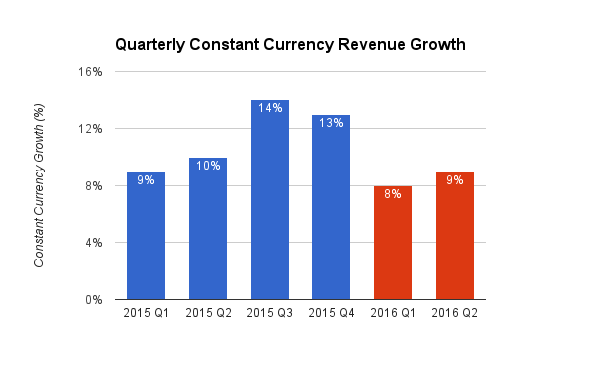 Sure, even adjusting for currency swings, it is clear that revenue growth has slowed noticeably so far in 2016: hence the downwards revision.
So what about the Free Cash Flow matter?
Is Free Cash Flow Guidance Running High?
Visa's guidance on FY 2016 FCF did not change, however, remaining around the $7 billion mark. This one does interest me as these guidance figures do not include Visa Europe, yet are noticeably higher than my predictions.
Based on my FCF calculations, Visa looked likely to see a figure closer to the $6.5 billion mark in FCF. How did I come to this? Basically, I take the consensus revenue predictions for the company and multiply this by my predicted FCF/Revenue ratio. This ratio I calculate by using two historic FCF/Revenue figures:
5-year average FCF/Revenue (hereafter, 5Y) of 40.68%
Last year's FCF/Revenue ratio (hereafter, LY) of 44.45%
Then I plug this into this equation which provides greater weight to last year's ratio:
Predicted FCF/Revenue ratio = (5Y + (LY * 2))/3
Doing so provides an FCF/Revenue value of 43.19%. Judging by the FCF/Revenue ratio during the first 6 months of 2016 compared to 2016, this seems a fair assessment: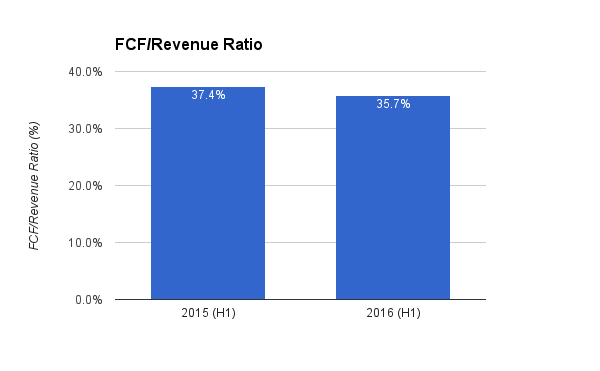 Even if we accept a 9% revenue lift and an FCF/Revenue ratio in line with FY 2015 of about 44.5%, I struggle to see cash flow north of $6.75 billion (also excluding any cash flow generated by the Visa Europe acquisition).
Maybe Visa expects capital expenditure to drop back to 2015 levels after lifting nearly 25% in the first half of this year: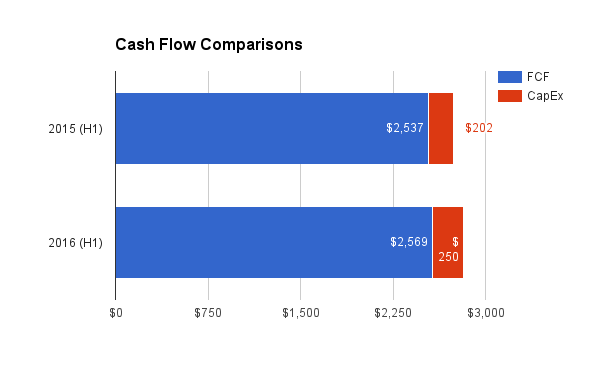 I can't see that necessarily happening. Operating cash flow would have to grow pretty rapidly and/or CapEx fall back noticeably for this to be reversed.
Conclusion
Yet here's this thing. What a great FCF performance is likely to be coming in 2016. Even at $6.5 billion rather than $7 billion, that would be a further 4.5% growth on FY 2015's excellent figures.
Here I was not intending to scare investors off. Far from it, I am a Visa holder and looking for further opportunities to build up my position. Yet it is possible that guidance may have to soften on the FCF front too. But, you know what? Things still look pretty excellent to me. This would leave the likely $0.56 dividend per share still representing just 20% of FCF with plenty of growth left to go.
So here's my point, if the FCF guidance does have to get revised down a little, don't worry and then jump ship as many have on earnings revisions. Although things may feel a little more gusty at the moment, the wind is still very much in Visa's sails.
Even if cash flow predictions have to be curtailed, right now I struggle to see Visa as anything other than compelling. What is more, it may be that Visa are still spot on with their FCF guidance. No matter what the case, Visa's FCF performance remains a striking reason why this quality, highly cash-generative business remains one to keep for the long haul.
Investors remain very jumpy. Today's response is a fine example of this. Yet if further guidance adjustments lead to further share price falls like today, there will be fresh opportunities to pick up this company at an excellent long-term price.
Notes
Unless otherwise stated, all graphs and tables, and the calculations they contain, were created by the author. Creative Commons image reproduced from Flickr user dahlstroms.
Disclosure: I am/we are long V.
I wrote this article myself, and it expresses my own opinions. I am not receiving compensation for it (other than from Seeking Alpha). I have no business relationship with any company whose stock is mentioned in this article.