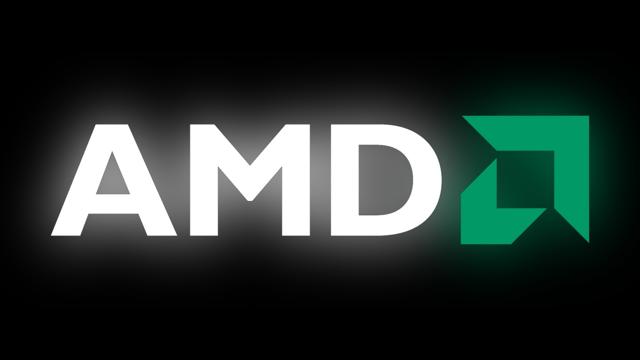 Advanced Micro Devices (NASDAQ: AMD) released quarterly numbers Thursday after hours. The market was encouraged by the strong numbers, and even more enthused by the strong guidance for Q2 and profit expectations in second half of the year. AMD's President and CEO Lisa T. Su also announced the intellectual property licensing agreement and joint venture with THATIC to cater to the Chinese server market. You can read the complete earnings call transcript on Seeking Alpha.
The stock soared higher Friday, closing up a whopping 52% at $3.99.
Here is some info about the JV with THATIC that has got the stock all heated up:
AMD has licensed its high-performance processor and SoC technology in a JV with Tianjin Haiguang Advanced Technology Investment Co., Ltd. to develop system-on-chips (SoCs) to cater to the Chinese server market.
The licensing arrangement is worth $293 million, and the payments are contingent upon the JV reaching certain reaching certain milestones.
Such fundamental developments, and the strong subsequent rallies, have been a part of the long history of AMD. But, they have only resulted in disappointment for even the most prolific investors. Many a times, promise seen in AMD's products and technology has led analysts and brokerage firms to believe that a turnaround will occur and that we are being too negative on the stock. However, the monthly stock price chart clearly puts things into perspective. Bears have won this battle for long.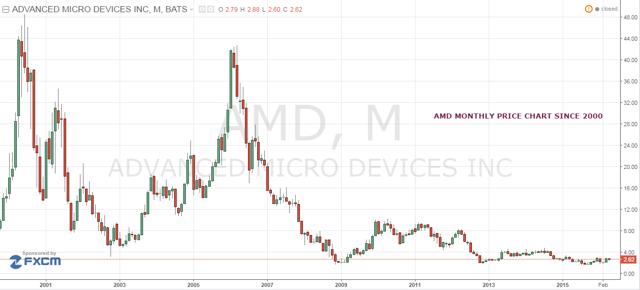 Source: Tradingview.com
Owing to the strong momentum that is being witnessed, I would not be surprised if the stock even rallied to $4-$5 per share, but it would take "very constructive" measures to take the stock higher than that. To start with, a higher gross margin in the range of 35% - 40% would be great. The company is banking on 'Zen' to drive its gross margin higher.
The company expects to become non-GAAP profitable in the second half of this year; this is another thing that is spurring a dead-cat bounce in the stock. But I would like to see some consistency before I would become too interested. Yes, I am inclined towards playing a little safe here, so I might (or will) miss out on big gains, if they come.
One thing I must mention here is that there is no definite timeline to get the commercial products in the Chinese market with the IP licensing and JV agreement. Therefore, it may very well become possible that the half of $293 million, which is expected in the next couple of years, may get postponed. The company has recognized $7 million of the payment in Q1, and expects to recognize $52 million for entire 2016. Over the first two years, the company expects to receive about half of the licensing payments upon completion of some development milestones.
AMD has three design wins with lifetime revenue of $1.5 billion, expected to be recognized in the next 3-4 years. The company acknowledges that the revenue recognized per year will increase to a steady state from next year onwards. But achieving the milestones is the key.
What the investors should be cautiously watching is the sharp decline in EESC revenue, especially the Semi-Custom contribution, and the management's attitude about it. In the earnings call, Lisa T. Su said,
Our strategy to improve our business by gaining share in the Graphics and PC markets, growing our Semi-Custom business and expanding into the datacenter market is progressing as planned.
But, the combined revenue of Enterprise, Embedded and Semi-Custom segments has declined by more than 25% YoY and by 24% QoQ. Does it look like a business improving in the targeted segment?
Lower desktop processor sales have negatively impacted the company's C&G segment, however, the effect has been reduced by lower OpEx.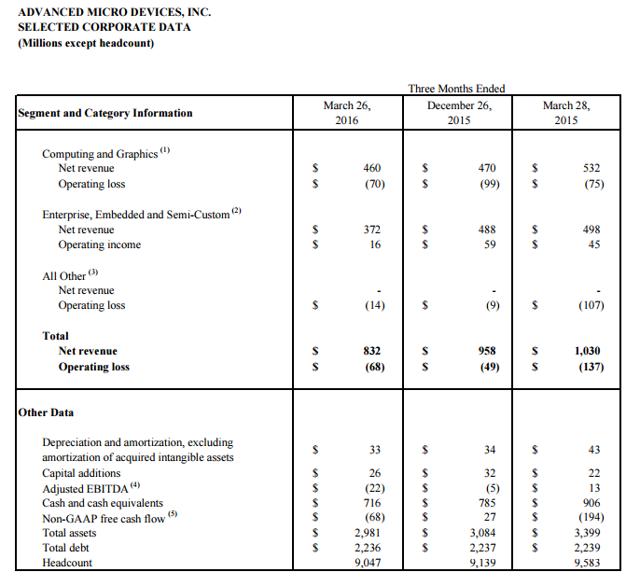 Conclusion
AMD has consistently lost its market share to its rival Intel (NASDAQ: INTC) which has been ahead for the past several years. Stronger sales, better marketing and product execution from Intel have pushed AMD to multi-year lows. A declining PC market is another pain that AMD has been unable to get rid of. And I do not expect Intel to go soft anytime soon nor do I expect the declining PC or desktop sales trend to reverse.
Even in China, Intel was first to bring its data center infrastructure. And they will definitely up their game to give AMD a run for its money.
I would also like to see if the management can fulfill its promises. Any revenue growth in the next quarter will be more pronounced because of the lower base effect and seasonality.
Investors should not rush to buy AMD as of now. There is too much speculation, and that is not what an investor wants. Most of the positives will be priced into the stock today, and it may reach stratospheric levels. Wait to see if the growth actually comes; it is not a growth story as of now, and is highly risky.
Disclosure: I/we have no positions in any stocks mentioned, and no plans to initiate any positions within the next 72 hours.
I wrote this article myself, and it expresses my own opinions. I am not receiving compensation for it (other than from Seeking Alpha). I have no business relationship with any company whose stock is mentioned in this article.