Investors looking at building a portfolio of REITs are confronted with a surprisingly large amount of choices. Choice in terms of operating sector competency as well as choice in terms of management style and capital allocation/recycling tendencies. While the space is traditionally known for the generous available yields, there are several dozen REITs that trade with yields less than 3 percent.
For better or worse, yield point tends to be a first stop for the average income investor. Portfolio "business plans" may include litmus tests involving dividends greater than "X" percent. This will usually mean passing over faster-growing REITs with lower available cash payout rates in favor of those with higher payout rates, higher yields, but typically lower rates of growth.
In some cases, accessing well-diversified or investment-grade tenant cash flows, like those sought by Realty Income (NYSE:O) for instance, may be a wise trade-off for the more conservative investor in search of durable income. This might be comparable to the investor who prefers to own high-grade bonds as opposed to high-yield ones.
The yield and total return potential may be lower with an investment-grade position, but the sleep-well-at-night factor would tend to be much higher. And despite the fact default rates remain low, it's not fun to be holding a security that gets into liquidity trouble if you had the option to be much more conservative.
Are High-Yield REITs A Piece Of Junk?
In the fixed-income space, high-yield bonds are also known as "junk." But for those that wish to be a bit more discerning in their bond analysis, not all junk bonds are made the same. If you look at the comparative ratings chart below and hone in on S&P's ratings, you'll see that while a CCC-rated bond sits on the cusp of default, a BBB- security is on the cusp of becoming investment grade. Therefore, when you hear the word junk, don't blanketly assume the security is necessarily a piece of trash.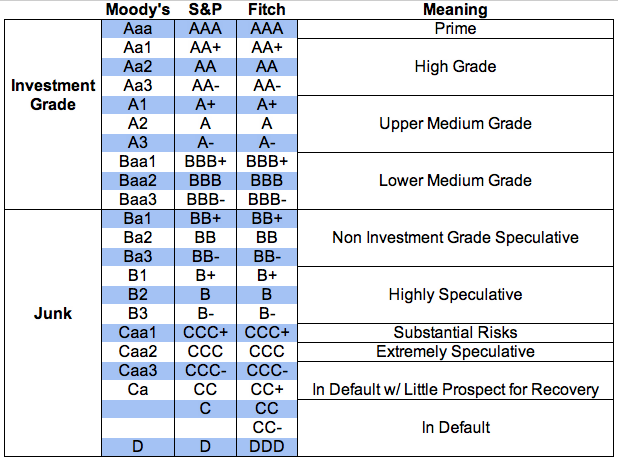 The same can probably be said for the REIT space. While the market is apt to price trusts at higher yield for a variety of reasons, it is unwise to automatically assume anything until you understand what's specifically going on under the hood. There are a multitude of substantive reasons that a trust may or might trade at a "junk-like" high-yield. Here are a few obvious ones:
Consistently slow, flat, or negative FFO/dividend growth rate.
Poor operating optimization due to external management contracts predicated on asset base, not performance.
Dividends paid in excess of operating funds availability flow.
Highly levered balance sheets.
REIT operates in a space with severe secular headwind.
Market decides to arbitrarily price well below NAV.
The RMR group of REITs consisting of Senior Housing (NYSE:SNH), Select Income (NYSE:SIR), Government Properties (NYSE:GOV), and Hospitality Properties (NYSE:HPT) is a quartet oftentimes pointed to as a violator of the first two bullets. Government Properties and Senior Housing have been paying the same quarterly dividend rate since 2012. As such, investors are comfortable applying a low valuation multiple and higher yield compared to other REITs.
Other recent, higher-yielding under-achievers in the REIT space might include lower-tier mall owner CBL & Associates (NYSE:CBL) as well as Lexington Properties (NYSE:LXP).
Lexington has been pointed to as a value by many REIT observers at times, including yours truly, due to its lower than peer payout ratio and low multiple. Unfortunately, the company has not effectively moved the growth needle through the years, and has seen its stock price move from $13 prior to the 2013 taper tantrum to its current $8.75, after briefly dipping below $7 a share. The dividend rate has not moved for seven quarters straight.
Is "I Don't Care About Growth" A Valid Statement?
Investors in junk bonds aren't generally looking for a total return killing, although in some cases when misplaced panic or bankruptcy talk creeps into the market, credit value may bring about total return opportunity. Some thought that Peabody Coal's (BTUUQ) unsecured debt was such an opportunity this time last year. Unfortunately, with the recent Chapter 11 filing, we'll have to see how that ultimately turns out.
Just this week, teen retailer Aeropostale (NYSE:ARO) was reported to be preparing a bankruptcy filing. Five years ago, the company had checkout lines circling the store. I should know, I stood in many of them with my daughter. More recently when I peer into an Aero at the mall, clerks seem to be falling asleep at the register.
I mention these situations only as worst-case reference. Most companies with junk credit won't end up going belly-up. However, when you play with fire, you should be prepared to get burnt every once in a while.
So I do understand the "I don't care about growth" mentality that implies if a high-yield dividend is covered and otherwise seemingly stable, that it is reasonable to invest in. Some may even consider it a preferable way to invest given the relative uncertainties of price. One SA commenter pounds the table on this kind of strategy, calling it "medium-risk high-yield" investing. Given some of the major disasters in the mREIT, BDC, and MLP space over the past few years, however, I'm not sure that medium risk is an apt descriptive.
Still, if you understand and are willing to accept the conditions that have brought a REIT into high-yield territory, there may be merit to opting for it relative to a low-growth, low-yield comparable option.
High-Yield Compounding And Yield On Cost
Another selling point for a high-yield REIT, especially in this era of low rates, is the compounding factor. A double-digit yield compounded over time would lead to very robust income growth. For the investor less concerned with total return or concerned about price in today's arguably frothy market, there is substantial allure for higher yield.
Let's look at an example of two different REIT investment options over a 10-year span.
We start with a $10,000 investment. REIT "A" yields 10%, but does not grow its dividend or price. REIT "B" yields 5%, but grows its dividend and price by 5% per annum over the same time frame. We'll assume quarterly compounding. Here are the results after a decade:
REIT A - e.g., mall owner Glimcher (NYSE:WPG) - still yields 10%, but now generates nearly $2,433 a year in income (started at $1000). Total income generated: $16,232
REIT B - e.g., Realty Income - Dividend grown from $500 to $1,188; total income generated: $8,005.
Summarized:
| | | | | | | |
| --- | --- | --- | --- | --- | --- | --- |
| REIT | Yield | Per Annum Price Gain | DGR | Income Range Yr. 1-10 | Total Income Yr. 1-10 | Capital Account At Decade End |
| A | 10% | 0% | 0% | $1,000-$2,433 | $16,232 | $26,851 |
| B | 5% | 5% | 5% | $500-$1,188 | $8,005 | $26,161 |
Clearly, this is a pie in the sky simulation since the likelihood of static or consistent returns over long-term time frames is slim to none. In terms of total return, both investors make out the same, but clearly REIT A provides the better income proposition. Thus, each investor needs to determine independently whether elevated income is a better means to their personal ends.
Risk and return durability has to be a factor here as well. If REIT A is generating income from a concentrated or deemed "weak" source or has a much more levered balance sheet, return visibility becomes much cloudier and conviction should be limited. If it runs into trouble, the income advantage it maintains could evaporate rather quickly. Total return would be damaged as well.
On the other hand, some investors may view dividend visibility as generally stronger than price appreciation visibility. If REIT B fails to achieve price growth, then REIT A would soundly win both in terms of realized income as well as total return generation.
My personal, general conclusion on a high-yield REIT is that while there may be quantitative value of some sort, there are usually qualitative issues that could lead to problems. Despite steady near-term performance, volatile times leading to recessionary climates, higher interest rates, or, more generally, pressure on property NOI, will have more fundamental impact on lower-quality REITs. Lower-quality being characterized by one or more of the aforementioned bullet points.
3 High-Yield REITs To Pick From The Junk Heap
1) Lexington : While I've been hot and cold on this name through the years, its low payout and seemingly conservative management philosophy continues to make it attractive relative to other names. Though you could have cherry-picked it for a better than 10% yield earlier in the year, the current 7.85% remains an attractive entry point in my opinion. The company owns a mix of mostly industrial big boxes and office property.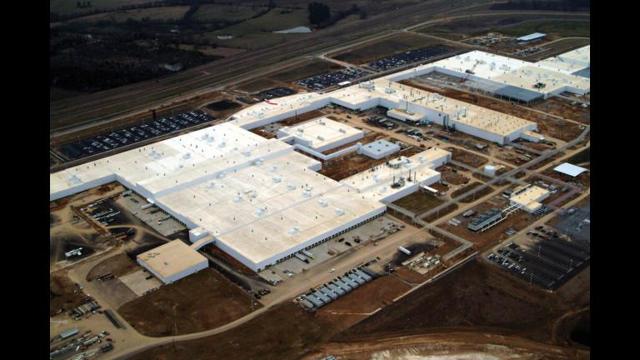 Aerial view of Nissan's Canton, MS assembly plant - LXP's largest property by merit of square footage
2) New Senior Investment Group (NYSE:SNR): Public for only about 18 months now, SNR had a rough 2015 as leverage, external management, and concern regarding overbuilding in the senior housing space took a toll. 40 percent off its lows, the company still pays a covered yield of better than 9.5 percent. Though the concern over management is well founded, the company has been buying back shares.
I feel confident that SNR's mostly private pay ILF/ALF assets can achieve robust NOI growth, although property aggregation may continue to prove difficult with the stock in the tank. All considered, this looks like a good yield play with growth visibility coming into focus longer term.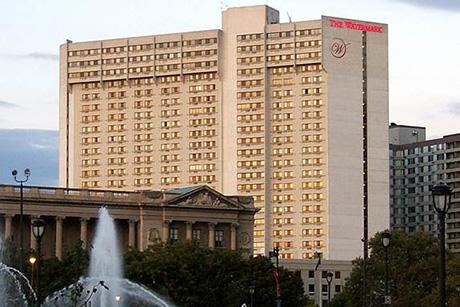 SNR's 463 bed Watermark at Logan Square in downtown Philly
3) W.P. Glimcher: A diversified retail property owner with a majority of NOI coming from self-described Tier 1 malls (>$400/SF assets) and community centers. The stock currently yields right at 10% and appears dirt cheap. While there continues to be concern about Amazon's (NASDAQ:AMZN) disruptive presence in the retail space, I continue to believe that there will always be room for both brick/mortar as well as online purveyors.
Though the company's fiscal picture isn't as rosy as other mall players, it is continuing to make progress in that regard. In a recent mall call, Goldman characterized Glimcher as driven by "deep FFO multiple discount, high but safe dividend, tenant improvements, and minimal international tourism exposure."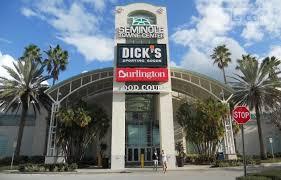 Glimcher's Seminole Town Center in Sanford, Florida
Disclosure: I am/we are long SNR,WPG.
I wrote this article myself, and it expresses my own opinions. I am not receiving compensation for it (other than from Seeking Alpha). I have no business relationship with any company whose stock is mentioned in this article.
Additional disclosure: Disclaimer: The above should not be considered or construed as individualized or specific investment advice. Do your own research and consult a professional, if necessary, before making investment decisions.
Editor's Note: This article covers one or more stocks trading at less than $1 per share and/or with less than a $100 million market cap. Please be aware of the risks associated with these stocks.