Dycom Industries (NYSE:DY) provides specialty contracting services to both the infrastructure and the telecommunications industry. These services include engineering, construction, maintenance and installation services to telecommunication providers, underground facility locating and electric and gas utilities services, with its business primarily done in the U.S and Canada.
Nowadays, the telecom sector is gathering momentum and is expected to remain at the epicenter for growth and innovation. Telecom companies are spending a lot of capital so as to connect more people into their networks. On average, US consumers look at their connected devices around 8 billion times a day according to the Global Mobile Consumer Survey. The number of connected devices continues to grow. The Internet of Things is expected to become a strong market and leading telecommunication companies are looking for new opportunities to grow their revenues by increasing their network connectivity. This Internet of Things business will consist of connected cars, connected houses and rapidly many sectors such as manufacturing, hospitality, retail, utilities and others will be contributors of this market development. Smart cities also will help telecommunications companies find opportunity for growth as cities are using more and more connected devices to manage lighting, video security and asset monitoring. The government already is aware of it and many telecommunications companies are upgrading their infrastructure network so as to boost internet speed in rural cities. The Internet of Things will be achievable only through the improvement of the telecommunication sector. More speed, less latency and greater efficiency are an absolute requirement to support connected things such as smart cars. The current technology does not allow this expansion yet, which is why many telecommunications companies are planning to upgrade their infrastructure network.
Dycom's stock price was hammered earlier in January. The stock peaked early in December at $90 per share and was trading just under $50 per share in the middle of January because of both slightly missed earnings and a drop in the market. During Q2 2016, Dycom managed to record revenues at $559.5 million, an increase of 26.8% year-over-year where 19.4% is organic growth (see earnings call). This increase in revenues is mostly driven by a strong demand from key customers which are producing 68.9% of the firm's total revenues. Indeed, there is an increasing demand for 1-gigabit wireline networks from key customers, which are deploying both fiber to the home and node technologies, so as to offer a high speed connection for individual consumers.
Dycom manages to profit from this growth in revenue to increase its EPS. In only two quarters, the firm managed to double its EPS from $0.27 to $0.54 (see earnings call). This represents the best second quarter of the company and their fifth best quarter in history. If we take a look at the company's backlog, we can see a positive sign that we are not expecting to see any decline in revenues. Indeed, since the first quarter of 2016, the company's backlog increased by $1.09 billion, proving that its customers continue to plan aggressive initiatives for the coming years. The firm's backlog was $5.056 billion for Q2 compared to $3.967 billion for the previous quarter. Out of this backlog, management is expected to see almost $2 billion to be completed in the next 12 months (see earnings call). This backlog analysis reflects the firm's ability to book new orders and maintain existing work. This creates an opportunity for the firm to gain some market share, to expand its geographic reach and to grow accordingly. Concerning operating costs, the firm's EBITDA increased by 39.5% from $47.6 million in Q1 2016 to $66.4 million in Q2 of the same year, while revenues increased by 26.8% during the same period. This proves the management's ability to both reduce operating costs and to create value to the company. Another value creation ratio to look at is the ROIC/WACC ratio. In my pro-forma, I currently have a ratio of 1.51, meaning that the firm is currently creating value.
During Q2, capex net of disposals, which is one of the driver of the stock price, represented $48.7 million. Thanks to the extension of tax regulation, the firm has been able to generate important cash tax savings for 2016 related to capex, which will improve their operating cash flow. Dycom has managed to increase its current investment in capex to $147 million and plans to continue to invest in its assets up to up to $175 million for the year 2016 (see earnings call). The firm is counting on the investments of its assets to contribute to higher operating levels that are represented in their increasing backlog of $5 billion. On the debt side, Dycom has no significant debt maturing in the coming years. A senior credit facility is maturing in 2020 as well as the firm's 0.75% coupon convertible notes, where its aggregate principal represents $485 million. This allows the firm to have $309 million of liquidity and cash on hand. Management will probably use this cash on hand to continue its share buyback program. The Board of Directors gave the authorization to increase this share buyback program from $50 to $100 million, which clearly demonstrates that the firm believes its current stock price is undervalued. Furthermore, as illustrated in the fundamentals graph below, we can see that Dycom is doing better than its major competitors and the construction and engineering sub industry.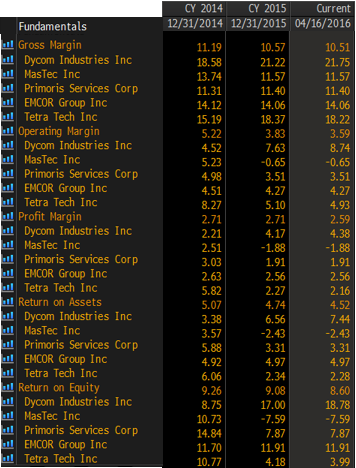 (Source: Bloomberg)
Dycom is outperforming both the industry and its competitors in terms of gross margin, operating margins, profit margins, return on assets and return on equity, proving the quality of the management in place.
Following this news, I decided to conduct a valuation of this stock based on a proforma valuing Dycom with a discounted cash flow model which focuses on return on invested capital. First I made the revenue growth expectations converging toward analysts' estimates and revert in the long run toward 3%, following GDP growth. A risk premium had been set at 6.00% since Dycom's business is primarily located in the U.S, where 99.4% of revenues are recorded in 2015 and Canada where the remaining 0.6% of revenues are recorded. A weighted average effective tax rate of 39.91% has been used, following the same method. I calculated an intrinsic value of $69.11 for this stock and a one-year target price of $79.11. After running a Monte-Carlo simulation, you can see the probability of an increase in price calculated at 83.4%.
Thanks to both its strong backlog and its recent financial performance, I do believe that the firm has the potential to grow organically, creating value for the company. The firm expects strong demand from several large customers, which are all growing organically as well. The firm is investing in capex so as to handle this increase in demand, it managed to decrease operating costs and margins are improving over time. Macroeconomic conditions appear favorable to Dycom as long as the firm keeps its strong relationship with key customers. Management, through its share repurchase program, believes its stock is currently undervalued as well. I do believe that the upside potential for this company is greater than the downside, which is why I recommend a buy at its current level of $67.76.
Disclosure: I/we have no positions in any stocks mentioned, and no plans to initiate any positions within the next 72 hours.
I wrote this article myself, and it expresses my own opinions. I am not receiving compensation for it. I have no business relationship with any company whose stock is mentioned in this article.