Rationale for this Article
Over a period of many years, I have maintained an ongoing search within the S&P 500, as well as other smaller companies, for securities which lend themselves to an income portfolio, both for long-term holds and for additional income opportunities (i.e. scale buy; scale sell; sale of covered calls; bottom fishing after a drop; etc.).
I have found Compass Minerals (NYSE:CMP) to be a useful such security from its long-term chart behavior and its increasing dividends. In order to improve on this rationale, this article is to understand the business model, company strengths and weaknesses, and the market's attitude towards it.
Background - Compass Minerals
Compass Minerals is a mid-cap company with less than 2,000 employees; a market cap of about $2.5 billion; and $850 million in 2015 sales. It is in the business of mining, processing and distributing salt minerals for road, industrial, and agricultural applications. It also has relatively small operations with records and art storage in the U.K. Its customers are found in the contiguous 48 states as well as Canada, the U.K., and Brazil.
Several introductory points can be seen on the 2015 10-K report pg. 4 and pg. 6. Compass owns 13 mining and processing facilities throughout the U.S., Canada, and the U.K. Its business consists of 49% highway de-icing; 30% consumer and industrial; and 21% agricultural applications. From the company fact sheet, over 75% of its gross sales are delivered within the U.S and 20% within Canada.
Compass Minerals sources its highway de-icing products from Cote Blanche, Louisiana; Goderich, Ontario; and Ogden, Utah. Shipments are by barge and rail to its numerous storage depots along our major rivers, around the Great Lakes, up the St. Lawrence Seaway, and into the western states and the Dakotas. The Winsford rock salt mine (about 35 miles south of Manchester or Liverpool) is the oldest and largest mine in the United Kingdom. Compass has smaller evaporation operations as well. From 10-K pg. 32, Compass puts its significant distribution costs for highway de-icing and agricultural products to be on the order of 28% and 9% of sales, respectively. The 10-K pg. 16 makes the point that low diesel prices are beneficial for reducing shipping costs by this company.
Competition
There are other major participants in this U.S. business sector. Morton Salt became a subsidiary of the German resource company K+S AG in 2009, with an enterprise value at the time of $1.7 billion. Morton Salt has a longstanding mining and distribution network similar to that of Compass Minerals but with Atlantic coast coverage.
The K+S 2015 annual report is instructive for the international salt market. It provides discussion for interactions between several major players in the salt and fertilizer business, much of which is not in competition with Compass Minerals products. Morton appears to carry a wider variety of products than Compass.
Cargill, Inc. is a privately held but far larger company than Compass Minerals, with over 149,000 employees and over $120 billion in 2015 sales. It does a good job of marketing its products for a wide variety of applications, but its annual report indicates that its profit margin is not as efficient as that of Compass. Morton and Cargill settled with the state of Ohio in 2015 after a 2012 price fixing lawsuit.
American Rock Salt Company LLC has a limited regional outreach for its rock salt mine in New York State. Other smaller companies exist in this space as well. The Compass Minerals states in 10-K pg. 8 that two competitors exist for Compass rock salt operations in the United Kingdom, and also that imports to the U.K. are not a competitive factor.
Highway De-Icing Customers
It would seem to me, on a subjective basis, that harsh winters in the U.S. are not as prevalent as in previous decades. For a more rigorous view, the amount of snow cover in the U.S. over decades is tracked by the government.
For the present article, however, it must be remembered that snow removal practices by municipalities and states have not been a constant over the years, and that these entities are the primary customer base for highway de-icing products. For samples of how street and highway departments figure their de-icing needs, see here, here, and here.
Compass recently issued its 2015-2016 snow event report, which contains recent historic comparisons. This report tells me that the recent mild winter was no worse than the winter of 2011-2012 from a business activity standpoint.
It is hard as a resident of Indiana to forget the winters of 1977 and 1978. At one point, my small town in northern Indiana was snowed in for two full weeks! During this period, snow was stacked on both sides of my street to a height of about 15 feet. Fortunately, my local grocery store was only about one block away. Yet this account pales in comparison with the experiences of residents of Buffalo, New York as well as many other localities around the country.
Agricultural Customers
On 10-K pg. 9, Compass describes its agricultural products as being targeted toward high value crops, especially in the western and southeastern U.S. Its SOP (sulfate of potash) products are able to bring better soil science to the table than traditional MOP (muriate of potash) products. SOP products not only fertilize but also make plants more resilient to drought, disease, insects, etc. These are utilized by those who raise specialty crops, maintain golf courses, etc.
Local garden and home improvement centers offer do-it-yourself kits to measure the basic soil components of nitrogen, potash, phosphorus, and pH levels. However, commercial growers make use of much more sophisticated testing. For an example of a laboratory test submission form for soil with cost information, see here.
My property is in need of such a soil sample, which is not priced out of reach of the average homeowner. I have had good success transplanting some of my abundant myrtle from one side of the property to the other side, which is within a deep ravine adjacent to a railroad embankment. This soil has been deeply distressed over a period of many decades. However, my plan is to bring other bushes and trees back to life, therefore, I want to apply the best science that I can.
As of Dec-2015, Compass has closed on a 35% ownership in the Brazilian company Produquímica, with a path toward 100% ownership by early 2019 at the latest. This expansion is part of a strategic plan to grow earnings to $500 million by 2018.
The 2015 10-K report pg. 13, as well as the 2015 4Q earnings call transcript, makes the point that agricultural products face increased overseas competition due to a significant appreciation of the U.S. dollar against the Euro in 2015.
Balance Sheet Through 2015
The 2015 Compass 10-K report on pg. 47 reports $48.36/share in book assets and $38.96/share in tangible book assets at the end of 2015, based on 33.7 million shares of common (pg. 48).

This is comparable with $33.90/share in total contractual obligations in existence at the end of 2015, which is categorized in the following table (pg. 39). Book value is then $14.46/share, and tangible book value is $5.06/share.

The 2015 end-of-year debt/shareholder equity (pg. 47) ratio is $1142.6/$639.7 = 1.79. This number comes across on the high side. The debt credit rating deserves discussion here.
Credit Rating for Compass Minerals
On 10-K pg. 65-66, Compass describes its $727 million in long-term debt. This debt is found in three components, i.e. 65% in a May-2017 term loan (like a bank issuing a certificate of deposit to a retail customer); 34% in 4.875% senior notes due on July 2024; and 1% in a revolving credit facility of $4.5 million (like a credit card).
However, Compass has recently re-financed its term loan and its revolving credit facility in order to lower its interest rate expense and increase its flexibility. Moody's has responded in its revised credit rating with a negative liquidity outlook on the term loan as well as the revolving credit facility. This response is said to be due to the mild winter and the possibility of Compass acquiring the remainder of Produquímica within the next 12 months.
The Moody's ratings for Compass Minerals debt carries the cautionary designators of Ba1/LGD3 (revolver); Ba1/LGD3 (term loan); and Ba2/LGD5 (July-2024 notes), where Ba1 and Ba2 refer to "obligations judged to be speculative and subject to substantial credit risk", and where LGDx refers to the degree of loss given default, with LGD1 = zero to 10% and LGD6 = 90% to 100%.
Moody's analysis contains further comments on the pluses and minuses of Compass Minerals and is instructive for how a credit rating agency looks at a company. In short, the report anticipates Compass having to access its credit card to fund its 2016 capex to achieve its 2018 goals. A takeaway for me is how easily this low cost producer has been put on credit watch, despite its already low credit rating. On the other hand, S&P has assigned investment grade (BBB) to the re-financed term loan, with BB+ for overall debt. Both ratings agencies provide limits at which they would be likely to lower the credit rating for Compass.
Perhaps the credit rating of Compass is colored by a dim view of the entire mining industry. Compass has endured many mild winters over a period of decades. (for recent history see again the previously mentioned 2015-2016 snow event report). I suppose the fully funded company pension plan (10-K pg. 64) was not worth mentioning, which would be the envy of some of our public companies which carry significant shortfalls.
Earnings and Funds from Operation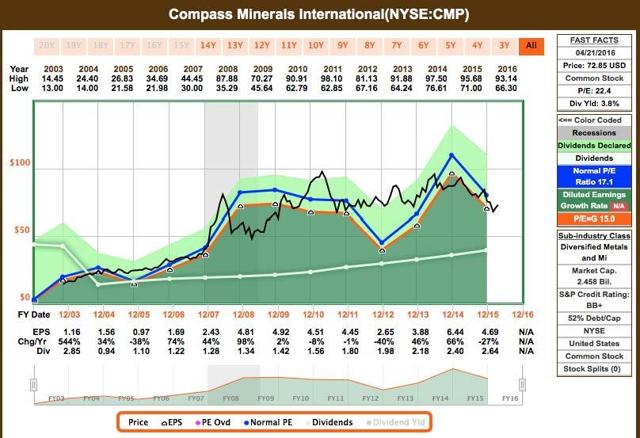 Courtesy: FastGraphs.
The above chart indicates earnings for CMP over the last 15 years compared to its stock price (black line) and average valuation (blue line). The FastGraphs chart concept recognizes that the balance sheet and other intangibles can significantly color the overall investment picture; however, a takeaway from the chart is that company revenue and earnings, as well as dividends to shareholders, are slowly increasing over the long term.
From the cash flow table in 10-K pg. 51, and using 33.7-33.6-33.4 million shares at the end of the year for 2015-2014-2013 (10-K pg. 48), cash flow per share is $4.09/share in 2015; $7.23/share in 2014; and $7.13/share in 2013.
Dividends per share (10-K pg. 48) are 2.64, 2.40, and 2.18 for 2015-2014-2013. Diluted earnings per share are 4.69, 6.44, and 3.88 for 2015-2014-2013. Forward guidance for 2016 is projected in the Compass Feb-2016 4Q 2015 earnings call at $3.80 to $4.20; however this guidance has been recently lowered to 3.25-3.65. For 2016, if the dividend is unchanged and earnings come in at $3.25 then the payout ratio is near 74%, which exceeds my rule-of-thumb 70% threshold.
The Moody's credit report acknowledges the favorability of retained cash flow/debt (22%), EBITDA margins over 30% for the past five years, EBITDA margin of 38% for 2015, and low leverage of 2.4x debt/EBITDA.
Analyst and Ownership Profile
According to exchange records, out of 33.7 million CMP common shares outstanding, over 97% of these shares are held by 302 financial institutions of various types. The short interest has risen over the past year from a few days to nearly 10 days to cover. It would seem that Compass Minerals has increasingly been the target of hedge funds along with rest of the natural resources complex. A number of insider transactions to exercise call options have occurred over the past several weeks.
Mood of the Market
In the last few years, the market has bid down commodity and materials-related securities, perhaps in concert with the bidding down of crude oil, steel, and other important industrial commodities. This downturn may have ended by 1Q 2016, although only time will tell. The products of Compass Minerals are in a completely different segment of the economy than crude oil and steel; however natural resource focused mutual funds and ETFs in many cases lump these companies altogether.
Conclusion
The basic materials sector at present seems to be near a bottom despite its rally together with the overall S&P 500 after Feb-2016. I view the Compass Minerals chart as having long-term horizontal support at $66 to $67, though it is indeed trading below its 200-day moving average. If this horizontal level was to be violated, I would re-evaluate my plan.
I hold Compass Minerals long in a retirement account as well as a retail account. My intent is to scale in and DRIP these investments as opportunity permits. I expect this security to continue to be upheld by institutions interested in its dividends.
The 1Q 2016 earnings call is on Tuesday, 26-Apr-2016 before the markets open. In the aftermath of the earnings event, I expect to monitor my positions, and take advantage of volatility where it makes sense.
Disclosure: I am/we are long CMP.
I wrote this article myself, and it expresses my own opinions. I am not receiving compensation for it (other than from Seeking Alpha). I have no business relationship with any company whose stock is mentioned in this article.