Since the oil crash began in summer 2014, Petrofac's (OTCPK:POFCF) share price has collapsed approximately 45%. However, the fundamentals remain strong and I believe this sell-off has been overdone. Looking at 2016 multiples, there is an indicated dividend yield of 5.10%, a P/E ratio of 9.75, and a PEG ratio of 0.34. Despite the level of uncertainty in the oil and gas services sector, I feel Petrofac is a compelling value investment and has a significant potential upside if held with a long-term horizon.
Revenue backlog currently stands at a record $20.7bn, providing good revenue visibility over the next three financial years. And 70% of this backlog is made up of onshore engineering and engineering and consulting services divisions, which have historically operated with EBITDA margins of 13.0% and 10.5% over the last three years. Geographically, Petrofac is focused on the Middle East and North Africa, which continues to be the focus of their bidding prospects over the coming years. Approximately 85% of their OEC bidding prospects are focused on Oman, the UAE, CIS countries, Saudi Arabia and Algeria - countries with low production costs, relatively free of political strife and dominated by national oil companies who are committed to ongoing investment in large projects.
While there is no guarantee that Petrofac will win these bids, they have a strong track record of competitively bidding. In addition to this, factoring in their successful cost-savings program - resulting in cost savings of $80m during 2015 and a target of an additional $90m for 2016, which will be passed onto the customer to ensure they remain competitive - I believe Petrofac has significant potential to further add to their revenue backlog.
There are several risks that should be taken into consideration. The future of oil prices is still highly uncertain, potentially affecting both contract win rate and integrated energy services. Oil and gas companies continue to cut back on capital expenditure, and revenue streams are drying up. A reduction in contract win rates could lead to a substantial contraction in revenue backlog, while each $1 reduction in oil prices leads to a $2.5m reduction in net income.
Furthermore, while management have said they expect no further losses on Laggan-Tormore or Greater Stella Area, there is no guarantee further losses won't take place. In 2015, Petrofac recognized substantial write-downs on the Laggan-Tormore and Greater Stella Area projects. The Laggan-Tormore project is now behind the company, while sail away is expected for Greater Stella Area project in Q2 2016. While these writedowns led to a loss in 2015, net profit was $440m before the Laggan-Tormore - indicating Petrofac's strong performance.
Despite the potential risks highlighted in relation to these projects, it is my view that these projects are now essentially behind them. It appears management have learned their lesson from these projects, indicating they will not undertake major lump-sum construction risk in the UK again, and are reducing their exposure to Integrated Energy Services contracts.
Petrofac maintained their dividend for 2015 and have ample coverage for 2016. In addition to this, capital expenditure was reduced substantially from $827m to $454m, with management expecting to make further reductions in 2016 and 2017. With an implied gross dividend yield of 5.10% for 2016 and coverage of 1.85x, there is an ample reward there for investors who are willing to hold Petrofac for the foreseeable future.
I have valued the company using both comparable companies analysis and a discounted cash flow. For the comparables, I have taken a universe of European oil and gas services companies of similar size and oil and gas services companies with significant exposure to the MENA region, and looked at both their EV/EBITDA and P/E multiples. For the discounted cash flow I have gotten the results on the basis of a 11.0% to 13.0% discount rate, 5.5x to 7.5x EBITDA exit multiple, and a 11.0% to 13.0% discount rate, (1.0%) to 1.0% perpetuity growth rate, respectively.
From the chart below, we can see there is potential for approximately 20%-30% upside. This, combined with Petrofac's high dividend yield and extremely low forward PEG ratio, I feel makes for a very compelling investment opportunity. Its 2.7x revenue backlog and low exposure to high-cost production areas is a major strength and will allow Petrofac to operate with a reasonable margin of safety, considering the difficulties faced in this sector. However, for those still wary of this sector, I would wait until Petrofac releases its results for the first half of 2016 to provide greater clarity on the feasibility of my thesis.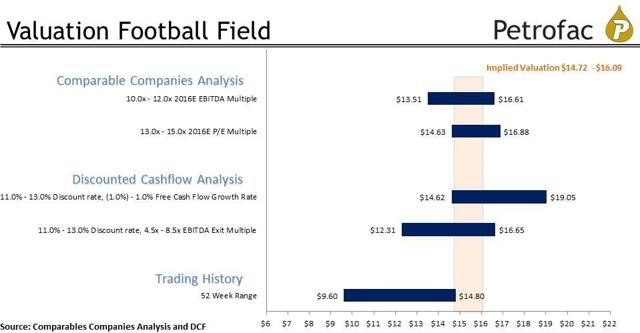 Disclosure: I/we have no positions in any stocks mentioned, and no plans to initiate any positions within the next 72 hours.
I wrote this article myself, and it expresses my own opinions. I am not receiving compensation for it. I have no business relationship with any company whose stock is mentioned in this article.
Editor's Note: This article discusses one or more securities that do not trade on a major U.S. exchange. Please be aware of the risks associated with these stocks.