Building Permits and Housing Starts
The Home Improvement industry is highly correlated and significantly influenced by the housing sector, which is one of the most important sectors of the U.S. economy as it makes up a large percentage of its GDP. Leading indicators within the housing market are building permits and housing starts. They measure the number of new private housing units authorized by building permits and the level of new residential construction that actually started. These two indicators among many others are very important for predicting new housing demand, and thus forecasting demand for home improvement products.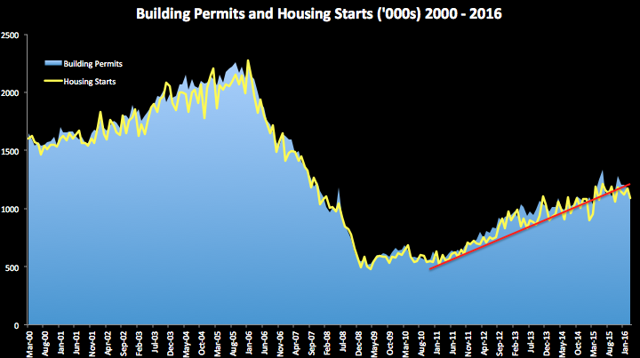 Source: US Department of Commerce Census Bureau
Even though neither building permits nor housing starts reached pre-crisis levels, in the last 5-6 years they have been on an upward trend having modest but steady growth. Building permits for March unexpectedly dropped 7.7% on an m/m basis, however year-over-year building permits are still up 4.6%. A similar situation is with housing starts, which also decreased 8.8% on an m/m basis, nevertheless they are up 14.1% year-over-year. Despite the slump in this latest month, overall housing market fundamentals remain relatively strong, which I believe, will positively reflect on the home improvement industry and their market leaders Home Depot, Inc. (NYSE:HD) and Lowe's Companies, Inc. (NYSE:LOW).
Pending and Existing Home Sales
Pending and existing home sales are another important data that drives the home improvement industry. This is mainly because existing homeowners usually make home improvements before putting a house up for a sale, which is then followed by additional changes made by new homeowners.

Source: National Association of Realtors
February results showed sales of previously owned houses in the U.S. plunged around 7%, a lot more than expected (2.2% was expected). However, the March report showed numbers jumping 5% and reaching 5.33 million (economist polled by Reuters forecasted 5.3 million-unit). These numbers did not come as a surprise to me because February pending home sales surged to the highest level in more than 7 months and pending home sales are a leading indicator of housing activity due to the fact that home goes under contract a month or two before it is sold and thus, they lead existing home sales by a month or two. This data suggests that the housing market recovery remains intact despite anemic U.S. economic growth. Confirmation of solid and constant recovery in the housing sector will be pending home sales for March (the report is scheduled for Wednesday 27th).
Home Prices
Home prices affect the housing market and influence the home improvement industry as well. Higher prices suggest higher demand for homes and vice versa. Since 2012, home prices have increased around 30%. The appreciation of home prices is expected to drive sales for home improvement retailers, as more and more people see higher value in their homes and thus continue investing in their houses.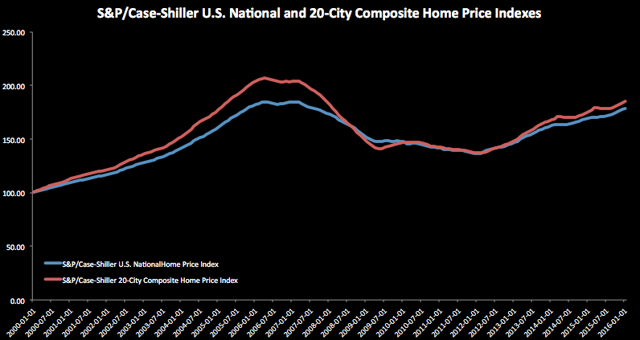 Source: S&P Dow Jones Indices
Demographics, Mortgage Rates, and Affordability Index
Nevertheless, there are few problematic trends in the housing sector. One of them is mortgage rate. Monthly Average Commitment Rate on 30-Year Fixed-Rate Mortgages is currently at 3.69%. While still lower than in 2014 and most of 2015, it is expected to increase in near future and expectations of higher mortgage rates will trigger sales in the short run but they will affect affordability in the long run. Besides, increasing housing prices may further put pressure on affordability which is even now arguably low.
Another issue, which is affecting demand for home improvement products, has been the shift in preferences away from homeownership and towards rentals. Rates for homeownership have been declining ever since 2005 and according to Census Bureau data in 2015, they've reached 63.4%, which is the lowest reading since 1967. This trend is expected to continue because millennial population prefers living in big metropolitan areas, where affordability is low. In the longer run, decline in the owner-occupied houses will affect the home improvement industry as homeowners spend more on their houses by taking remodeling projects, while rentals spend mostly on maintenance.
Nonetheless, with the low interest rates (and I expect them to stay this low at least until after June, as I doubt that FED will risk raising rates before Brexit vote), improving labor market, low energy prices and the U.S. economy in the solid expansion mode, private consumption is expected to climb, which should translate to a busy spring season in HD, LOW, Masco Corporation (NYSE:MAS), The Sherwin-Williams Company (NYSE:SHW), Stanley Black & Decker, Inc. (NYSE:SWK), Williams-Sonoma Inc. (NYSE:WSM) and other companies related to the housing sector and home improvement industry.
Disclosure: I/we have no positions in any stocks mentioned, but may initiate a long position in HD, WSM over the next 72 hours.
I wrote this article myself, and it expresses my own opinions. I am not receiving compensation for it (other than from Seeking Alpha). I have no business relationship with any company whose stock is mentioned in this article.