It's not always easy to do what's not popular, but that's where you make your money. —John Neff
Individual investors remain absent from this rally.
When it comes to investing in the stock market, individual investors continue to have an apathetic, if not loathsome view. We have experienced first hand the negative psychological impact that two 50%+ market declines within 10 years (2001/2002 and 2007-2009) of each other have had on long term sentiment towards investing in stocks.
Given these shocks, it will take time for individual investors to come around and trust the stock market again. Week after week, Month after month the sentiment numbers that were being reported hardly ever turned excessively bullish.
Many times in recent years, even as the market traded just a couple percentage points away from all time highs, we've seen investor sentiment readings get nearly as bearish as they were at the lows of the financial crisis. That's not supposed to happen, and it's happening here again as the S&P is 2% from the all time high.
History tells me investor sentiment has turned extremely bullish at market peaks, which is a tell tale sign that a downturn is near. One of the reasons I have remained bullish over the last few years is because of how depressed market sentiment is. You just don't see the market put a top in when sentiment is overly negative.
I recently saw a report speaking to another sentiment survey that confirms what we already know about this topic. The Yale School of Management's "Stock Market Confidence" indices. On a monthly basis, Yale surveys both institutional and individual investors for their views on stock market valuations, the likelihood of a market crash, the likelihood of market gains over the next year, and how eager they are to buy stocks after the market experiences a big decline.
After reviewing the report It becomes evident that institutional investors have been more bullish on the market than individual investors, for this entire bull run.
I can attest that prior to 2005, individuals were indeed more bullish towards stocks than institutional investors, and I do remember that was also the case most of the time during the 1980s and 1990s.
The two recent market crashes have surely taken their toll on individual investor psychology. One only has to look at the consistent cries heard for the last 3- 4 years that the next crash is right around the corner as evidence of this fact. John Neff's wisdom rings true today as it is clear investors are having a hard time doing what is not popular.
Wall Street and the political scene.
Given what we are hearing from the political campaigns these days it is hard to ignore some of the rhetoric about the rich villains that inhabit Wall Street. That is then followed by the political pundits who add their two cents to the commentary on the local or national news. These geniuses keep telling us that the rich just keep getting richer while the poor just get poorer. In most cases, the tone is accusatory.
Christopher DeMaria, DeMaria Financial Services put forth an interesting article where he states:
The rich in our country become and continue to be rich because they continue to do the things that made them rich.
The opposite is also true, and your logical mind is probably already taking you in this direction.
The poor typically remain poor because they continue to do the things that made them poor to begin with.
It isn't my intention to start an entire debate on this "vilify the rich" rhetoric in this country and lose sight of the reason I write these articles, which is investing. What I will attempt to do is look at those simple words which I view as sheer genius, then extrapolate those thoughts to investing.
The successful investors continue to do well because they continue to do the things that made them successful to begin with. The opposite also applies here, the underperforming investor continues to do the things (make the same mistakes over and over) to keep them locked in as perennial under performers.
Finally, the rich (informed) investor will always stay ahead, financially at least, of the poor (emotional) investor. I truly believe there are absolutely no exceptions to this rule.
The moral to the story is this: If you're not happy with your current financial position, be a responsible steward of your assets and do something.
Periodically review that investment plan, understanding that mistakes will always be made. The trick is to avoid making them over and over. I have found that there is a common denominator when I see repetitive negative actions in portfolio management. That common thread is letting emotion creep into the equation.
It is much better to become informed (rich) by looking at ALL of the data, not just the facts that fit your ideas, and leave the emotion factor out of the thought process.
Economy
Dudack Research believes the best indicator of recession risk is the y/y change in the number of people employed. By that measure, March's +2% pace in establishment and household surveys easily topped the long-term average 1.7%.
The momentum appears to be continuing in April, with the latest weekly jobless claims at a 43-year low, which is important, as decelerating job growth has preceded every recessionary period.
A separate recession indicator, the Conference Board's leading indicators, suggests the current expansion is still "young'' as the LEI has gone 81 months since the recession's end without topping its prior peak.
Historically, the LEI tops its prior peak on average 24 months into a recovery and, once achieved, the next recession occurs 6 years later.
CPI decelerated Month over month in March per the latest report from the BLS. CPI and the Fed's preferred gauge of inflation (PCE), rolled over off recent highs.
Unless the combination of strong labor markets and a weakening USD can pick these up, I believe we can expect the FOMC to remain accommodative. All else equal, this should be positive for equities and supports my idea that the FOMC is on standby, probably through and including June.
The conversation on inflation has turned eyes to the Fed as many wonder just how much inflation they will tolerate. Tim Duy assembled his thoughts on this topic, which provides an in depth view of the situation.
The monthly data on Housing Starts and Building Permits was released this week and showed widespread weakness in terms of the actual readings, and relative to expectations. Starts missed expectations by 77K on a SAAR (Seasonally annual adjusted rate) and declined 8.8% month to month.. Building Permits missed expectations by an even wider amount (-114K) and fell 7.7% month to month.
While some of the weakness in this month's report may have been the result of give back after warm weather in the winter months allowed more projects to break ground earlier and prior data was revised higher, there is no other way to categorize today's report as being anything but weak.
But there is another side to the story. MBA Mortgage applications came in strong again, with seasonally adjusted levels down a hair versus last week while NSA levels set another 7 year high. I continue to believe housing demand is not the issue with weak housing market data received recently in the form of construction, sales, and to a lesser degree homebuilder sentiment.
However, supply issues can still constrain growth, even if there are lots of consumers who want to buy homes (strong applications growth). It's also worth pointing out that mortgage standards remain extremely tight relative to the pre bubble period in the US housing market.
The National Association of Realtors reported that U.S. Existing Home Sales in March were better than estimates at 5.33 million vs. consensus 5.28 million. The median existing home price increased 5.7% y/y, to $222,700.
The latest Philly Fed report unexpectedly declined, indicating that the economic data flow continues to be quite unpredictable.
The Chicago Fed National Activity Index followed Philadelphia with a weaker report that expected. The index edged down to -0.44 in March from -0.38 in February. Three of the four broad categories of indicators that make up the index decreased from February, and all four categories made non positive contributions to the index in March.
Earnings
David Lutz of Jones Trading states:
I've stated my feelings that earnings expectations have been set wayyyyy too low, almost as if readers of 'Zero Hedge' were setting the bar.
In past missives I have also suggested this earnings season just might be better than the lowered estimates suggest.
Lets first take a look at how the "Bulls" see the earnings picture. S&P's bottom up/operating earnings estimate for 2016 is around $118, while the estimate for 2017 is approximately $136.
If those estimates are anywhere near the mark, it means the S&P 500 is trading at 17.6x this year's earnings (moderately expensive), but only at 15.2x S&P's 2017 estimate.
Further, one can make the argument the S&P's P/E ratio should be higher given the interest rate environment. The Rule of 20 states,
The stock market is fairly valued when the sum of the average price-earnings ratio and the rate of inflation is equal to 20.
Currently our inflation rate is somewhere around 2%, so using the Rule of 20 means the correct P/E for the SPX should be 18; and, using Benjamin Graham's formula for proper P/Es yields an even higher projected multiple.
Then too, with crude oil looking like it has bottomed, the earnings drag from that sector goes away going forward, meaning S&P's estimates for 2016 and 2017 are doable.
The bearish case centers on overvaluation.
While the S&P 500 hasn't quite taken out its May 2015 all-time high (it needs about 2% more of gains), the index's trailing 12-month P/E ratio just made a new six year high. Below is a chart showing this valuation metric over the last five years: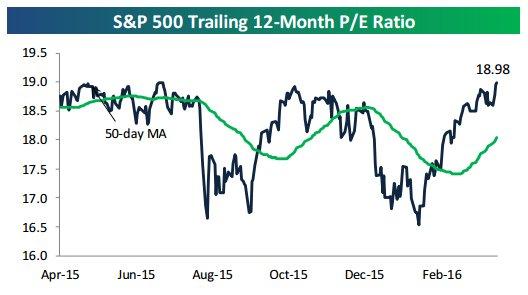 Source: Bespoke
The bearish view continues as they continue to project that there can be no change in direction, and based on the trend we will continue to see sinking revenues and earnings. Furthermore, they proclaim that earnings estimates are way too high and simply cannot be achieved.
Of course the earnings picture is meaningful and both sides should be examined closely. However there are other factors that do come into play especially when we look to the shorter or intermediate term picture.
This is a perfect time to bring a factor to the forefront that is playing a big role in the recent rally. For the most part it is totally ignored. I contend that anyone with a negative slant on the markets has paid the price for dismissing what seemingly has been these trends for the better part of this entire bull market.
There is more to just numbers when it comes to investing, psychology plays a very important part of the equation and that revolves around investor sentiment.
During the recent February lows, fund managers' cash was at the highest level since 2001, higher than at any time during the 2008-09 bear market. Global allocations to equities had fallen from 40% overweight to only 5% in just two months. Since 2009, allocations had only been lower in mid 2011 and mid 2012, periods which were notable lows for equity prices during this bull market.
Despite the recent 15% rally off of the lows, investors remain defensive. Over the past month, cash balances have risen and allocations to equities have declined. If one is a contrarian that supports the case for higher equity prices in the month(s) ahead.
Allocations to US equities remain near an 8 year low, a level from which the U.S. should continue to outperform.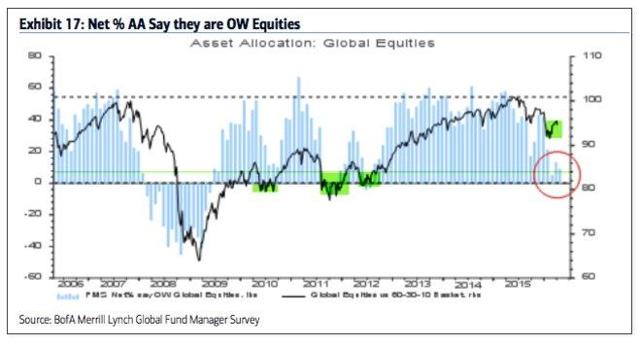 The red circled area indicates the low Fund manager positioning compared to other points in time. The green shaded area corresponding to these low levels in the past have been a precursor for higher prices as shown in the chart.
The reason for the high cash levels is revealed by a recent Bank of America Fund Manager Survey. Investors are still pessimistic, with only 10% expecting a stronger economy in the next year. This explains the low allocations to equities and high allocations to cash.
As far as individual investors are concerned, the market saw $4.8b outflow from equity funds this week. Negative 12 of the past 15 weeks.
$2b inflow to taxable bond funds. Positive 14 of past 15 weeks.
Unless this time is different I have maintained that what was just stated does not occur at market tops. Ignoring the obvious has been the downfall of market skeptics.
Crude Oil
OPEC didn't freeze output last week at the DOHA meeting. WTI settled down $0.65 on the day to $39.71. WTI then went on to set a new high in 2016 and closed the week at $43.37.
So where was the apocalyptic declines that had been promised by the narrative driven analysis that attributed all of oil's recent gains to the expectation of OPEC output gains?
Everyone is fixated on the supply situation, but let's step back for a moment. The knee jerk reaction to this headline brought global markets down with the S&P closing off on the day. The word to define the market reaction to this news is comical.
The market should react to oil going down because it fears that global growth is waning and global recession looms. That is then extrapolated to demand for oil will also fall. That's not what happened here, the oil ministers did not freeze production.
Remember, demand is increasing (for instance, in the United States gasoline demand is surging, up 5% Year over year and at its highest level since 2008. While China guzzles down raw crude to feed new refineries.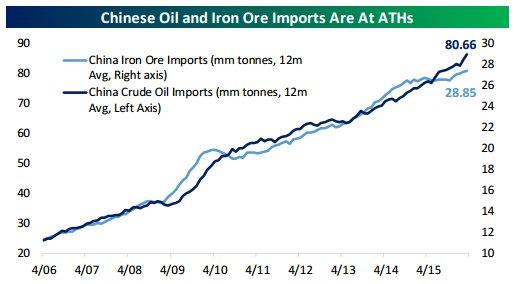 Source: Bespoke
Back here in the U.S., crude production continues to decline, now down to 8.95 mm bpd and below 9mm two weeks in a row. This, is an under covered catalyst for oil's current price action.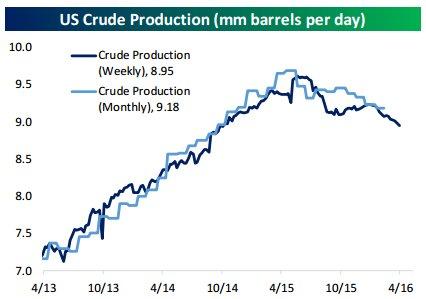 Source: Bespoke
In my view, the decline in US crude oil production is the big story, and as long as that continues to decline, it should support prices at current levels.
The technical picture.
The Russell 2000 closed above its 200 day moving average this past week, joining all of the other major indices. Bespoke Investment Group provides us with a chart indicating the other instances where the index spent an extended period of time below that benchmark.

Source: Bespoke
These results are quite impressive. If history does repeat here, things could get very interesting for those that are invested in the equity market.
I highlighted the recent improvement in breadth because it's been a major shift from the other moves off of near term lows that we've seen since the last time an all time high was set in May 2015.
This past week, investors got another indicator that suggests we are through the worst in terms of poor breadth. The Financial sector finally regained its 200 day moving average, which puts all 10 sectors back above their 200 DMAs at the same time.
This sign of improving breadth when all 10 sectors finally move above their 200 day MAs has been a profoundly bullish signal in three of the four instances cited in the chart below.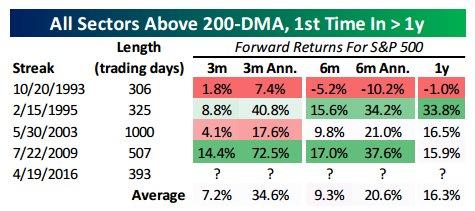 Source: Bespoke
In the three months following the day that all ten sectors finally moved back above their 200 day MAs, the S&P has averaged a gain of 7.2% with positive returns all four times. Over the next six months, the S&P has averaged a gain of 9.3% with positive returns three out of four times. And over the next year, the index has averaged a gain of 16.3% with positive returns three out of four times.
Improving breadth is only one indicator, but in this case it is flashing a very strong signal that gains in US stocks have come on strong participation. This typically signals more enduring rallies than gains on narrow breadth.
Speaking of strong signals, I also watch a technical indicator used to ascertain market momentum. The breadth thrust indicator is computed by calculating the number of advancing issues on an exchange such as the NYSE divided by the total number of issues (advancing + declining) on it, and generating a 10 day moving average of this percentage.
The indicator signals the start of a potential new bull market when it moves from a level of below 40% (indicating an oversold market) to above 61.5% within any 10 day period, a sentiment shift that occurs only rarely.
Tony Dwyer, Canaccord Genuity suggests that;
A rare breadth thrust signal demands buying any near term weakness. Nearly every measure of market breadth has shown this rally should be sustainable.
Jason Goepfert of The SentimenTrader also expounded on the recent "breadth thrust" by writing;
Another breadth measure shows a buying thrust. The number of securities at new 52 week highs have consistently exceeded the number at 52 week lows during the past couple of weeks, even as most stock indexes have meandered. Less than three months ago, the 10 day average of the New High / New Low Ratio was at 2% and now it's above 90%. Other low-to-high cycles saw further gains in the medium term.

Speaking of breadth, short term momentum has picked up again. The McClellan Oscillator turned positive for the first time in a week while the Summation Index remains at an extremely high level.
"Breadth thrusts" are pretty rare and they could be suggestive of higher prices in the weeks ahead. The consensus "call" is that this is another failed rally to take out the old highs. Suggesting a major decline is ahead, or at best a trading range for the equity markets.
The daily chart reveals that the index is riding the 20 day Moving average upward trendline.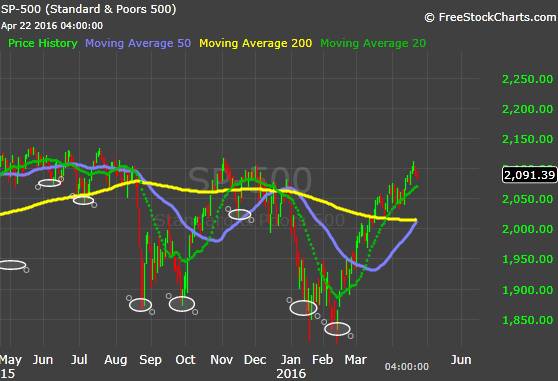 The talk now about another failed attempt to take out the old highs is a fair argument. Many are now looking for a change in the trend as the S&P sits less than 2% from the all time highs. For that to occur, the Index will first need to drop below the 2070 level. Then to keep the downside momentum going, a drop to S&P 2033 would be required.
However, before the bears can start to gain confidence, it would take a decisive break of that level, then break the 200 day Moving average (2014) to suggest that we have a change in direction and a downtrend is underway.
Until we see that type of price action the trend remains "up".
Individual stocks.
The financial sector has been highlighted here recently as being the 'value" that exists in the market today. Advisor Perspectives notes that it is the only sector that is trading below book value.
The Financials trade at an earnings yield of 9.89% (earnings/price), possess an enterprise value to earnings before interest and taxes (EBIT) of 10.28, with an aggregate P/E multiple of 10x.
Morgan Stanley (NYSE:MS) is the financial name that I highlight this week. The stock is selling at a discount to book value, with a PE of 11 and a dividend yield of 2.3% The financial sector was a key component that kept the market very resilient last week.
Healthcare, Healthcare, Healthcare. The sector underperformed in the first quarter of this year, as it continues to post growth numbers. Two examples this week, Johnson & Johnson (NYSE:JNJ) and UnitedHealth Group (NYSE:UNH), beating estimates handily on both the top and bottom line and raised guidance.
Alexion (NASDAQ:ALXN), Celgene (NASDAQ:CELG), and Gilead (NYSEARCA:GLD), continued to rally this past week as they too were oversold in the first quarter of this year. Investors can expect a pullback here as these names are up 36%, 16%, and 23% off their respective lows. When that happens it will present an opportunity to get involved in the growth area of this market.
Summary and Conclusion
While the S&P never entered into official bear territory, a lot of investors would agree that many stocks already have experienced a bear market. S&P stocks representing two thirds of market capitalization corrected 20% or more over the last 52 weeks.
That action wasn't synchronized, a rolling bear market has been slowly working its way through equities, for the most part generating a flat trading range in the broad averages. There are many technical gurus who say that a long extended sideways market is often a substitute for a bear market decline.
When investors look at the landscape they take in the economic data, make their conclusions and come up with their short to intermediate strategy. I continue to believe that many do not take into consideration what was mentioned earlier, "investor sentiment". In addition to that, there is another dynamic that is missed by most, "the alternatives".
From what I have seen in the last 3-4 years, the "Bear" cases are made by focusing in on what is believed to be an Achilles heel. It is highlighted and spoken to ad nauseum. In my view, that tends to have one take their eye off the ball and lose sight of the big picture. Investing isn't just about numbers, it's also about investor psychology.
We read the sentiment data week after week, and see the herd running from equities. If an investor wants to see how herd mentality works, one need to go back and look at the euphoria in 2000. Simply put, the mindset now is the year 2000, in reverse.
Alternatives, where can an investor put their money to work in the present environment? I gave my reasons many times why investors need not have a boatload of cash. Therefore, I conclude that it is not a reasonable answer, because it pays nothing and is depreciating all the time. At S&P 1800 I heard that cash was THE place to be. After a nice rally and the S&P is at 2090, I am hearing the same comments now, because investors are "nervous".
It hasn't worked for the last nine months when investors first got nervous, and I'm skeptical that it works now.
The average investor needs to recognize with the 10 year treasury yielding 1.8%, a 10-year U.S. government bond trades at roughly the equivalent of a stock selling at more than 80x after tax earnings.
Earlier I showed the present and expected PE ratio for the S&P. At approximately 18x expected earnings it also has a current dividend yield of 2.2%.
History tells us that those dividend payments will increase over time. The bond's interest payments are fixed. S&P 500 earnings and dividends are likely to increase over time.
So despite where one looks, after weighing all of the alternatives they have in the present environment, it would appear that the stock market is a pretty good alternative.
But the volatility scares most investors. Ultimately it is my opinion that a broad spectrum of investors will reach the same conclusion that I and others who have been bullish, reached long ago. After seven years of generally rising stock prices, we still have not seen the broad, enthusiastic participation that generally indicates market tops.
In my opinion, the stock market remains the best alternative in town, a point that is missed by those telling their stories of gloom. An outlet which many natural participants may have forgotten, but if I am correct, many will start to remember soon enough. And while stocks may not be cheap relative to where they trade at stock market bottoms, they remain very cheap relative to the other outlets for our hard earned cash.
Add in the negative sentiment to this picture, as many loath the stock market at these levels, and one can see a possible "set-up" for new highs. Yet most can't fathom that, just like they couldn't fathom the S&P rebounding this strong from the 1810 level.
When stocks were retreating and re-testing their lows the critics were loud and clear on their message against any bullish scenario. The comments questioned why anyone would one stay invested in the market for the possibility of another 2 or 3 % gain.
Well that's not the way I viewed the situation then, nor do I see it that way now. In case they haven't looked, let me gently remind them that the 16%+ gain from the lows does not appear in their accounts, but it has been booked to anyone that has stayed on board. Funny how that is conveniently dismissed.
The following is more food for thought as the market sits just under all time highs.
Dudack Research volume indicator in mid March hit its strongest overbought reading since August 2009. Interestingly such readings tend to appear early in a bull market cycle. Last week we saw the cumulative advance/decline line make new highs.
From a number of different angles including breadth, sentiment, crude oil, the FOMC, sentiment, etc, the S&P would seem to have the wind at its back. From that perspective it would appear to be a good chance that stocks break out of this current range to the upside.
On the other side of the coin, the one thing that continues to stick out, though, is valuation. At just under 19 times trailing earnings, the S&P 500 is trading at its richest multiple in six years. The bulls would feel a lot better if valuations were more reasonable. There is always something to concern us. At some point valuations will be an issue, but that point doesn't seem to be right now.
I say that because the strength in WTI and the weakness in the USD along with the outlook that earnings will indeed pick up in the second half of 2016 has caught the eye of the institutional investor. Perhaps more importantly, the sentiment and alternative issues are now center stage.
For those that have been negative and are skeptical now because they feel THE top is here once again and the fundamentals are lousy, it is time to review the results of sitting on that boatload of cash for over 9 months now. Then push the date for the next crash out a bit further, and tell the bulls how we have had this market story wrong, once again.
For anyone that is bullish, it is more of the same. Select quality stocks that are sold off for one reason or another. Than add some of the growth companies that produce the one result that everyone craves, increased revenues. Sit back, watch the price action and ignore the noise.
Best of luck to all!
Disclosure: I am/we are long ALXN,CELG,GILD.
I wrote this article myself, and it expresses my own opinions. I am not receiving compensation for it (other than from Seeking Alpha). I have no business relationship with any company whose stock is mentioned in this article.