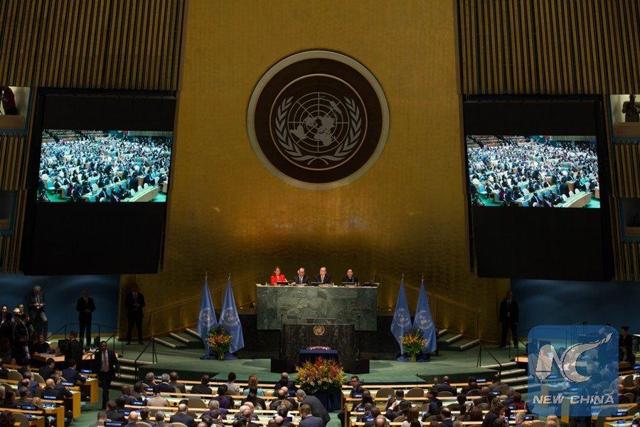 Photo taken on April 22, 2016 shows the signing ceremony of Paris climate deal at the United Nations headquarters in New York. (Xinhua/Li Muzi)
In December last year world leaders met in Paris and agreed to an urgent need to reduce greenhouse gas emissions to limit global warming to less than 2oC, with a goal of 1.5oC. This was a dramatic gesture that many in the fossil fuel industry dismissed as posturing with no real chance of action. While there was a commitment to act, nothing legally binding was signed and the roadmap to significant action stretched to 2020.
Yesterday at a meeting in New York, 175 countries signed the agreement on the opening day for signature. Even more significantly key countries, including China, the US (by executive agreement, bypassing the Senate) and Canada have committed to ratify the agreement in 2016. It will become legally binding when 55 countries sign and 55% of emissions have joined in ratifying the agreement.
Clearly the first step towards a legally binding commitment happened yesterday and it seems likely that ratification by countries covering 55% of emissions will happen in 2016, not 2020. Yesterday 15 countries, mostly island states, ratified the agreement although these countries represent just ~0.03% of emissions. Those signing represented more than 93% of emissions (including Russia see below). A consequence of signing the agreement is that signatory countries are obliged to refrain from acts that would defeat the object and purpose of the agreement. This is a major step for recalcitrant countries like Australia (who signed the agreement) as it will prevent major developments such as the Carmichael coal mine in Queensland from proceeding.
At time of writing it wasn't clear which countries have not signed the agreement. An article 2 days ago indicated that more than 167 countries were committed to attend and sign. So if the number of signatures is 175, 8 more countries joined at the last minute. Those who were probably not attendees (and therefore not early signatories) include Russia and the Commonwealth of Independent States, Saudi Arabia, Iraq, Syria, Yemen, Nigeria, Botswana, Zambia, Trinidad and Tobago, Nicaragua and Ecuador. In news just in, Russia is reported as a signatory. This leaves several Middle Eastern countries and Nigeria as the significant abstainers at this time.
It is likely that the past two years of record worldwide temperatures, and likelihood of 2016 breaking the record again, has focused world leaders attention as the predictions of the scientists are being confirmed almost daily. Dramatic damage to the Great Barrier reef corals is a potent warning of things to come.
Meanwhile the science is focusing on key issues, with a recent announcement on three new reports to be prepared. Firstly, since it is becoming clear that 2oC increase in temperature is not safe and the Paris conference agreed to seek to stop warming at 1.5oC, there is now a report being prepared for completion in 2018 to indicate the impact of a temperature rise above 1.5oC. This will provide some clear metrics about the dangers and costs of inaction. Many would argue that we have passed the ability to halt temperature rise to 1.5oC, but it is helpful to begin to get some metrics about what is going to happening and how expensive and disrupting it will be not to act. Any attempt to limit warming to 1.5oC requires urgent exit from coal exploitation.
Two other urgent reports will address i) climate change and the oceans including Arctic/Antarctic regions and ii) climate change and land degradation, desertification, land management, food security and greenhouse gas fluxes on the land. These will provide urgently needed facts on which policymakers can base actions.
The IEA will provide a special progress report in June ahead of its annual 2016 report in November. It will be interesting to see how this body, which to date has consistently underestimated the rise of renewable energy and insisted on a fossil fuel-based future, will address the changes arising from the COP21 Paris Summit, especially a goal of 1.5oC rise.
All of the above signifies that world leaders are understanding the dangers of doing nothing and the scientists are becoming more focused on providing important factual information.
What impact is the above having on fossil fuel companies?
Oil and gas companies
In October 2015 before the Paris conference, 10 oil and gas companies, which represent 10% of the world's energy supply, met and a resulting press release stated the following: "... the CEOs of the 10 companies that currently make up the Oil and Gas Climate Initiative (OGCI) - BG Group (now part of Royal Dutch Shell), BP, Eni, Pemex, Reliance Industries, Repsol, Saudi Aramco, Shell, Statoil and Total - confirmed that they recognize the general ambition to limit global average temperature rise to 2 degrees centigrade and that the existing trend of the world's net global greenhouse gas (NYSE:GHG) emissions is not consistent with this ambition."
Other companies have made similar motherhood statements.
However one company has taken the new political situation on board and has announced significant changes to their business to begin to address an emissions-constrained world. Total (NYSE:TOT), the world's 4th largest oil and gas company, has announced structural changes to reflect the developing importance of gas and renewables (and presumably decline in oil). It describes the changes to support its ambition to become "the responsible energy major." The changes explicitly refer to "assuring the 2° C global warming scenario is incorporated into Total's strategy." The challenge for Total is that the goalposts are shifting to even more ambitious goals (i.e. 1.5C).
A report on actions by BP, Shell, Statoil and Repsol in response to the December conference indicates motherhood support, but no change of fossil fuel-focused business planning.
BP (NYSE:BP): In its January 2016 report on planning for 2035, it is made clear that BP considers that the world will not take action on climate change and it dismisses goals to seek to meet a 2C world as unrealistic.
Shareholders are not being passive in the light of BP's reluctance to address climate change issues and a recent report makes clear that the management of BP are unlikely to be able to stonewall about this. When a KPI for the CEO involves progress on new fossil fuel exploitation and says little about a low carbon future, perhaps it isn't surprising that the CEO is focused on developing new fossil fuel resources.
The surprising thing about the above discussion concerning BP is that the shareholder analysis indicates that BP is more helpful in its reporting on climate risk than its US peers ExxonMobil (NYSE:XOM) and Chevron (NYSE:CVX). This is reminiscent of how the giants of the US coal industry stonewalled and fought change.
Shell (NYSE:RDS.A): There isn't a lot of evidence of interest in a low carbon future other than by increasing the efficiency of internal combustion-engined cars, although there is a mention of hydrogen powered cars. Shell projects the future as one of increasing need for petrol and diesel. Not a word about electric vehicles. They see a fossil fuelled future.
Eni (NYSE:E): Apart from reducing the carbon intensity of their own programs, the Eni 2016-2019 strategic plan is all about more oil and gas. There isn't a word about a low carbon emissions future.
Repsol (OTCQX:REPYY): Repsol presents as an integrated oil and gas company. There is no mention of a low carbon future on their website.
Coal companies
I have focused the above discussion on oil and gas companies, because coal entered structural decline well before the Paris Climate conference. Coal's demise has a broader cause, although coal is of central concern to climate issues because it has the highest greenhouse gas emissions (although when escaped methane is considered a major greenhouse gas emitter).
The end of coal started with dramatic reductions in gas prices and environmental regulations to stop mercury and other emissions resulting from burning coal. With 26 US coal bankruptcies and the Dow Jones coal sector index down 76% between 2009 and 2014 (with Dow Jones industrial average up 69% in the same period), and the last two years being even more challenging, it is clear that coal is in structural decline.
The recent bankruptcies of the icons of the US coal industry (Arch Coal, Alpha Natural Resources, Patriot Coal Corp, Walter Energy and Peabody Energy) accelerate the changes. While bankruptcy will resolve massive debts that these companies had incurred, there will not be a rebirth of a slimmer more competitive coal industry. Indeed it is unclear how the close down of the industry will be managed and what role publicly traded coal companies will have. Of course there are some in the industry, notably management of Peabody Energy (BTUUQ), who remain defiantly in denial and describe bankruptcy filing as positioning the company for long term success. What happened in New York yesterday will provide a new urgent and dramatic pressure to close down the coal industry.
Any company that plans to continue to have its business largely based on fossil fuels after 2030 should be viewed cautiously. I don't think the major oil companies (e.g. XOM, CVX) are exempted from this.
Conclusion
Given the dramatic climate events, including record breaking temperatures, which have successively increased in 2014, 2015 and into 2016, there is a new seriousness from the science that there is not much time to address climate change. The action by 175 countries in New York signing the Paris Climate agreement, and 15 countries ratifying it, shows an intention to accelerate action as is needed to even limit warming to 2oC; the agreement has a goal of 1.5oC. A binding agreement looks likely in 2016, not 2020.
These actions have big implications for fossil fuel industries. Whichever way you look at it, coal must be exited rapidly, so the coal industry must now address this. Any company suggesting that coal will recover should be avoided.
For oil and gas, the need to exit is pressing and solutions are available. The companies that will prosper are reorienting their business structures to accommodate the change, while those in denial can look to the fate of the coal industry for guidance about where this is heading.
Disclosure: I/we have no positions in any stocks mentioned, and no plans to initiate any positions within the next 72 hours.
I wrote this article myself, and it expresses my own opinions. I am not receiving compensation for it (other than from Seeking Alpha). I have no business relationship with any company whose stock is mentioned in this article.
Editor's Note: This article covers one or more stocks trading at less than $1 per share and/or with less than a $100 million market cap. Please be aware of the risks associated with these stocks.