While I have been looking into new stocks I could add to my DIV-GAP portfolio I have tried to be especially patient in the oil patch. While oil prices have risen for the last few months, I have been seeking a dividend I can count on that is reliable and comes with prospects for growth. Exxon Mobil (NYSE:XOM) and Chevron are great, stable companies (NYSE:CVX), however, I question their growth prospects going forward.

TransCanada (NYSE:TRP) and Enbridge (NYSE:ENB) have been two pipeline companies that I feel have growth potential, as well as reliable dividends for the future since they make money on the transportation of fuels not just on the price of the fuels being transported. I have recently honed in on TRP for inclusion in my portfolio but wanted to wait and see how the Columbia Pipeline Group acquisition fared before weighing in. I had assumed that TRP would see a drop that could be used as an opportunity for a good buy for a long term position. I had also assumed share dilution might happen and reduce the price… that drop never materialized and the stock has advanced roughly 10% as I sat on the sidelines for the last month. Even the possible spill/leak ended up much smaller than predicted.
It appears that TRP may not reach my hoped buy point again and it seems apparent that it is still undervalued. Here are a few numbers from Yahoo Finance that show what I mean…
TRP current dividend 4.27% / forward PE 14.35 / cash per share .93 / book value per share 15.28
ENB current dividend 3.70% / forward PE 17.56 / cash per .90 / book value per 10.99
While I am no expert on Columbia Pipeline Group's assets, according to calculations TRP is getting natural gas pipelines in the Marcellus and Utica shale areas that should complement what it already has and even though this is a 13 Billion dollar purchase, TransCanada expects the deal to be accretive to EPS within its first full year of ownership. In fact, it appears that the 30% premium still gets the assets at roughly half price once you figure the debt will be retired over the next 10 or so years.
The Dividend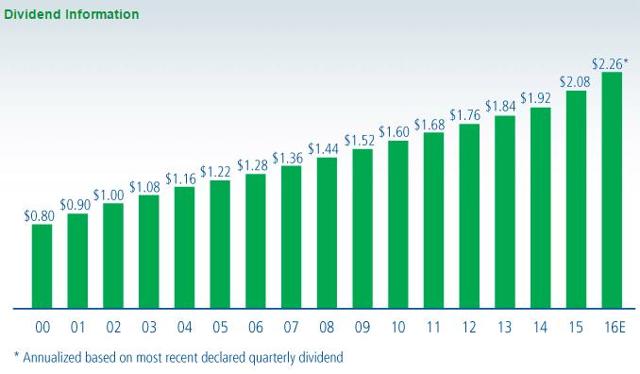 With $23 billion in near-term growth foreseeable and 10% EPS growth as well, it seems likely TRP will be able to keep up its 10% dividend growth over the next few years. TRP's dividend has been growing steadily for quite a while and yearly dividends have increased from $1.28 per share to an estimated $2.26 over the last ten years. With the dividend reaching above my desired growth targets, this seems worth the wait for appreciation.
Summing it all up
The 2,150 miles of oil pipeline and 35,418 miles of gas pipeline is worth buying into. When you add in TRP's 13,100 megawatts of power generation in Canada and the U.S., you end up seeing a picture that this company has a wide energy related moat and room to grow.
Disclosure: I/we have no positions in any stocks mentioned, but may initiate a long position in TRP over the next 72 hours.
I wrote this article myself, and it expresses my own opinions. I am not receiving compensation for it (other than from Seeking Alpha). I have no business relationship with any company whose stock is mentioned in this article.