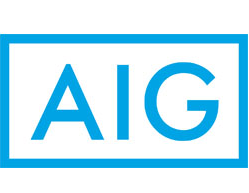 American International Group, Inc. (NYSE:AIG) does not excite investors anymore. One only has to look at the insurance company's share price to see that investors prefer other insurance companies or financials over American International Group. If you recall, the insurance company put off investors in February when it released very soft Q4-15 results. The problems for AIG have really remained the same: American International Group's property casualty business does not return a competitive profit. The insurance company reported a ~$2.3 billion property casualty operating loss (pre-tax) for the fourth quarter on the back of a ~$3.1 billion underwriting loss. The result: American International Group's return on equity slumped from 6.8 percent in the fourth quarter of 2014 to (7.3) percent in the last quarter.
The steep decline in capital efficiency caused AIG's accounting book value to drop ~3 percent Y/Y to $75.10/share in Q4-15. With such dismal results, it is understandable that investors pass on the insurance company, and rather buy better managed insurance companies. But there are also positive developments that are worth pointing out.
Icahn representative And John Paulson Joining AIG's Board Of Directors Could Lead to Performance Improvements
American International Group needs to boost capital efficiency, first and foremost. The company has made a few suggestions to do that, but it largely did so to fend off activist investors Carl Icahn and John Paulson who have built stakes in the insurance company. Icahn is a feared corporate raider who has made a name for himself by attacking management of underperforming companies hard.
John Paulson, President of Paulson & Co., and a Managing Director of Icahn Capital LP, Samuel Merksamer, an Icahn lieutenant, will be joining American International Group's Board of Directors, which could be a catalyst for performance improvements.
Gaining Board representation, Icahn has more influence to push for fundamental change and attack AIG's low ROEs. Though Icahn did not succeed in getting American International Group to break itself up and lose the burdensome SIFI (systemically important financial institution) designation - something General Electric (NYSE:GE) is trying to do - Icahn's growing influence on AIG's Board of Directors is a positive for shareholders.
John Paulson, a hedge fund big shot who rose to notoriety by betting against subprime mortgages before the real estate bubble burst nearly ten years ago, also has had some decent success as an activist investor by pushing insurance company Hartford Financial (NYSE:HIG) to lose its life insurance business.
John Paulson's presence on AIG's Board of Directors is good news for shareholders, and it will be interesting to see if American International Group's capital efficiency indeed improves in 2016/7.
Significant Capital Returns
American International Group itself is playing it safe for now, saying that stock buybacks will be central to its plan to increase shareholder returns.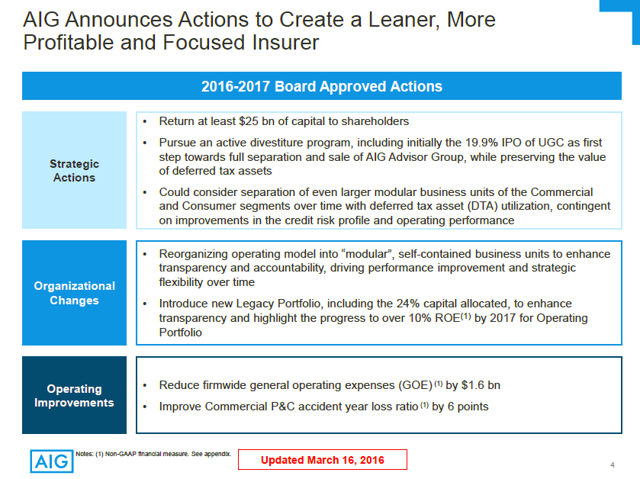 At this point in AIG's restructuring process, stock buybacks continue to make a lot of sense for the insurance company, and might be the single biggest source of accounting book value gains for the company over the next two years. Since AIG sells for ~75 cents on the dollar, the reward-to-risk ratio is tilted in investors' favor.
Your Takeaway
American International Group's plan to return that much capital to shareholders is good news, although the insurance company's proposal to increase shareholder returns is not a long-term solution and falls way short of Icahn's plan to break the insurance company into pieces and de-SIFI. On the other hand, Icahn's and Paulson's clout on AIG's Board of Directors is growing, and they'll push hard for higher capital efficiency and a simpler organization structure. All considered, I think the odds are that AIG will trade up in 2016/7 rather than trade down. Buy for capital appreciation.
Disclosure: I am/we are long AIG, GE.
I wrote this article myself, and it expresses my own opinions. I am not receiving compensation for it (other than from Seeking Alpha). I have no business relationship with any company whose stock is mentioned in this article.