Barrick Gold (NYSE:ABX) has been an impressive turnaround equity this year. It has skyrocketed since the beginning of the year and not looked back. In fact, it's up 118.43% YTD, making it one of the best performing equities on the market YTD. Barrick is now trading at a level not seen since mid-2014. The company's focus on sustainability of the balance sheet and core project growth largely warrants a strong appreciation in shares. In a strange turn of events, both the broader market and gold have been moving higher, a trend not typically seen. Investors should be cautious, but recognize that Barrick may continue to outperform.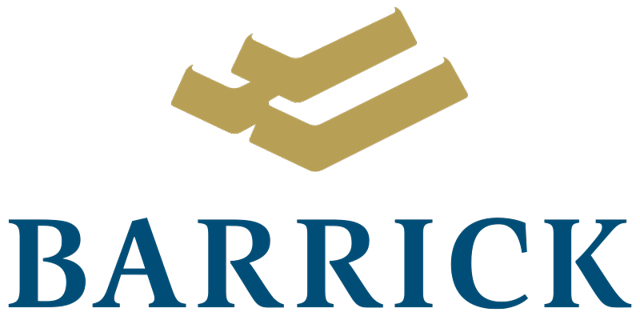 Source: Wikimedia Commons
Barrick's Upside Sustained
The sharp increase in ABX in 2016 has me questioning the future performance of the stock. I wrote last time that I've been seeing an abnormally positive correlation between gold and equity markets, thus temporarily debunking the "safe-haven" status of gold and gold equities like Barrick. There isn't actually a correlation present, but rather the trend lines are just similar. The correlation coefficient on Barrick relative to the S&P 500 is effectively 0.
This could mean ABX is in an excellent position to run higher, as fundamental data is creating a win-win situation. Below you can see ABX against gold and the S&P 500 over the LTM.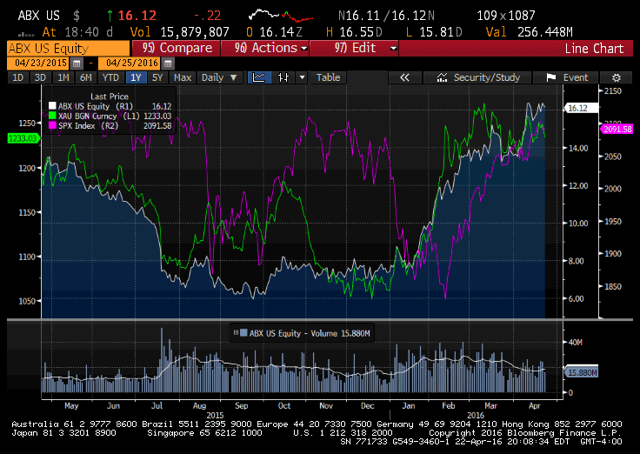 Source: Bloomberg
Where Is Gold Going?
Perhaps the most notable trend affecting gold right now is the sustained decline of the dollar relative to a basket of global currencies. As seen below, the dollar is currently 5.2% off of its 2016 peak in late January. This has helped to fuel a rally in gold. The rally in gold has also been driven by economic weakness in China, causing major institutional investors to increase their net holdings of gold as indicated by the recent spike in volume.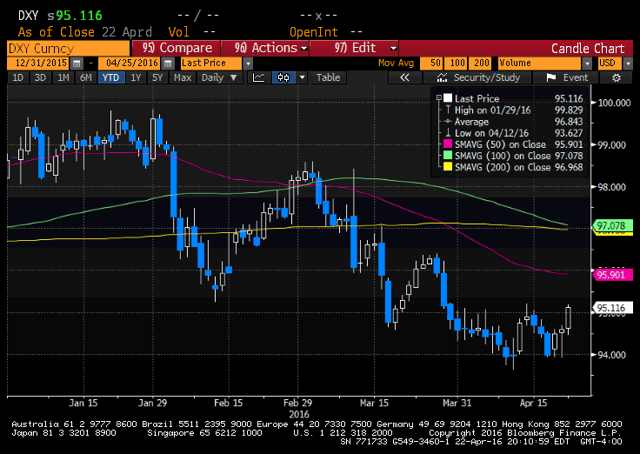 Source: Bloomberg
Whether or not this trend is sustainable is largely dependent on the actions taken by the Federal Reserve as they relate to interest rates. The Fed began December 2015 feeling ambitious about the amount of rate hikes that would occur in 2016; however, they've had to significantly scale back that optimism and start to view the inflation target harder to hit. Yet, with the recent pick up of crude oil and commodities as a whole out of their lows, perhaps investors should start to think that the probability of more than one rate hike this year is greater than what the market was expecting at the beginning of Q1.
Recessional fears are present with less than desirable overall earnings reports. These fears are even more so present considering the broader market gauges, like the S&P 500 or DJIA, are nearing all-time highs. ABX stands to benefit from this - if equities begin to retract from their current levels, investors will flock to gold.
Investors must heavily focus their attention as it relates to gold's drivers on Chinese equities. YTD, the Shanghai Composite Index is down about 16.4%, and was down about 2.5% this past week. Because of the general theme that Chinese growth is slowing and that's a long-term development, I expect Chinese equities to fall further. Again, this allows ABX to become a positive beneficiary. However, the Chinese government is providing stimulus, and although they will continue to slow, the pacing may retract slightly.
Investor Takeaway
The current gold trend is quite interesting. On one hand, investors could be contrarian and look to see a decline in Barrick based upon its high run up YTD. Selling out and taking gains on a triple-digit YTD percentage increase is nothing short of an outperforming return. Gold, this year, has really been a win-win investment. Market goes up? So does gold. Market tanks? Gold doesn't. If that market logic holds over the coming weeks or months, investors have a gold mine on their hands, no pun intended.
Investing in gold through a leveraged equity like ABX is an excellent option considering management's focus on coverage as it relates to its LT debt and low operating costs. I'd advise investors to watch how ABX correlates to the S&P 500 over the coming weeks to better monitor how sustainable the current uptrend is. For now, I expect the weakness in the dollar to continue and for fears over China's slowing to remain present, although duller than before.
Disclosure: I/we have no positions in any stocks mentioned, but may initiate a long position in ABX over the next 72 hours.
I wrote this article myself, and it expresses my own opinions. I am not receiving compensation for it (other than from Seeking Alpha). I have no business relationship with any company whose stock is mentioned in this article.