Overview
Archer Daniels Midland Company (NYSE:ADM) is one of the world's largest manufacturers of oilseeds, corn, wheat, protein meal, vegetable oil, corn sweeteners, flour, biodiesel, ethanol, and other food and feed ingredients. The company has a market capitalization of roughly $23 billion.
The company has four primary segments: Agricultural Services, Corn Processing, Oilseeds Processing, and Wild Flowers and Specialty Ingredients.
Agricultural Services
The Agricultural Services segment uses the company's grain elevator and transportation networks and ports to "buy, store, clean, and transport agricultural commodities, such as oilseeds, corn, wheat, milo, oats, rice, and barley," according to its 2015 annual report. The company resells these commodities primarily as food and feed ingredients and as raw materials for the agricultural processing industry.
The company also has a network of barges, ocean-going vessels, trucks, and rail services.
In 2015, the company bought out North Star Shipping and Minmetal, which operate export facilities in the Black Sea. The company also owns 32.2% of Pacificor, which operates a grain export elevator in Washington and 19.8% stake in GrainCorp (OTCPK:GRCLF), a public Australian company that engages in grain packaging and handling.
Corn Processing
The company's Corn Processing division engages in corn wet and dry milling using its land, most of which is in the central US, but also in China, Bulgaria, and Turkey. This segment converts corn into sweeteners, starches, and other bioproducts. The company also makes ethyl alcohol of both industrial and consumption grade, ethanol for gasoline, and some essential amino acids.
The company has a 50% stake in Almidones Mexicanos, which operates a wet corn milling plant, and a 40% stake in Red Star Yeast Company, which makes fresh and dry yeast in the US and Canada.
Oilseeds Processing
This segment deals with the "origination, merchandising, crushing, and further processing" of oilseeds into vegetable oils and protein meals.
The company has a 19% stake in Wilmar International Limited (OTCPK:WLMIF), a Singapore public company that is one of Asia's leading oilseed businesses. It also has a 50% stake in Edible Oils Limited, which is a joint venture that manufactures and sells edible oils in the UK.
Wild Flowers and Specialty Ingredients
This segments deals with the creation and sale of natural flavor ingredients, flavor systems, natural colors, proteins, emulsifiers, and natural health and nutrition products. It also deals in the purchase and distribution of edible beans.
The company purchased the Wild Flowers division in 2014, and was able to procure $209 million in patents, trademarks, and licenses as a result.
Diversification and Alignment
It's clear from the information of the segments detailed above that the company has structured itself quite well. It has got a diversified business and also controls the process all the way from what's grown in the ground to what's shipped to customers. Its vertical integration is definitely an asset. It owns 642 of its 709 processing and procurement facilities.
It's also worth noting that the company has aligned itself with many other companies through its large stakes in their businesses. It has cast its net wide and seems to have chosen its purchasing targets safely and effectively.
The sources of the business's raw materials are also diversified. It purchases its raw materials from all continents except Antarctica. It's not dependent on any one or a small group of growers or merchants. This also means that the company doesn't have to suffer through any seasonality in global processing volumes and doesn't have to rely on any one product to bring in revenues.
Earnings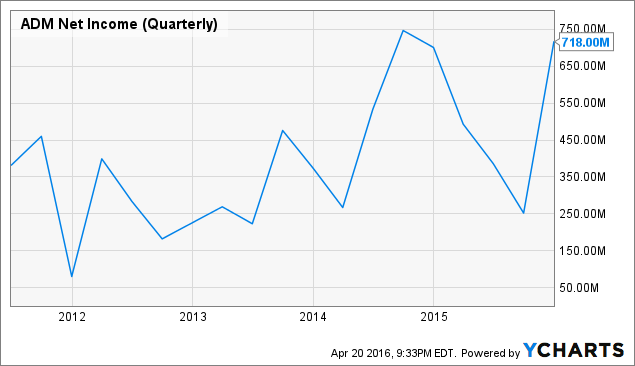 ADM Net Income (Quarterly) data by YCharts
Overall, the company's net income has grown over the past five years. However, the company's performance in 2015 was far from ideal. Revenues in 2014 were $81.2 billion, whereas they were $67.7 billion in 2015, a 16.6% decrease. Revenues also decreased roughly 10% from 2013 to 2014.
The decrease in revenue was mostly a result of excess global supply of agricultural commodities. A stronger dollar also meant that margins for US exports were lower, which also decreased demand for US crops and their value-added sister products, which ADM manufactures. Ethanol also had lower margins worldwide. The company actually produced more oilseeds, corn, and cocoa than it did last year.
Indeed, corn and soybean prices have been relatively very low over the past three years.
Agricultural Services revenue dropped 18.2%, Corn Processing revenue dropped 18.6%, Oilseeds Processing revenue dropped 18.5%, but Wild Flavors and Specialty Ingredients revenues increased 76% as a result of a new acquisition.
The cost of goods sold decreased 16.7%, which explains the decline in revenues from the segments mentioned above. Less demand for US exports only exacerbated the issue.
Earnings in 2014
It's important to note that revenues in 2014 were also down, also as a result of low crop prices. Other companies in the farm equipment industry - AGCO Corporation (NYSE:AGCO) comes to mind - have also experienced a bad business climate as a result of poor crop prices.
Balance Sheet
Because ADM is in a sector that centers around commodities and hard products, the balance sheet is of paramount importance. The commodities that ADM deals in have lost value, and so has the book value of the company. Most of the company's decrease in total asset values between 2014 and 2015 can be attributed to trade receivables and depreciation of inventory. The company's shareholder equity has decreased roughly 8% between 2014 to 2015 as a result.
The company's P/B ratio is 1.33, which is very low.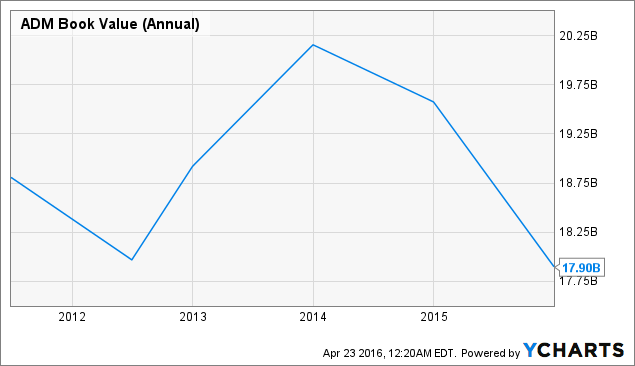 ADM Book Value (Annual) data by YCharts
A look at ADM's book value over the past few years also shows that its book value decreased just as soybean prices started to plummet at the beginning of 2014.
Verdict and Two Perspectives
To me, ADM resembles another trade in the very recent past. Last summer, I bought shares of Century Aluminum (NASDAQ:CENX). Century is in the aluminum business, which, like ADM's sector, is also very commodities based. As a value investor, investing in Century was a no-brainer. The underlying business was great and was selling for very little compared to book value. But, a prolonged decrease in aluminum prices meant that the company was going through a rough patch and the stock price plummeted. It was a great opportunity, and the stock has done very well as aluminum prices have come back over the previous few months.
ADM could be a very similar stock. With a P/B ratio of 1.33, it's selling for a very small premium over book value. When you take into account the fact that the business is so raw materials-based, the price is even more attractive. And hopefully, the prices of corn and soybean will come back up and the company can take advantage of it. With a market capitalization in excess of $20 billion, it's certainly poised to weather the storm and take advantage of any future increase in crop prices. And, it also has got stakes in many international companies, which surely help it remain robust.
But, it's also important to take into account that ADM is not a slam dunk. Yes, the company is large, robust, and probably only going through a rough patch, but there's no indication that the situation is a slam dunk - which would certainly buoy investor confidence during rough times. And, there's also uncertainty in terms of how long it will take for agricultural commodity prices to recover to a more reasonable normal.
Overall, I wouldn't invest in Archer Daniels Midland. I think it's a very strong business, but doesn't have the upside or the "slam-dunk factor" that one should expect and hope for when investing in a company that's going through some tough times. But, as a value investor, I also have a relatively low appetite for risk. And if you have can stomach the added risk, then ADM seems like a terrific investment.
Disclosure: I/we have no positions in any stocks mentioned, and no plans to initiate any positions within the next 72 hours.
I wrote this article myself, and it expresses my own opinions. I am not receiving compensation for it (other than from Seeking Alpha). I have no business relationship with any company whose stock is mentioned in this article.